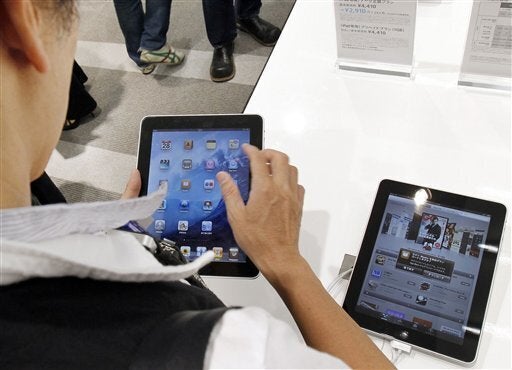 SEATTLE -- Apple says the next version of the software that runs iPads and other gadgets will be available in November and will include a way for people to print documents from iPads and other gadgets.
Apple Inc.'s iPad, iPhone and iPod Touch can handle many tasks once performed by personal computers. People can check e-mail, surf the Web, edit photos and compose documents. Although the gadgets can connect with computers to transfer files, they don't have ports for connecting with printers or USB drives.
The update, iOS 4.2, includes AirPrint for wireless printing. Apple says it will automatically find printers on local networks and send text, photos and graphics for printing over Wi-Fi. Apple says AirPrint will work with a wide range of printers, from inkjets to laser printers. iOS 4.2 also brings AirPlay (Apple's new AirTunes) to the iPad, enabling users to stream media, such as video and music, via Wi-Fi.
See iOS 4.2 in action on the iPad in the video below from Engadget. Engadget says of the new features, "The addition of multitasking, folders, and big improvements in mail (amongst other things) finally make the device feel more like a computer and less like a gigantic iPhone." Engadget also pointed out a surprising new feature: "the orientation switch no longer controls orientation. It's a mute / unmute switch now!" iOS 4.2 will also give iPad users access to Game Center and give them new controls over font size, Notes, Spotlight Search, Location settings, spell checking, the brightness of the screen, and more.
Still not impressed? See the
and why some think it'll be
by the 2010 holiday season.
WATCH:
Popular in the Community