If you take a bus, train or trolley to work, however, you might want to consider waiting on the platform for a while.
Early use has confirmed what straphangers and bus riders (who also read geeky tech websites) have long feared: Apple's Maps app for iOS 6 has ditched transit directions. The option to receive station-by-station, stop-by-stop transit instructions directly in Maps has been replaced by a process which, by most accounts, is more cumbersome and less convenient for the user, the exact opposite of the mentality for which Apple products are so renowned.
Before, when you had your start address and end address, you could touch the "Bus" icon in Maps to receive your public transportation directions in both list form and map form, an easy one-tap solution. Now, when you try to press that little "Bus" button, instead of a map or a direction list, you are taken to a screen that shows a list of third-party navigation apps; you then launch the app of your choice, wait for it to load, and get the directions that way.
Transit directions in iOS 6: It just (barely) works.
The backstory to this regrettable omission is part of what has become a ridiculous, middle-school-drama-level tiff between Apple and Google. Because Apple hates Google for allegedly thieving elements of iOS and inserting them into Android, Apple has ditched Google's services in two conspicuous places: YouTube and Maps. The YouTube app is no longer standard on new iPhones (you'll have to -- GASP! -- download it for free in the App Store), and the mapping technology that powers Apple's Maps app no longer comes from Google Maps. Now, Apple is using maps from TomTom, the well-known GPS navigation system maker. TomTom's trove of maps do not include transit directions -- or Street View, for that matter -- and thus a key feature is lost.
For many commuters, I realize, the absence of subway times and bus routes is not a big deal, and no reason not to upgrade operating systems. I previously lived in Atlanta, Ga., where no one even goes to their next-door neighbor's house without driving; and I've lived in New Jersey, a state with more gas stations than humans. For folks in those car-dependent locales, maps on iOS 6 actually brings a welcome update: spoken turn-by-turn navigation for in-car use. Finally, Apple's iPhone will be able to deliver audible directions like a normal GPS unit through Siri. Even if, alas, early reports warn the new Maps' navigation accuracy is lackluster, at least it is a feature that exists and can be improved in future iterations.
And, too, this change might not matter to you, because you might not have even known your iPhone could produce public transit recommendations in the first place. The last time my parents visited me in New York City, my mother called to ask how she could get from Penn Station to her hotel. "Well, you have the address of the hotel on your iPhone," I told her. "Just get subway directions from the Maps app." To which she incredulously replied, "The maps app can do subway directions?!"
It could do subway directions, anyway, a function that all of us in the great public transit cities of America certainly knew about and frequently used. For those of us whose MetroCards sit right behind our IDs in our wallets, iOS 6's Maps feels like a downgrade, not an upgrade; in Boston, in Chicago, in Washington D.C., in San Francisco, and in New York City, Maps' best, most useful feature has essentially vanished.
It's not just that Apple's current transit mapping solution is inelegant; it's that its solution is slow. Indeed, for transit-takers, the speed of the Maps app is paramount: You need your mapping system to be able to search for a location, find it, and bring up transit times instantly so that you're not missing your bus by 10 seconds. If you're clicking on an address from an email, you are now opening up the Maps app, waiting for it to load, asking for directions, waiting for it to load, and then opening another app and waiting for it to load all over again.
This is the difference, ladies and gentlemen, between catching Manhattan's L train as the doors close behind you, and waiting on the platform for 30 minutes amongst rats, open sewage, and an incessant parade of vomiting hipsters -- all belching and scratching themselves while serenading each other with songs from Yankee Hotel Foxtrot.
All of this could be avoided, of course, if Apple would just steal a feature from Android and allow the user to choose their default Maps app in the settings. While Apple's Maps may indeed be a worthwhile update for automobile drivers, there is not even a debate that most any New Yorker would gladly forgo Apple's new Maps design -- with its voice navigation for the cars we don't own, and the 3D flyover mode none of us can ever imagine using for any functional reason -- for a similar app from Google that includes times and transfer information for trains and buses.
Alas, Apple is about as likely to do this as President Barack Obama is to name Donald Trump his secretary of state. It has clearly put a lot of time and brand cache into its new Maps, and the notoriously controlling company isn't about to let you circumvent its best efforts to use an app submitted by Google, for God's sake.
iOS 6 Maps: I don't love you like I love the old maps. Here's hoping iOS 6.0.1, with real, practical, quick-loading transit directions, gets here faster than the L train usually does.
Below, check out of the new features of Apple's recently-released iOS 6: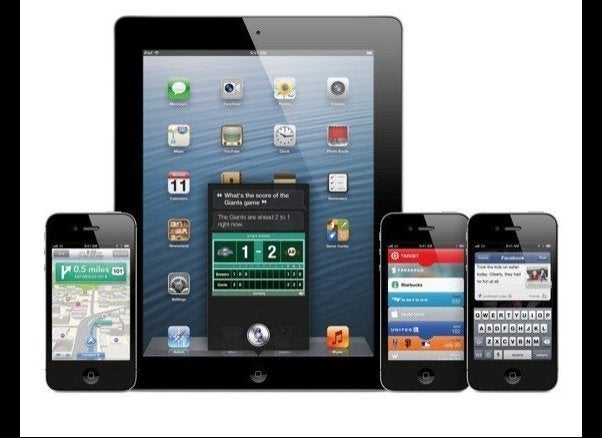 Apple's New iOS 6
Related
Popular in the Community