 Apple's new Maps app, unveiled for the first time at WWDC, will offer turn-by-turn navigation, Yelp integration, Siri input and a 3D mode that includes flyover images (similar to the 3D maps that Google announced last week). According to TechCrunch, Maps will also offer a crowd-sourced traffic feature to help users avoid construction and accidents on their routes.
Like Apple did with Twitter in iOS 5, easier Facebook sharing will be baked into iOS 6. Users will be able to share content directly to Facebook from Apple's photo and map apps; Facebook event and contact info will also be synched with the calendar app. You can also "Like" things in the app store and see what apps your Facebook friends have liked.
Siri, the voice-activated virtual assistant on the iPhone 4S, has learned a buch of new languages (Cantonese, Korean, Canadian -- yes, Canadian, both the English kind and the French kind -- among others). She can also tweet for you, post Facebook updates, open your apps, make dinner reservations, find movie times and reviews, give you turn-by-turn travel directions and more. For the first time, Siri will even be available on the iPad.
The introduction of iOS 6 will bring with it an app call "Passbook," which lets you store and redeem plane and train tickets, movie and concert passes, coupons and cash cards for retailers like Starbucks. Other new iOS features include a screening options for the Phone app, so you can turn on a "do not disturb" function, decline calls and reply with a text instead or set a callback reminder; an improved Mail app; a revamped Safari app; FaceTime over cellular networks (the current FaceTime app allows calls over WiFi only). There's also a "Lost Mode," which Engadget describes thus: "Send a phone number and it'll show a notification on the screen. If anyone finds it they'll tap [the notice], [and] it'll dial that number automatically."
All this and more will be coming this fall when iOS 6 rolls out for iPhone 4S, iPhone 4, iPhone 3GS, the iPad 2 and new iPad models and the fourth-gen iPod Touch. (Siri, however, will be available only on the iPhone 4S and the third-generation iPad. UPDATE: A few other features, like turn-by-turn navigation, will be on iPhone 4S, iPad 2 and new iPad only, according to Apple. )
CORRECTION: An earlier version of this post incorrectly stated that the original iPad would be getting iOS 6 in the fall. Only Apple's second and third-generation tablets will support this software.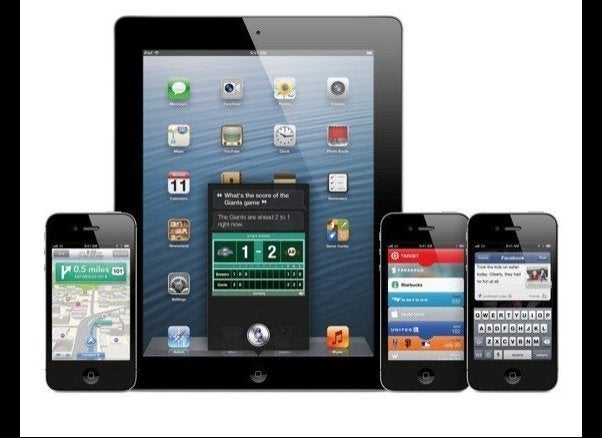 Apple's New iOS 6
Related
Popular in the Community