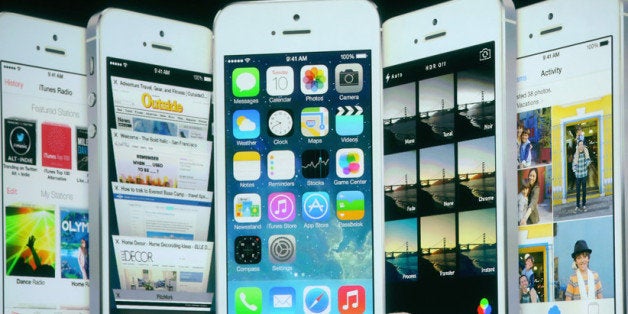 iOS 7 is here, and if you've downloaded it already you know just how much it transforms your Apple devices.
There are a lot of new features, so we've rounded up some of the most important new aspects of iOS 7:
1. Block Unwanted Calls And Texts
For the first time, you can easily block someone from contacting you on your iPhone. If you want to block someone from calling you, just go to Settings, then hit Phone, then Blocked. From there, you can choose someone from your contacts to block. To stop someone from texting you, go to Settings, Messages, and hit Blocked. To block someone all together, just pull someone up in your Contacts, scroll down, and hit Block this Caller.
Beware, though, the person you've blocked can tell that they've been blocked. Their phone will ring a few times and then play a busy signal, Wired reports. You will be able to contact people you've blocked if you want.
2. See When Texts Were Sent And Received
Confused as to why someone didn't respond to the text you sent? Wondering if your friend really did "text you about that party 5 hours ago?" If you want to see when your iMessages and texts were sent and received, just go into an iMessage conversation, put your finger on a text bubble, and swipe to the left. You'll see timestamps on the right side of the screen.
Do you, your roommate and all of your friends have the same ringtone? Constantly getting your phone confused with your boyfriend's? Does hearing the first note of your longtime alarm sound make you panic? Apple has finally brought you some new sounds. To hear them and decide which is your favorite, go to Settings, then Sounds. Then choose which sound you'd like to change. To peruse call ringtones, click Ringtone. If you don't find anything you like, you can get the old ringtones by scrolling down and hitting Classic. To find new text tones, just hit Text Tone instead of Ringtone.
4. Use Your Phone As A Level
It's a little bit hidden away, but your device now works as a level with iOS 7. You'll find it by going to your Compass and swiping to the left. There you'll find a functional level that will help you with everything from hanging a picture to building a chair.
5. Control Center To Simplify Everything
If you swipe up from the bottom of any screen, including the lock screen, you'll see the Control Center. In the Control Center, you'll be able to quickly access the flashlight, alarms, calculator and camera. You'll also be able to adjust your device's brightness to save battery life; pause, play, or skip a song you're listening to; adjust your WiFi; and more.
6. Listen To iTunes Radio
With iOS 7 comes iTunes Radio. It's like Pandora or Spotify, but built-in with all of your other music on your phone. Like other Internet radios, iTunes Radio is free to listen to with ads, and there is a limit to how many songs you can skip. If you subscribe to iTunes Match for $24.99 a year, you'll be able to keep your music in iCloud and listen to it from anywhere, along with listening to iTunes Radio without ads.
To access iTunes Radio, go to Music, and you'll fine Radio in the bottom left corner. You can pick from one of the many radio stations Apple has created, including some curated by artists like Katy Perry and Drake, or create your own based on an artist or genre of music.
7. Update Apps In The Background
Your iPhone will now update your apps in the background. Your apps will update automatically when your phone has access to WiFi, so they're always up to date when you go to use them. It's very convenient, but you might find it sucks your battery life. If it's killing your battery too much, you can turn it off.
REAL LIFE. REAL NEWS. REAL VOICES.
Help us tell more of the stories that matter from voices that too often remain unheard.
BEFORE YOU GO
PHOTO GALLERY
iOS 7's New Look