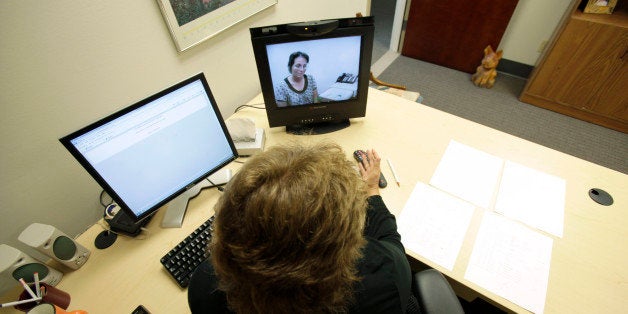 The Supreme Court of Iowa unanimously ruled Friday that Planned Parenthood clinics in the state may continue using a telemedicine abortion system to provide the procedure to patients in rural areas.
A 2013 rule from the Iowa Board of Medicine would have ended the practice, which helps patients who otherwise would have to travel as far as 400 miles round trip to access the procedure. More than 7,200 Iowans have used the telemedicine system to obtain medication abortion since 2008, according to the Des Moines Register. The first-in-the-nation system allows Planned Parenthood doctors in Des Moines or Iowa City to video conference with patients in outlying clinics, which dispense the pills.
Medication abortion involves two medications: Mifepristone, which blocks progesterone, a hormone that is needed for pregnancy to continue, and misoprostol, which induces uterine contractions to end the pregnancy in the first trimester. Patients report that the process feels similar to having a heavy period.
State regulators appointed by Iowa's Republican Gov. Terry Branstad effectively banned telemedicine abortion in 2013 by passing a rule requiring doctors to conduct a physical exam on abortion-seeking patients. The board cited safety concerns in its ruling. Branstad had replaced the board's entire membership after a different composition of members evaluated the remote delivery system in 2010 and ruled that it was safe.
On Friday, Iowa's highest court said the regulators were singling out abortion from other health services provided via telemedicine. National standards do not require a physician to perform a physical examination on a woman before providing a medication abortion.
"It is difficult to avoid the conclusion that the board's medical concerns about telemedicine are selectively limited to abortion," the court wrote, saying that it didn't see how an in-person exam would "provide any measurable gain in patient safety."
The court also noted that staff members in the outlying Planned Parenthood clinics take medical histories, draw blood and perform sonograms on patients, transferring those results to physicians.
Planned Parenthood called the ruling "a big victory" for Iowans in a press release.
"This unanimous ruling says that a state cannot single out abortion with a different set of rules that don't apply to any other health care procedure, and that a state cannot prevent women from accessing safe, legal abortion," Cecile Richards, the president of Planned Parenthood Federation of America, said in a statement. "Similar restrictions and bans on abortion are being pushed through in other states, and this ruling sends a strong and clear message to politicians across the country. Restrictions and bans on abortion are unconstitutional and deeply unpopular, and we will continue to fight them in every state in this country."
The telemedicine option for first-trimester abortions has proven popular in Iowa. A 2013 study in the American Journal of Public Health found that the delivery system did not increase the state's abortion rate as it improved abortion access for women living in rural areas. A 2011 study of nearly 600 abortion-seeking patients interacting with Iowa's Planned Parenthood found that telemedicine patients had comparable clinical outcomes to those who visited face-to-face with a provider.
Calling all HuffPost superfans!
Sign up for membership to become a founding member and help shape HuffPost's next chapter
BEFORE YOU GO
PHOTO GALLERY
Myths About Abortion That Need To Be Busted