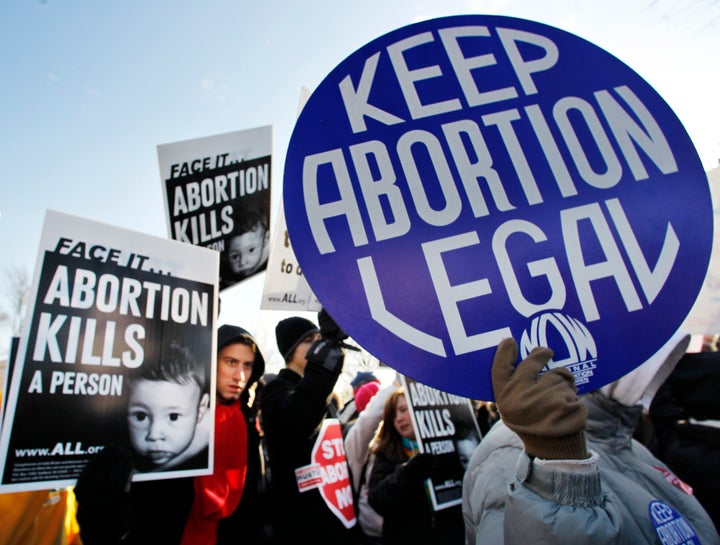 Tyler Kingkade contributed reporting.
Iowa's House of Representatives passed legislation Wednesday that would ban abortions after 18 weeks of gestation -- two weeks shorter than the toughest current abortion restrictions in the country.
Five other states currently have laws banning abortions after 20 weeks, which begins the moment the egg is fertilized. The language of the Iowa measure -- an amendment to the state's current infanticide law -- defines the "gestation period" as beginning at the date of a woman's last menstrual period, which effectively shortens the time frame by around two weeks for most women.
The bill passed without any floor debate due to a previous agreement between Democrats and Republicans that House debate would end at 2 pm. Rep. Dawn Pettengill (R-Mount Auburn) said she didn't even realize the bill would be the strictest abortion ban in the country when she voted for it.
"I believe that life begins at conception, so to me, I say, 'Great!' " Pettengill told reporters.
A state Democrat was furious that her side wasn't able to present their argument on such a controversial piece of legislation.
"It's unbelievable that we didn't have a debate," Rep. Beth Wessel-Kroshell (D-Ames) told HuffPost. "It's so dangerous to women's lives."
If the bill is implemented, physicians who perform abortions after 18 weeks would face up to 10 years in prison and a $10,000 fine unless the woman's life is in danger. There is no exception for rape, incest, or the health of the mother if her life is not at risk.
"But we don't know what that means, we don't know at what point in the crisis you have to be to allow for the termination of the pregnancy," Wessel-Kroshell said. "There's no information in this bill, and frankly, a doctor can't give you that information; they don't know."
Opponents of the bill say that by criminalizing physicians, it puts women's lives at risk, because doctors will be reluctant to perform a potentially life-saving procedure for fear of jail time.
"It's really quite alarming to think if a woman is seeking to end her pregnancy because she's just been diagnosed with cancer, the physician would have to decide whether or not her life was in danger in order to be able to help her," said Jill June, president and CEO of Planned Parenthood of the Heartland. "Does she have a 30 percent chance of dying, and is that good enough to keep him out of jail? A 70 percent chance of dying? It would be absurd if it wasn't so frightening."
The bill is unlikely to pass in the Democratic-controlled Iowa Senate, but even if it did, legislative experts say it would likely be challenged in court. The 1973 Roe v. Wade ruling established that states cannot legally ban abortions that would occur before the fetus is viable, which usually happens between 22 and 24 weeks.
"Every day is another nail in the coffin for Roe," said Elizabeth Nash, policy expert for the Guttmacher Institute, a reproductive health research organization. "These bill we're seeing violate what the Supreme Court has said. Trying to smash the standard for viability and drag us back to 20 weeks shows you how little these conservatives regard women's health."
Louisiana, Alabama and Mississippi are all launching direct attacks against Roe v. Wade with legislation that could ban abortions altogether, and pro-choice organizations such as Planned Parenthood and the American Civil Liberties Union are gearing up for some lengthy court battles if those bills pass.
A spokesperson for The Family Leader, a politically-influential conservative group in Iowa, said the passage of the 18-week ban was only a small first step in the crusade to stop abortions.
"We'll continue to try to make the moral, legal, and societal case that it makes the most sense to protect human life from murder," he told HuffPost. "It's kind of a 'duh,' but frankly, in this culture I guess it isn't anymore."

Popular in the Community