A day after stating there were no known people trapped in a partially collapsed apartment building in the eastern Iowa town of Davenport, officials said Tuesday there were five people unaccounted for, two of whom they believe are still in the building.
The situation puts city officials in a tight spot, forcing them to choose between sending rescue crews into a six-story apartment building could come crashing down at any moment or demolishing the building knowing it's possible there are survivors inside.
Following the rescue of eight people after the building partially collapsed Sunday, officials were set to demolish the building Tuesday morning. But a ninth survivor, 52-year-old Lisa Brooks, managed to call for help once her phone started working again, and rescue crews retrieved her.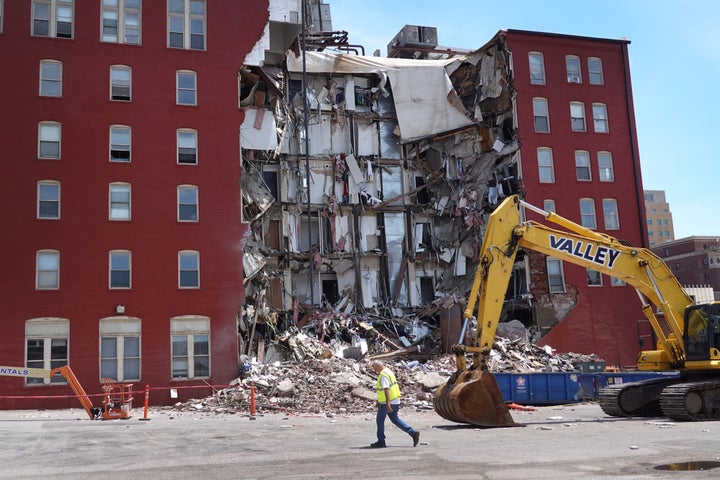 "The immediate question I know people are asking is, how did she get there? And why wasn't she found earlier? I am totally transparent with you ― I do not know, we do not know, but understand, please, that I and the city is committed to finding out why," Davenport Mayor Mike Matson said at a Tuesday news conference.
Officials added that in evaluating the building for survivors, they used specially trained service animals, drones and thermal imaging to determine that no viable signs of life were in the building before Brooks was found.
"We're very sympathetic to the possibility that there's two people … ," Davenport Fire Marshal Jim Morris said before pausing to wipe tears from his eyes "… that there's two people still left inside."
"We need to evaluate what we see between the structural engineer, our technical rescue teams and formulate the best possible way to strategically go in there," he continued.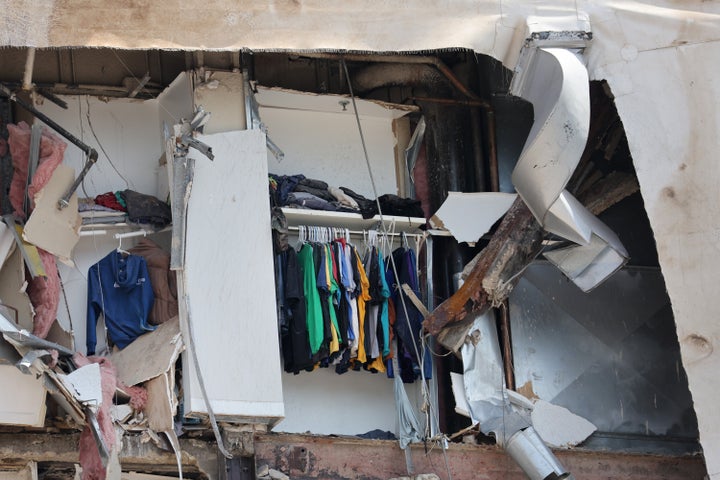 Some present at the news conference shouted over Morris, calling for rescue efforts to continue. Others have gathered outside the damaged building holding signs reading: "Find them first" and "Demo = murder."
Ryan Hitchcock is among those unaccounted for. His cousin, Amy Anderson, spoke at Tuesday's news conference in support of demolishing the building.
"Ryan wouldn't want anyone else to put their lives at risk to unfortunately [find] somebody who probably has not survived," Anderson said. "I don't discount that he could be trapped under there miraculously. We've seen some miraculous things, and our God is good, but we don't want to see any more families lose their lives or anybody else be injured."
She added that she was "mortified" by the protests calling for the search to continue.
"I plead with our community just to let the city do their job right now. It is an absolute no-win situation, but this is the best plan of attack," she said.
Officials have not yet determined what caused the building's partial collapse.
Popular in the Community