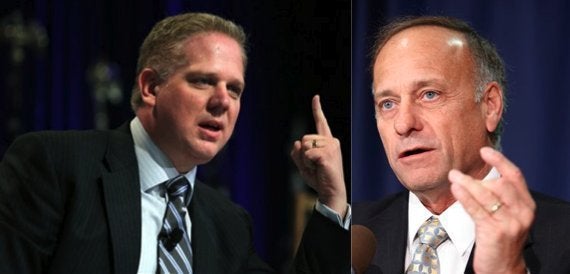 Glenn Beck and Rep. Steve King (R-Iowa) expressed harmonized outrage on Beck's radio program Thursday about news that the House might vote on the health care reform package this Sunday. Voting on a Sunday, they said, was offensive and heretical.
"They intend to vote on the Sabbath, during Lent, to take away the liberty that we have right from God," King said.
"Faith has been perverted," Beck responded, then repeated. "They are going to vote for this damn thing on a Sunday, which is the Sabbath, during Lent."
"Here is a group of people that have so perverted our faith and our hope and our charity, that is a -- this is an affront to God."
Though Beck conceded that he didn't believe that the Sunday vote was consciously chosen as a plot against God, he did find the timing apt.
"I think it's absolutely appropriate that these people are trying to put the nail in the coffin on our country on a Sunday -- something our founders would have never, ever, ever done. Out of respect for God."
As Think Progress points out, a Republican-controlled Senate convened on Palm Sunday in 2005 to pass a measure which granted a federal court the power to intervene in the religiously-charged Terri Schiavo case.
Beck himself recently irked various religious leaders when he told listeners earlier this month to "run as fast as you can" from churches and denominations that advocated "social or economic justice" because they were really pushing tenets of Communism and Nazism.
Popular in the Community