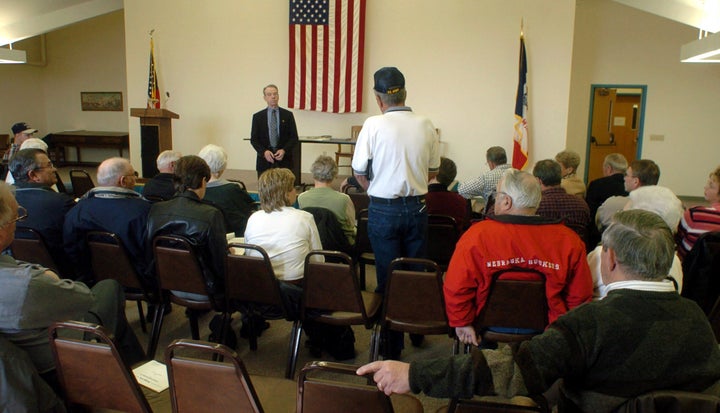 WASHINGTON -- The Iowa Democratic Party is lashing out at one of the Hawkeye State's most politically active progressive groups, potentially alienating a strong ally.
Federal lawmakers across the country have been hounded by upset constituents and other protesters at their offices, town hall events and fundraisers, with much of the ire aimed at GOP lawmakers.
On Monday night, the group put out statements proclaiming victory in their "confrontation" and "take over" of the town hall.
But the Iowa Democratic Party was less pleased.
"It's unfortunate that they continue to mistake screaming for persuasion and embarrass themselves in this manner," party Chairwoman Sue Dvorsky said in a statement released Wednesday.
Matthew Covington, an organizer for Iowa CCI, said reports that group members were rowdy and blocked Grassley from moving were false. Covington did acknowledge, however, that some people followed Grassley afterward because they had more questions.
"They wanted to ask questions and he completely ignored them," Covington said, "but no, he had free access wherever he wanted to go."
It's not just the state Democratic Party that's disappointed with the group. Iowa progressive blogger John Deeth disowned the group, labeling them "hippies." Douglas Burns, a newspaper publisher from Carroll, Iowa -- where the town hall occurred -- ran a column criticizing the group for "taking over" the town hall, calling them "moon howlers" and an "angry mob."
"They need to focus on getting results and not on getting on TV," Sam Roecker, communications director for the state Democratic Party, told The Huffington Post. Roecker referred to sources who said it seemed like the group was "playing it up for the cameras."
Iowa CCI members had already made a splash in national politics this summer when they heckled presidential candidate Mitt Romney at the Iowa State Fair to the point that he responded, "Corporations are people, my friend."
It was also at the state fair that Roecker said they crowded around Rep. Debbie Wasserman Schultz (D-Fla.), chairwoman of the Democratic National Committee, and demanded a private meeting. Rocker said that incident weighed into the party's decision to issue a statement Wednesday.
Iowa CCI hasn't been shy about its activism. It proudly boasted about its "bird-dogging" of Republican candidates at the state fair in a Des Moines Register op-ed.
The group, which has been around for three decades, has been instrumental in a number of initiatives, including dozens of campaigns against factory farms and pollution. Most recently, while Iowa Republicans were pushing controversial legislation on such issues as voter ID requirements, abortion restrictions, same-sex marriage, collective bargaining restrictions and education cuts, Iowa CCI showed up in force at the statehouse to speak out against the GOP proposals. Many of these bills, which were similar to high-profile proposals in states like Wisconsin, Ohio and Florida, died after liberal opposition. And the group has continued to protest at appearances by Gov. Terry Branstad (R) around the state.
Roecker acknowledged that the group has been a partner in many initiatives Democrats have sought and has significantly helped them in the past. However, he said the group didn't need wild antics to get results.
"[Grassley] was one who has, in the past, talked about privatizing Social Security, so that was an example of an actual issue that came out of the town hall that came from a question that didn't require the over-the-top attacks and confrontations," Roecker said.
Covington said Iowa CCI wasn't worried about making the Democratic Party upset. "We stand for progressive policies that put people first, not a particular party," he said. "I think right now a lot of folks, not only across Iowa but across the country, feel let down by both parties -- that they are putting our lives on the chopping block while asking nothing of the people who can afford it."
Iowa CCI put out a statement Wednesday chastising Dvorsky, the state party chairwoman, for not even being at the town hall. The group's executive director also passed along emails to The Huffington Post from attendees at the Grassley town hall showing support for the group. But the Iowa Democrats said they based their conclusions on Iowa CCI's conduct on reports from other attendees who complained.

Calling all HuffPost superfans!
Sign up for membership to become a founding member and help shape HuffPost's next chapter