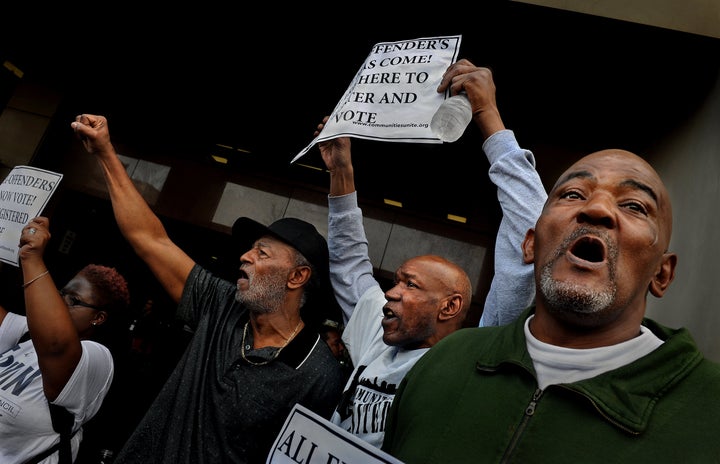 Iowa's top court on Thursday ruled that people who have been convicted of felonies can constitutionally be banned from voting for the rest of their lives -- even if they've already served their full sentences.
The Iowa Supreme Court concluded by a 4-to-3 margin that the prohibition on voting, which the state constitution says applies to people who have committed "infamous crimes," extends to felonies and thus permits permanent disenfranchisement.
"In the end, we are constrained to conclude that all objective indicia of today's standard of infamy supports the conclusion that an infamous crime has evolved to be defined as a felony," the court said, deferring to a law passed in 1994 that further defined the term "infamous crime" to include any felony.
"This is the community standard expressed by our legislature and is consistent with the basic standard we have used over the years," the court added.
The case was brought by Kelli Jo Griffin, a mother of four who challenged the lifetime voting ban following her 2008 conviction for "delivery of cocaine," a nonviolent drug offense for which she received a term of probation.
After Griffin completed her sentence, she registered to vote and cast a ballot in a local election, but an auditor rejected her vote due to her prior conviction. Local authorities even prosecuted her for perjury for registering to vote, a charge for which she was later acquitted at trial.
The state Supreme Court ultimately held that her conviction for the drug crime disqualified Griffin from voting under the state constitution, and left it up to the people of Iowa to amend the constitution -- or maybe pass a new law -- to eliminate this impediment.
"A new definition will be up to the future evolution of our understanding of voter disqualification as a society, revealed through the voices of our democracy," the court said. Under Iowa's constitution, only the governor can restore a person's right to vote, at his sole discretion.
All three dissenting justices on Thursday issued separate opinions, each setting out different rationales for why they believed the majority got it wrong. But Justice Daryl Hecht in particular issued a booming dissent, pushing back on the idea that allowing Griffin and other convicted felons to vote would somehow be an affront to other voters.
The notion that allowing Griffin to vote will render the ballot box impure, disrupt the electoral process, or damage institutions of democratic governance is fanciful at best.

Justice Daryl Hecht, Iowa Supreme Court
"The notion that allowing Griffin to vote will render the ballot box impure, disrupt the electoral process, or damage institutions of democratic governance is fanciful at best," he wrote.
Relying on social research and other studies, Hecht added that society suffers as a whole whenever public institutions exclude people from the democratic process, as when a series of executive measures in Iowa deprived of the vote roughly 14,500 people who had already paid their societal debts.
"Because many of these disenfranchised felons -- like Griffin -- were convicted of crimes having no relationship to the integrity of the electoral process or other democratic institutions, I believe a negative societal impact has occurred," Hecht wrote.
Another judge, Justice Brent Appel, called the majority's reading of "infamous crimes" in the state constitution "anachronistic."
In a statement, the American Civil Liberties Union lamented the Iowa Supreme Court's decision.
"This ruling means that Iowa will continue to serve as a notorious outlier when it comes to restricting people's right to vote," said Julie Ebenstein, an attorney with the ACLU's Voting Rights Project.
Iowa, Kentucky and Florida are the only three states that impose a permanent voting ban on former felony offenders, according to the ACLU.
For his part, Iowa Secretary of State Paul Pate praised Thursday's outcome, which he said adheres to precedent and historic definitions.
"My office will continue to work to preserve the integrity and fairness of Iowa elections and strive to help and encourage every eligible Iowan to participate in the electoral process," Pate said in a statement.
Calling all HuffPost superfans!
Sign up for membership to become a founding member and help shape HuffPost's next chapter