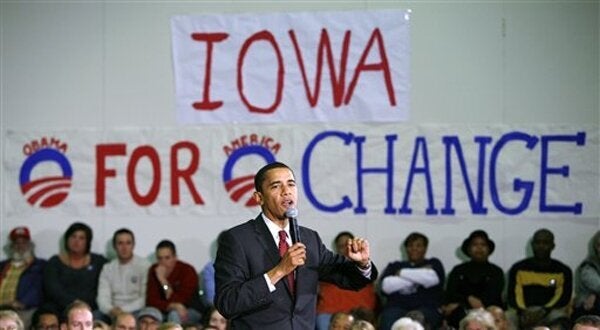 Des Moines, Iowa -- The Clinton cackle during the last Des Moines Register/Iowa Public Television debate still rings in my ears as I read a press release just rushed out to the media from the Obama campaign with the subject line: Do you Know Susan Klopfer?
No one, except a presidential candidate scouring the state for a persuasive, hardworking and powerful active Dem in the small town of Mount Pleasant, Iowa, has any reason to know or care about her, except for the fact that she has just resigned as Hillary Clinton precinct captain and
jumped over to Obama's camp, complete with a video taped endorsement now running on YouTube.
As the Obama press release stated, "Susan Klopfer from Mount Pleasant is a perfect example of what's beautiful about politics here in Iowa: negativity just doesn't work."
Klopfer said, "Barack Obama doesn't believe in negative campaigning. He's focused on what's really important - bringing Americans together so we can finally solve our problems. I'm so proud to call myself an Obama supporter. And I hope you'll share my story with anyone you think is also tired of silly attacks and interested in bringing about real change."
The video shows her ceremoniously taking down a Hillary for Change sign and replacing it with an Obama sign in her front yard.
Of course, this is after the personal attack by Hillary's New Hampshire co-chair Billy Shaheen, who off-handedly mentioned to a reporter that Obama's past drug use could make him vulnerable to GOP attacks in the general. Ouch.
Shaheen has resigned and Hillary apologized personally to Barack, but that really doesn't matter. This is the second attack in as many weeks against Obama by the Clinton backers and the damage was done.
It only took the Obama campaign a few hours to send hundreds of thousands of email fundraising appeals to their base using the negative slam by Shaheen as another opportunity to pump up the Obama war chest this quarter, and something else: It gave the Obama campaign the advantage and they are milking it to the hilt by prying loose any shallow Clinton supporters. Susan Klopfer being the latest, but I am told that they expect more Hillary supporters in the coming days.
The Iowa race remains a virtual dead heat for all three top tier candidates, so key to assessing the candidates' momentum are these small but important hiccups in the final days before the caucus vote.
Negativity, like the illegal immigrant issues for the GOP, has become a wedge issue on the ground in Iowa. Who is playing well with others? Who isn't?
John Edwards has been smiling more and sounding less like a Howard Dean-knock off in the last debates and while stumping the state in recent weeks. He's cut back on his slam-downs against Hillary and he is maintaining or even gaining supporters tired of the Hillary vs. Obama
schoolyard antics.
Of course, he still loves to hate corporations, which may play well in the rural small towns in the state, but in the larger cities, especially in the metro-capital city of Des Moines, 80% of the nearly 300,000 are employed by corporations.
There are 70 insurance companies in town (second only to Hartford, Conn.), 100 other regional offices and power employers like; Principal Financial Group (8000 employees), Iowa Health-Des Moines (nearly 5000), Mercy Hospital (4500), and Hy-Vee Food Stores (4500).
There aren't any farmers living here that are struggling to make a living. Edward's populist themes are not yanking the cords of the state's metro areas.
Fact is, the vast majority of the Blues here are living in larger cities - Des Moines, Cedar Rapids, Sioux City, Davenport, Council Bluffs - and are quite happy 'thank-you-very-much' with their corporate good salaries, yummy health care benefits, and two weeks of vacation.
While Edwards is holding his own out in the hinterland, the real fight is between Obama and Clinton for the perception of a winner and even losing one precinct captain is a big deal around in this hotly contested Democratic battle for the top spot out of the January 3 caucuses.
A precinct captain like Susan Klopfer does the heavy lifting for his or her presidential candidate on caucus night and every campaign in contention fights to the death to recruit and retain them. They receive baskets of fruit, personal phone calls, visits, and are given plum front row seats at
big celebrity events.
Janet Peterson, a state representative from a large northwestern neighborhood in Des Moines (and now a treasured Obama precinct caucus chair), told me at the Oprah/Obama event last week that Hillary Clinton called her over a year ago, when she was at the hospital, in labor with her last baby.
"I couldn't get her off the phone and I was getting pretty uncomfortable," said Peterson. "She just kept talking and talking."
While I haven't heard that Joe Biden is calling anyone in the maternity ward, staying above the fractious front-leaders' offensive and defensive maneuvers may help him eke out a third place finish, if Edwards can't hold his ground team together.
Now that Edwards is taking public financing, he can't afford the big national staffs that have flooded the Clinton and Obama headquarters in Des Moines and elsewhere around the state for their big GOTV push. It's all about organization.
Edwards hasn't held any big GOTV practice runs. His supporters weren't highly visible at the Jefferson Jackson Day Dinner like Hillary or Obama's, nor were they a notable force at the last Brown & Black Forum, which doesn't bode well for him.
Conversely, last night, over 1,000 Obama precinct captains hosted parties around the state to go over their duties, continue training, and pulling in new supporters. The Clinton camp will be doing the same in the next few weeks, although they are well-organized with field offices and young pols beating the drums for Hillary.
In the caucus strategy game, Obama scored some points with the Biden supporters when he came to Biden's defense after the moderator questioned Biden's record on racism.
If Biden isn't viable after the first vote, his supporters may be more willing to join Obama than Clinton or Edwards, who stood by while their candidate received what appeared as being an unfair question.
Iowans really do remember when you place nice and they remember when you haven't been so nice to their favorite guy or gal.
So, while Hillary's laughter was a bit too quick and a bit too edgy (not one of her better moments) remained one of the highlights of the last and final Democratic debates, Obama's small but important little win today with Susan Klopfer from Mount Pleasant, leaves one wondering, whose laughing now?

Popular in the Community