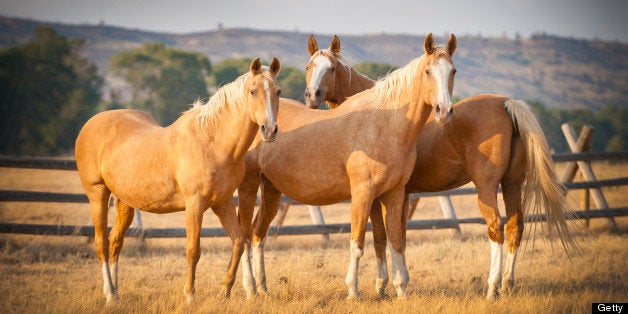 WASHINGTON, July 2 (Reuters) - The U.S. government approved a horse slaughter plant in Iowa on Tuesday, its second such move in four days, but at the same time it renewed its appeal to Congress to ban the business.
In a statement, the Agriculture Department said it was required by law to issue a "grant of inspection" to Responsible Transportation, of Sigourney, in southeastern Iowa, because it met all federal requirements. USDA will also be obliged to assign meat inspectors to the plant.
An application from a Missouri company also was expected to win approval this week.
"The Administration has requested Congress to reinstate the ban on horse slaughter," the USDA said in a statement. "Until Congress acts, the department must continue to comply with current law."
A company in New Mexico, Valley Meats in the city of Roswell, on Friday became the first horse plant to clear the USDA review process since a ban on horse slaughter ended in 2011.
Animal welfare groups said last week they would sue USDA to overturn approval of horse plants. The Humane Society of the United States and Front Range Equine Rescue say horse meat may be unsafe because horses are given medications not approved for livestock.
Horse meat cannot be sold as food in the United States but it can be exported. The meat is sold for human consumption in China, Russia, Mexico and other nations and sometimes is used as feed for zoo animals.
Nearly 159,000 horses were exported from the United States to Canada and Mexico during 2012, most likely for slaughter, officials said.
Congress effectively banned horse slaughter in 2006 by saying the USDA could not spend any money to inspect the plants. Without USDA inspectors, slaughterhouses cannot operate.
The ban had been extended a year at a time as part of USDA funding bills, but the language was omitted in 2011.
Lawmakers may vote in coming weeks on horse slaughter as part of work on Agriculture Department funding. In addition, two free-standing bills would ban horse slaughter and the export of horses for slaughter.
Groups have argued for years whether a ban on slaughter would save horses from an inhumane death or cause owners to abandon animals they no longer want or cannot afford to feed and treat for illness.
It was not known how soon Valley Meats or Responsible Transportation would begin operation. A spokesman for Responsible Transportation was not immediately available for comment.
On an Internet site, Responsible Transportation said there are 90,000 to 100,000 unwanted horses annually. "We believe it is our responsibility to restore the value of the horse industry," it said. (Reporting by Charles Abbott; editing by Ros Krasny and Leslie Adler)
REAL LIFE. REAL NEWS. REAL VOICES.
Help us tell more of the stories that matter from voices that too often remain unheard.
BEFORE YOU GO
PHOTO GALLERY
The Countries that Eat the Most and the Least Meat