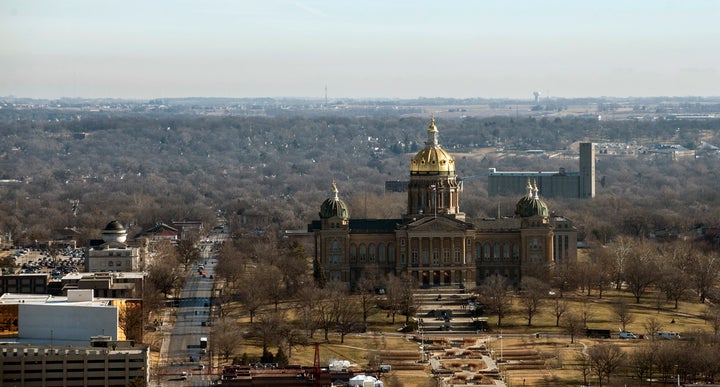 My son is currently a freshman at a university in Iowa studying to be a teacher. He spent his winter break working with junior high choir students each morning at 7 a.m. and it made him more committed than ever to want to teach. He would ultimately like to teach right here in Iowa. It is becoming harder and harder to encourage him to stay in our home state to teach. Iowa has long had a tradition of caring about public education. Iowans also pride themselves on a certain civility (sometimes masking a thinly hidden stubbornness, made famous in the musical The Music Man)…but always doing our best to be Iowa Nice.
That dedication to public education and civility is being sorely tested this week. Without any warning last week, Republican legislators unveiled a legislative attack on collective bargaining rights for public employees. If passed, it will not allow public employees to bargain for health care, for due process, and retirement benefits. Republicans say that it isn't "union busting" because we will still have the right to bargain for compensation. Of course, we will be bargaining over the tiny amount of money that they have approved for us, because Iowa is giving away hundreds of millions of dollars in corporate tax breaks that don't seem to be finding their way into the pockets of middle-class Iowans (I wonder whose pockets those hundreds of millions of dollars end up in?).
Republican legislators in Iowa didn't campaign on this issue. There were no rallies, stream of phone calls and letters, or organized campaign by Iowans that they wanted public workers to lose collective bargaining rights. The only "outcry" is a commercial running on local stations that is funded by out-of-state money. Republican legislators are doing this to punish unions. It really is that simple. They won't say that in public, because that's not Iowa Nice. I'll say it for them. So, while Republican legislators punish those of us who have dedicated our careers to public education, what will happen to our schools? If only we knew? Oh yeah, Wisconsin did this 5 years ago. The result is that rural schools are struggling to find teachers, fewer young people are entering the teaching profession, and there is no evidence that student achievement has increased (except the occasional cherry-picked statistic the governor trots out). Of course, Iowa is a state where we have watched Kansas plunge into economic crisis with massive corporate tax cuts and said, "hey, why don't we try that?" A case could be made that our Iowa legislators don't pay a lot of attention to the obvious consequences to their actions, even when those consequences are taking place in states all around us.
It is all about consequences. Elections have consequences. Iowans elected a Republican legislature and a Republican governor, and those politicians are going to do what the out-of-state conservative political cash cows tell them to do. We elected these people and we should have known that this was the agenda they would pursue (although not a one of them campaigned on destroying collective bargaining during November's election). But, actions have consequences and legislation has consequences. Much like the massive corporate tax breaks enacted since 2013 have created an artificial budget crisis, forcing us to cut millions of dollars from the state budget, busting up pubic sector unions will also have a consequence. Rural schools will find it hard to get teachers, fewer smart young people will want to enter public service, teachers will be forced to fight among themselves for salary dollars (won't it be fun to know that if your colleague gets a bonus of $10,000, the rest of the staff makes $10,000 less…yeah, that's how this will work), and teacher morale will be at an all-time low. Some of this seems to stem from the idea that our Republican legislators think we have had it too good for too long in education. They must believe that there is an army of people in our communities who would make better teachers and do the work for less money and fewer benefits? If so, where are they?
Here is the thing. Teachers aren't going to be Iowa Nice for long. We'll continue to teach young people with all of our hearts because that is what we love to do, but our legislators better be ready. I've never seen teachers so demoralized, angry, and ready to take action. We teach, and we teach in Iowa, because we believed our state respected our work. We still believe our communities respect us, but our legislators don't. We get that. Our anger that this legislation has been thrust on us behind closed doors and is being rushed into law won't be without consequences. We're nice, but we're also Iowa Stubborn when it comes to doing what is best for the young people of Iowa. There are those that think that this is about protecting bad teachers or protecting our fantabulous lifestyles…as a famous politician regularly says, "WRONG." This is about what is good for our schools and good for our young people. If Iowa's Republican legislators want to have a conversation with Iowans about collective bargaining, this isn't the way to do it, and that's not what Iowans want. Iowa's Republican legislators want to punish unions and in doing so will hurt public education in Iowa. Do it, but remember: consequences.
Calling all HuffPost superfans!
Sign up for membership to become a founding member and help shape HuffPost's next chapter
BEFORE YOU GO