Scott Michael Greene, 46, is suspected of killing two police officers while they were sitting in their patrol cars.

Police captured Greene in Dallas County, Iowa, hours after the shootings.

Authorities identified the two officers as Justin Martin, 24, and Sgt. Anthony Beminio, 38.
Police suspect Scott Michael Greene, 46, moved between two Iowa locations on Wednesday morning, raining gunfire on two unsuspecting officers.
Urbandale Police Officer Justin Martin, 24, and Des Moines Police Sgt. Anthony Beminio, 38, were killed in separate shootings. As of Wednesday afternoon, there was no clear motive for the ruthless crime.
Urbandale resident Russell Cheatem said he heard the initial gunshots around 1 a.m., according to The Des Moines Register. Outside his home, he found Martin's vehicle, riddled with 15 to 30 bullet holes.
"I pulled the door open and realized there was nothing I could do for him," he told the paper.
He heard more gunfire minutes later, thought to be the shots that killed Beminio about 2 miles away. Beminio was shot at about 1:26 a.m., according to police. He was transported to Iowa Methodist Medical Center, where he died.
Hours before the shootings, Greene was slapped with a court order to leave his mother's house after she accused him of emotional and physical abuse, according to The New York Times. It remained unclear if the court order and the shootings were connected.
At a press conference on Wednesday, Des Moines police Sgt. Paul Parizek labeled the suspect a "coward" and called the shootings an ambush.
"Doesn't look like there was any interaction between these officers and the coward who shot them as they sat in their cars," he said.
Martin, who graduated from the Iowa Law Enforcement Academy in January, had been working for the department for a little over a year.
He leaves behind his mother and father, both of whom work in the local education system, friends told The Huffington Post.
"He was just an all-around great guy," said Martin's high school pal Kole Dudley, 23. "He was never afraid of hard work. He was always a lead-by-example type of person. Christian by the very definition."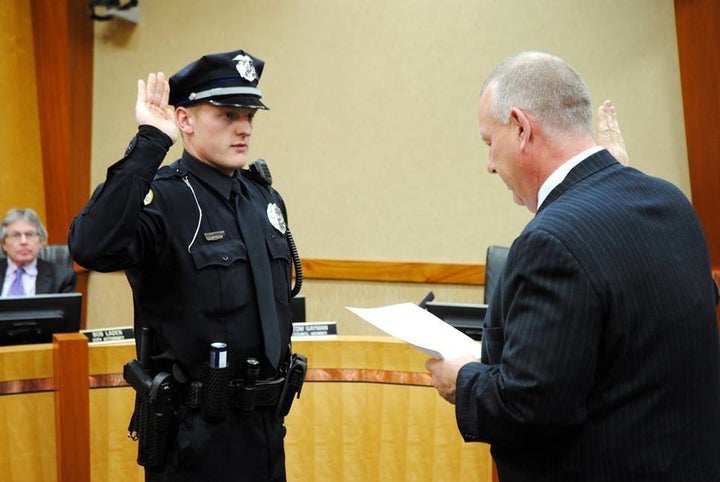 "He was a kind, gentle, compassionate man who was always concerned with serving the public," Fred Jones, a professor of sociology and criminal justice at Simpson College, said of Martin in a statement. "That's why he went into police work. He was smart and had great social skills. He just had it all."
Martin and Beminio both attended the school.
Beminio had three children, according to his cousin Jason Sweeney.
"Married and from all accounts a great police officer," he told HuffPost via Twitter. "We didn't see each other nearly enough but when we did it was always as if time hadn't passed. He was such a good guy."
Working for the police force was "in his blood," Sweeney added. Beminio's father is a retired sheriff, one uncle a former state trooper and another uncle a former police officer.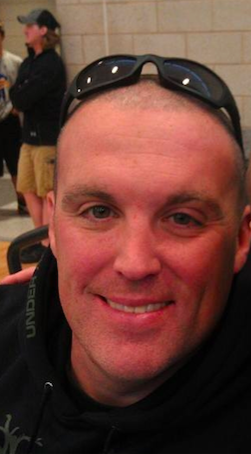 In a YouTube video uploaded on Oct. 16 by a person calling himself Scott Greene, a man can be seen arguing with Urbandale police officers outside a high school football game, The Des Moines Register reports.
"I've asked you multiple times to leave this property," an officer can be heard telling the man.
"I was assaulted in the stands," the man replies.
Replying in a comment to his own video, Greene said he was "offended by the blacks sitting through our anthem. Thousands more whites fought and died for their freedom. However this is not about Armed forces, they are cop haters."
A separate YouTube video uploaded on Oct. 21 shows what appears to be Greene holding a Confederate flag in the stands of the high school football game he was later told to leave.
Greene has been accused of domestic assault and harassment in the past, according to Iowa court records.
Before the suspect was identified, Parizek alluded to the tensions between law enforcement and communities of color after several high-profile shootings of unarmed black men.
"There is a clear and present danger to police officers right now," Parizek said, visibly shaken. "We're very well aware of the society that we're living in right now ... and that there are some not so positive views of law enforcement that a segment of our population holds."
Democratic vice presidential nominee Tim Kaine and former President Bill Clinton have canceled a get-out-the-vote event scheduled to take place in Des Moines on Wednesday night because of the shooting.
Republican presidential nominee Donald Trump and Democratic presidential nominee Hillary Clinton both reacted to the tragic shootings on Twitter.
"All across the country, our police officers go to work each day not knowing whether they'll come home tonight," Obama said in the statement. "Their families live each day with the same fears. So as Americans, we owe them our respect and gratitude for their efforts to safeguard our families and our communities. And so as we once again mourn American police officers lost in the line of duty, we must also renew the call to match that same sense of service, that same devotion within our own lives and our own communities."
In July, five police officers in Dallas, Texas, were killed in similar ambush-style attacks. The gunman wounded seven other officers and two civilians.
This article has been updated throughout as more information has become available.
Clarification: The sequence of events has been amended to reflect that Castile was shot prior to the shooting of police officers in Dallas. This article previously suggested that Castile's death shortly preceded Wednesday's shooting in Iowa.
Before You Go
Two Police Officers Killed In Ambush In Iowa
Popular in the Community