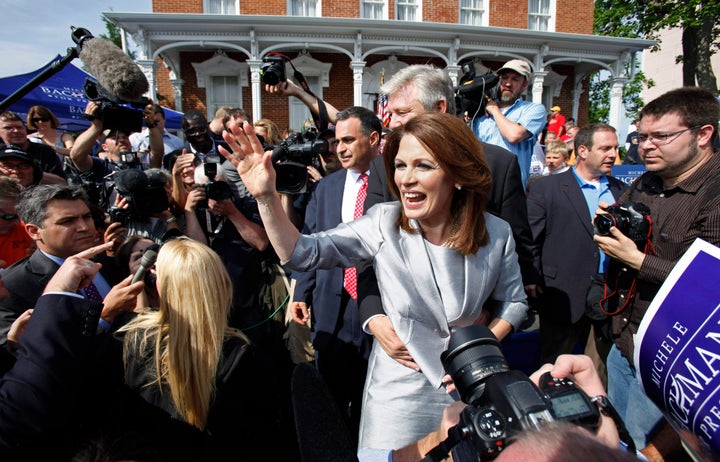 WASHINGTON -- On the eve of her campaign kickoff, Minnesota Rep. Michelle Bachmann (R) received some very good news: The highly respected Des Moines Register Iowa Poll finds her "leading the pack," along with former Massachusetts Governor Mitt Romney, as the first choice of likely Republican Caucus participants. The news was even better for Bachmann on the individual ratings of each candidate. The Register reported Bachman is "in a different league from the other candidates," receiving a bigger favorable rating (65 percent) than any of the other candidates and a very low negative rating (12 percent) among Iowa Republicans.
The survey's vote preference question shows Romney and Bachmann leading (with 23 and 22 percent respectively) followed by former Godfather's Pizza CEO Herman Cain (10 percent), with all of the other announced candidates receiving 7 percent or less. With the caucuses at least six months away, however, voters' preferences are likely to change. The same survey found just 14 percent said their minds are "made up" to support their first choice candidate. The rest were either completely undecided (14 percent) or open to a different choice (69 percent).
Candidates will likely rise or fall on horserace questions in the coming months, reflecting that voter uncertainty. Tracking progress on individual candidate ratings sometimes gives a better early warning of "second tier" candidates poised to gain voter support.
The Register's Iowa Poll asked favorable rating questions about a long list announced and potential candidates and published the full results. The table below, taken from the Register questionnaire, shows the percentages of respondents who expressed unfavorable, favorable and very favorable impressions of the better-known official and potential candidates.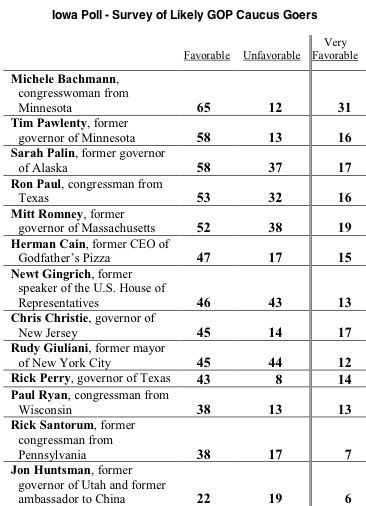 Several findings stand out:
Bachmann's popularity among Iowa Republicans is both broad and deep. She also has a big advantage in her "very favorable" rating (31 percent), which far exceeds that of the other well-known candidates, including Romney (19 percent), Tim Pawlenty (17 percent) and even Sarah Palin (17 percent). Intensity of feeling is a huge advantage in a caucus state, where candidates vie to turn out voters. Bachmann may be behind Pawlenty in hiring field organizers, but, at least for now, her campaign will have an easier time finding enthusiastic supporters.
While 52 percent of respondents rate Mitt Romney favorably, a surprisingly large number (38 percent) rate him unfavorably. His Iowa numbers are actually slightly worse than those received by Sarah Palin (58 percent favorable, 37 percent unfavorable).
Although Tim Pawlenty ranks sixth on the vote preference question, making him the first choice of just 6 percent of likely GOP caucus-goers, his favorable rating ranks second among the announced candidates (58 percent favorable, 13 percent unfavorable).
Consider the lesson of New Hampshire's Republican primary in 2008. At the national level, John McCain's support dropped by nearly 10 percentage points during the first half of 2007, following his prominent support for immigration reform and negative coverage of his disappointing fundraising and a major campaign staff cuts.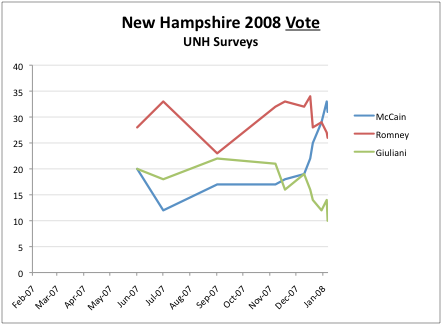 But while McCain lost support on the vote question in polls, his favorable ratings in New Hampshire remained strong. Even during his low point in the summer of 2007, 63 percent of New Hampshire Republicans continued to rate McCain favorably, while just 24 percent rated him unfavorably. His ratings at that point roughly matched Romney's. As the winter approached, Romney's support fell, Guiliani's collapsed and McCain was positioned to gain. Eventually, McCain won with 37 percent of the primary vote to Romney's 31 percent.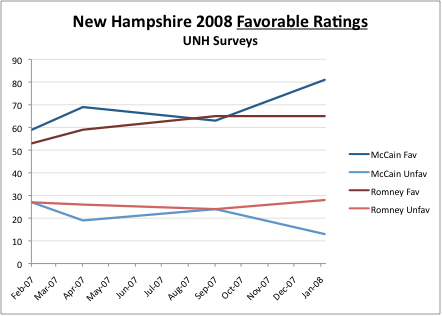 Of course, New Hampshire is not Iowa and John McCain -- who had also won the New Hampshire primary in 2000 -- is not Tim Pawlenty. Neither the current Iowa polling results nor the historical precedent offers a prediction about what will happen in Iowa in 2012. But the lesson from 2008 is to keep a sharp eye on candidates' favorable ratings.
Right now, the Register's ratings results indicate two very important things that are not clear from the horserace results: First, the intensity to Michelle Bachmann's Iowa support gives an early boost to her efforts to build an organization there. Second, Tim Pawlenty is surprisingly popular for someone polling just 6 percent of the vote.
Calling all HuffPost superfans!
Sign up for membership to become a founding member and help shape HuffPost's next chapter