WASHINGTON -- The latest poll of Iowa's likely Republican caucus-goers provides more evidence of a race headed toward a photo finish, with Ron Paul, Mitt Romney and a surging Rick Santorum running within two percentage points of each other.
The automated poll conducted by the Democratic Party-affiliated firm Public Policy Polling (PPP) shows Ron Paul at 20 percent, Mitt Romney at 19 percent and Rick Santorum at 18 percent on a survey for which PPP reports a margin of error for each candidate of +/- 2.7 percent. Running farther back are Newt Gingrich at 14 percent, Rick Perry at 10 percent, Michele Bachmann at 8 percent, Jon Huntsman at 4 percent and Buddy Roemer at 2 percent. PPP interviewed 1,340 likely Republican caucus goers on December 31 and January 1.
Like other recent polls, PPP shows strong momentum for Rick Santorum, who gained 8 percentage points in the last week. PPP also finds evidence that Santorum still has room to grow: His personal rating -- 60 percent favorable, 30 percent unfavorable -- currently stands as the strongest of the field, and voters choosing other candidates pick Santorum most often as their second choice (14 percent choose Santorum as their second choice versus 11 percent for Romney and 8 percent for Paul).
PPP's results and trends are mostly consistent with those on a half-dozen other polls released in the last week. HuffPost Pollster's chart, based on all public polls in Iowa, currently shows Mitt Romney leading with 22.5 percent, Ron Paul in second but fading slightly to 19.1 percent, Rick Santorum rising fast to 17.1 percent, and Newt Gingrich still falling and now at 12.9 percent.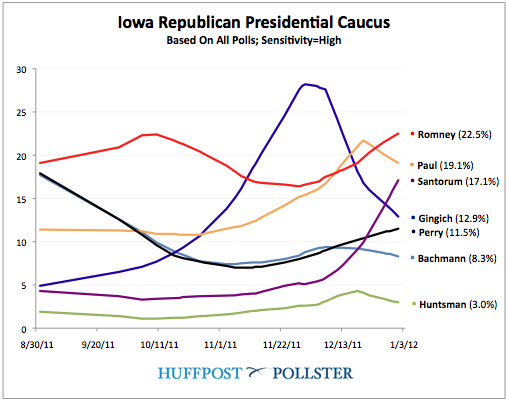 One important area of consistency is a modest decline for Ron Paul, from 24 percent on PPP's poll last week to 20 percent on the new survey. PPP also reports a "precipitous drop" in Paul's personal ratings, from a net positive (53 percent favorable, 40 percent unfavorable) to net negative (43 percent favorable, 51 percent unfavorable) in just one week. The decline for Paul is consistent with what other polls have found, as evident on the HuffPost Pollster chart. It is also consistent with similar declines reported by the other organizations that have fielded multiple surveys in late December, such as American Research Group, WeAskAmerica and Insider Advantage.
PPP shows no significant change for Mitt Romney during late December, although their current estimate of Romney's support (19 percent) is 1 percentage point lower than last week (20 percent). Other polls have generally shown a gradual increase in support for Romney during December, though results from the three other pollsters who fielded two surveys in late December have been mixed.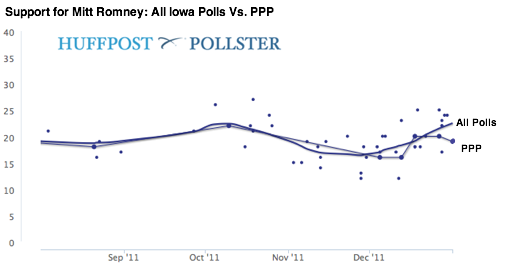 The outcome of the Iowa race hinges on a number of potentially offsetting factors that remain difficult to predict:
Will Santorum continue to gain and pick up votes from candidates like Michelle Bachmann and Newt Gingrich, whose support has been dropping? Or will the Tea Party and evangelical Christian voters who have been persistently reluctant to support Romney remain divided enough to allow Romney to win?
Are polls correctly gauging intent to participate by evangelical Christians and older traditional Republican caucus-goers? As reported by the Des Moines Register Iowa poll, both have been less of a factor than usual in polling this year. An evangelical turnout similar to Republican caucuses past would aid Santorum, while a typically heavier turnout of past Republican caucus-goers over 65 would benefit Romney.
A few more polls will likely trickle out on Monday, but the ultimate answers will have to wait for the votes to be counted Tuesday night.

Popular in the Community