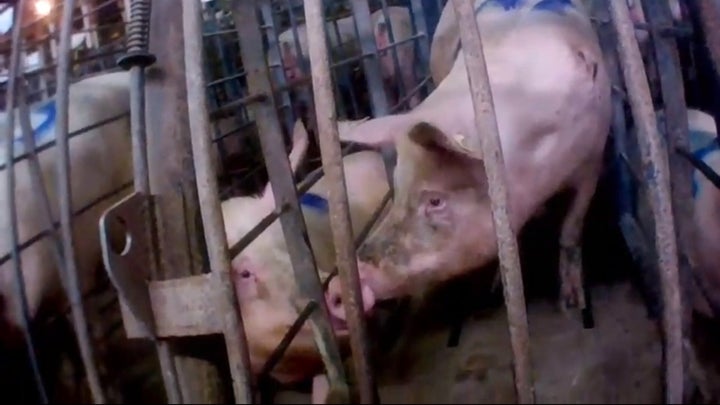 Animal rights group Mercy For Animals has released ghastly undercover footage of pig abuse at Iowa Select, an industrial farm that supplies pork to Krogers, Safeway and Costco. The footage, which was shot between April and June 2011, shows Iowa Select workers casually throwing piglets across the room and using dull pliers to cut the tails off of young pigs. The preview's most disturbing images are of pigs that have suffered severe abscesses as a result of botched and infected neutering and birthing. Their skin is flayed away from painful-looking open sores, revealing bone, muscle and pus underneath. It depicts treatment significantly more brutal than that shown in undercover video of number-one pork producer Smithfield Farms' gestation crates released in December.
Iowa Select has issued a noncommittal statement indicating that they plan to investigate abuses at their factories. They say that they plan to discipline any employee who is found to have breached the company's "animal care" policies.
This shocking release comes just days after 41,000 Iowans petitioned against a bill, which has passed the Iowa House of Representatives and is now before the Iowa Senate, that would ban undercover filming of farms.
Nathan Runkle, the executive director of Mercy For Animals, said that the choice of an Iowa farm was not motivated by opposition to the pending bill, but that he hoped the video would attest to the folly of a ban on undercover farm filming. "We need more transparency in agriculture and food production, not less," he said. "As this new investigation graphically illustrates, with not a single federal law providing protection to animals on factory farms, and Iowa state anti-cruelty law largely exempting farmed animals, legislators should be working to enact laws protecting animals, not abusers."
Here's the preview video; be warned that many of the images depicted are extremely graphic and disturbing in nature: