In an effort to highlight voter irregularities and push for stricter voting laws, Iowa's top election official pushed statistics on alleged voter fraud that even a member of his own staff privately suggested were misleading, emails obtained by the Huffington Post reveal.
This past January, Iowa's Secretary of State Paul Pate (R) introduced a bill that required those who wanted to cast a ballot to show official identification, eliminated straight party voting, and established post election audits of the vote.
This effort was part of a nationwide push by Republicans to enforce voter ID laws, even though voter fraud is virtually nonexistent. And to sell the measure, his office did what other Republicans have as well: it argued that while there's been no evidence of voter fraud in Iowa, elections are insecure and could potentially be cheated.
To substantiate his argument, Pate's office drafted a statement for a reporter from the local Gazette newspaper, noting that in Iowa it appeared 41 felons had cast ballots and that more than 200 election day voter registrations, or EDRs, had bounced back. The draft statement included the caveats that the irregularities "do not necessarily constitute fraud" and that the state would have a more complete picture of election data come March. Pate urged his staff to release it.
"We need to release info and these stats are public already. When an auditor turns them over to the county attorney or sheriff for action that pretty much makes it public. Am I missing something?," he wrote in an email.
But releasing the statistics drew an objection from Carol Olson, Pate's deputy secretary of state for elections, who suggested they were misleading.
"I do not believe that we should say that 41 felons illegally cast ballots. We encouraged them to use provisional ballots, so that would feel a little like we baited them to do something illegal," she wrote. "And it's risky to label it 'illegal' because we don't know the circumstances. It might be illegal, but [it] might not be, if someone really believed their rights were restored. We can report the number of felons voting, but let's not call it illegal," she wrote.
Olson noted that some of the statistics suggested something nefarious when it could simply be attributed to human error.
"I'm also really reluctant to say that 207 EDR's (sic) from 15 counties bounced back. In the context of a discussion on election fraud, it sounds like we are suggesting that "bounce backs" are fraud or likely to be fraud," she wrote. "First, it's only a partial report. What about the other 84 counties? How does this fit into the overall process of EDRs? The vast majority of these 'bounce-backs' are sloppy addresses from voters in too much of a hurry when they register at the polls. That's a real reason to discourage EDR and a real reason to have pollbooks, but it's not an indicator of illegal activity."
Olson said she was concerned about releasing statistics on fraud because it would push reporters to look into them more.
"My reason for recommending not to provide the "fraud" information is that we can never provide the media enough info. No matter what we give them, they are always looking for more details, more dirt. We have no idea if any of these cases will be prosecuted or even investigated," she wrote. "We have no idea how many other situations were never referred to us. I also don't want county auditors to feel reluctant to talk with us about concerning cases because they fear a reporter will be calling them up demanding more information."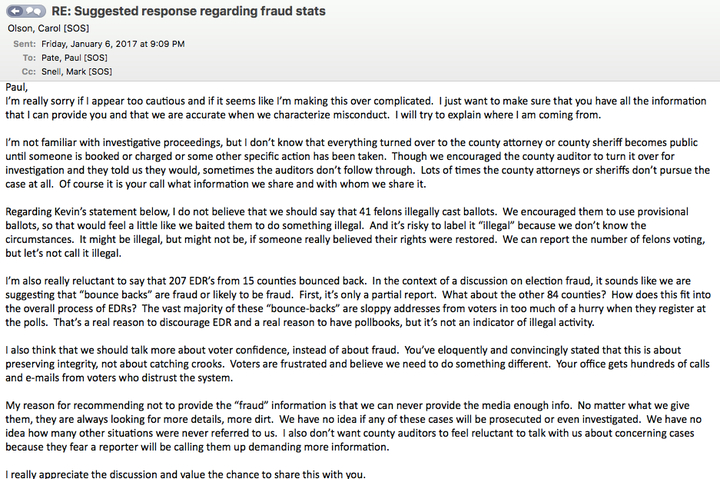 Despite these concerns, Pate's office pushed the statistics anyway. His communications director provided the reporter from The Gazette the numbers Olson found objectionable, while providing the caveats that the irregularities weren't necessarily fraud and the data was incomplete.
"County auditors from 15 counties reported a total of 207 Election Day voter registrations have bounced back in the initial phase. These are just preliminary and auditors are working on resolving. They do not necessarily constitute fraud. This includes about half of the largest counties. It is not a complete statewide list yet. We will not have a more accurate picture of these until around March," Kevin Hall, the spokesman, wrote in his response to the reporter.
Similar numbers ended up in a Jan. 13 story stating that more than 250 registrations bounced back and that 41 felons cast ballots. The Gazette did not describe the felon votes as "illegal" and noted that Pate believed the number of unverified voters would drop.
In an email to The Huffington Post, Hall said that Olson's comments were being mischaracterized.
"You are mischaracterizing Carol's comments, just as she predicted the media would in the last paragraph of the email you pasted below," he wrote.
Different versions of Pate's bill have passed the Iowa House and Senate and it is expected to become law soon. Critics of the bill argue that a voter ID requirement will discourage minorities, the elderly and the poor from voting, a concern dismissed by Pate's office because the legislation will provide a free voter identification card for those who lack the required ID.
In at least one email, Olson acknowledged there was more that could be included in the bill to make it easier to vote. In January, Joel Miller, the Linn County auditor, asked Olson whether Pate's bill would include a provision for automatic voter registration. Such a provision, he noted, "would get voter IDs into the hands of more of our citizens with virtually no effort or cost."
"That's true. Not a likely addition to this bill, however. Thanks for reaching out, tho!," Olson wrote back.
Before You Go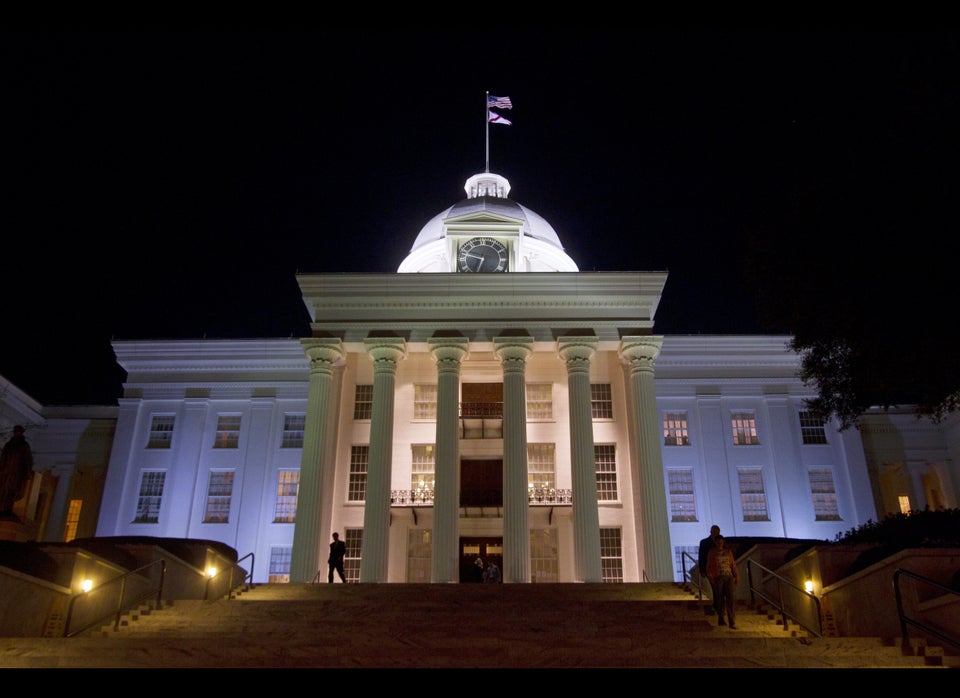 U.S. State Capitol Buildings
Popular in the Community