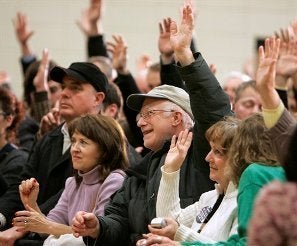 Des Moines, Iowa -- Barack Obama capped off his quest to win the statewide Democratic presidential caucuses by emotionally exhorting the youthful core of his supporters to make sure they show up at tonight's prolonged exercise in voting.
"In a few hours you will have a chance to make history, Iowa," the hoarse Illinois senator said at a sometimes tumultuous rally Wednesday night that filled every square inch of a local high school gym with at least 2000 in attendance. "You will have the chance to prove the pundits wrong."
"They said you're too disappointed about the politics of the past to turn out and caucus for the politics of the future," Obama said to the markedly youthful crowd that stood and excitedly cheered on several occasions, chanting O-ba-ma!. "Tomorrow you will have the chance to say 'yes we can!'" he shouted to the audience.
Zero hour for Obama and for all of the other Democratic and Republican hopefuls sounds Thursday at 6:30 p.m. when Iowans interested in choosing a nominee must show up at a local caucus site and literally stand for their candidate. In spite of the intense retail politicking that ripples through Iowa for months before the caucus, turn-out is usually low. In 2004, barely 125,000 Democrats came out to stand for a candidate.

The most authoritative of Iowa polls conducted by the Des Moines Register shows Obama going into Thursday night's caucus with a hefty seven and eight point lead respectively over Hillary Clinton and John Edwards. But that result is leveraged on a projection that an unprecedented wave of young and first time caucusers will turn out.
A new Reuters/C-Span Zogby tracking poll released Thursday morning shows a Clinton "fade" with Obama out ahead of her by seven points. In the same poll, Edwards has also moved ahead of Clinton. But again, Obama's lead hinges on an expected surge of first-time and youthful voters.
Joe Trippi, the man who helmed Howard Dean's ill-fated 2004 campaign and who is now advising John Edwards, is doubtful that the projected massive turn-out will materialize. "I'm also having this reverse deja-vu where I remember spending a good chunk of this period four years ago telling every reporter that would talk to me about exactly how 220,000 people were going to turn out and vote, and if they did Howard Dean would be the next president of the United States," he told reporters. "This time I feel a little awkward sitting here arguing that 200,000 will never show up, but I honestly don't think it's going to happen."
But Obama strategists are confident that pent-up Democratic anger, a rejection of the Clintons, coupled with growing disenchantment among Republicans and independents with the Bush administration will carry their candidate to victory.
"The question is, will we seize the opportunity," a clearly emotional Senator Obama asked the crowd as he engaged them in a church-like call and response.
"We will!," the crowd shouted back.
"Are we fired up?" called the Senator?
"Fired up!" loudly responded the crowd.
"Ready to go!" the crowd roared back.
"You must be ready," Obama said with a beaming smile.
About a third of those present raised their hands when the candidate asked how many would be attending the caucuses for the first time Thursday night. Only a dozen or so raised their hands when asked who was still undecided. Earlier in the week as many as a fourth or more of the crowds attending Obama events claimed to have not yet made up their minds.
"If I knew the answer to whether all these young voters were really going to turn out or not I'd already be retired," said a veteran Democratic consultant who requested anonymity. "They usually disappoint. But this cycle so far is defying all the conventional wisdom, so who knows? It smells like Obama has really touched a nerve."
But long-time campaign observers all agree that any of the three top Democratic contenders could take tonight's top prize. All have formidable ground operations, and Clinton and Obama have no shortage of funding.
Tonight's caucus could be decisive in determining the eventual Democratic nominee or it could decide nothing at all. On the Democratic side it's do-or-die for John Edwards who dug into Iowa as a sort of campaign Alamo. There's no visible strategy on how Edwards would be viable going into the next round of primaries, beginning January 8 in New Hampshire if he cannot score a decisive win in Iowa.
Conversely, Democratic insiders agree that if Senator Clinton can win big in Iowa she could as much as lock up the nomination process. But any close finish between Clinton and Obama could mean a prolonged primary battle through New Hampshire, then into South Carolina and Nevada a few weeks later, followed by so-called "Tsunami Tuesday" when more than 20 states vote on February 5.
All three major Democratic contenders spent Wednesday criss-crossing the state in last-minute campaigning. John Edwards concluded a no-sleep, 36-hour bus stop marathon with a John Mellenkamp concert in Des Moines. A few miles away, as Obama was addressing his raucous crowd, Hillary Clinton was joined by former President Clinton in a closing rally.
At the center of the hunt were undecided voters like Jill Eddy, a retired school teacher who showed up at a Hillary event Wednesday morning in Indianola. "I thought she was wonderful," Eddy said of Clinton's presentation. "She addresses real problems and has real plans; she's down-to-earth, not just speaking about ideals." On the other hand, Eddy said, she saw Obama last Sunday and really liked him, too. "I don't know, I could also go with him," she said. "But I might vote for Romney because I'm still a registered Republican. I haven't decided yet whether to cross over and go Democratic."
Iowa voters can decide to switch party registration as late as the moment they walk into the precinct caucus site. Eddy still has a few hours left to make up her mind.
Popular in the Community