Clinton visits Simpson College Jan. 21.
PHOTO BY: Aimee Schnebeck
INDIANOLA, IOWA- Democratic presidential candidate Hillary Clinton appealed for support from Simpson College students during her visit to Simpson College Thursday.
She assured Iowans that she has the experience to work with Republicans to find a "common ground," while improving U.S. policies related to healthcare, education and immigration.
Clinton also threw jabs at Sanders, who is popular among young liberals, about his lack of support in the Senate with previous healthcare plans.
She made these statements at the private college just 20 minutes south of Des Moines.

But millennials in Iowa have not made up their minds just yet. Several young men and women are seeking out each candidate in hopes of forming their own opinion.
For these younger Iowans it is not just about the party. They are focusing on the candidates and the issues they promise to address during their presidency.
Robert Lyons, 21, a registered Republican, is leaning toward Clinton.
"I'm a Hillary person, the first thing that draws me to Hillary is that she's such a strong leader she's had all this foreign policy experience she's been in the white house and Washington D.C. for so long," Lyons said.
Lyons isn't sticking with his party's choice; he's choosing the candidate that he feels is the most qualified to rule the country.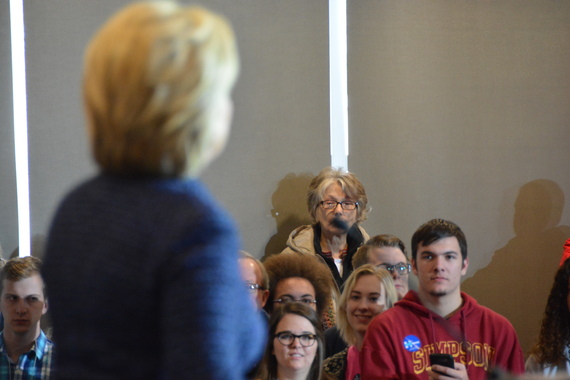 Tre Loge of Baxter, IA (bottom right) listens to Hillary's plan for education in the U.S.
PHOTO BY: Aimee Schnebeck
Tre Loge, 21, is another millennial who firmly believes in Clinton's abilities not just in foreign policy but in education, as well.
"I'm here because I'm a huge supporter of Hillary and her beliefs on education. Both of my parents are educators so I really think education is a strong part of our nation," Loge said.
These two millennials may have chosen a candidate, but there are others who are undecided and are taking their time to decide.
Abbi Carlson, 21, is passionate about immigration and healthcare. Both of these issues have attracted her to Sanders and Clinton.
"I came out here just to hear what Hillary has to say, I went and listened to Bernie speak earlier this year so I wanted to see the similarities and differences between the candidates," she said. Carlson hoped to gain a more in-depth understanding about what Clinton plans to achieve if she becomes president.
"I thought she had a lot of really good things to say, but I'm still undecided and still trying to figure it out," said Brian Williams, 22, "I'm progressively minded and I like what she has to say in terms of getting things done."
Although the millennial had not yet made up his mind, he was not fond of the Republicans.
"I don't know. It's kind of a circus on the republican side right now," Williams thinks it is important to attend these events to listen to the candidates for him self.
Clinton talks education at Simpson College, Jan. 21
PHOTO BY: Aimee Schnebeck
Gabe Schabilion, 20, is not tied to a party either.
"I'm an undecided voter so I'm trying to get as much information from each candidate that I potentially can before I make my final decision," Schabilion thinks the voter should be looking for a candidate who represents issues that matter to them rather than a party.
"As an informed voter you should try things about those candidates that you don't certainly agree with before jumping on the band wagon.
Although millennials cannot decide yet, they are continuing to seek out the candidates and learn more. Iowans are taking full advantage of their location.
"I'm doing my research so that I'm an informed citizen when I go to caucus." said Celena Krause, 21, "I'm taking advantage of living in the Des Moines area and the perks that gives us as voters." Krause thinks most Iowans are more active in politics due to their proximity and ability to access the candidates easily.
Several young Iowans think they are more politically active than other millennials in the U.S. Lauren Myers, 21, says age is not a factor.
"You're a part of a bigger system... you can speak up even though you are young," Myers hopes that Americans will become more involved with their government no matter their age.
Co-Reported with Lindsey Gomez
Calling all HuffPost superfans!
Sign up for membership to become a founding member and help shape HuffPost's next chapter