 News outlets from the U.K. to the U.S. were buzzing last week with the striking claim that a 4-year-old girl had been identified as Britain's youngest-known iPad "addict."
The tot in question first got her hands on the tablet when she was 3, The Sunday Mirror reported. Within a year, she was attached to it, using it up to four hours per day and becoming apoplectic when her parents tried to take it away.
But Dr. Richard Graham, the doctor who assisted the girl, fears media reports may have overblown both the severity and scope of the situation.
"This is not a nation overrun with 4-year-olds addicted to iPads," said Graham, an adolescent psychiatrist who launched the U.K.'s first technology addiction service geared toward young people at the Capio Nightingale Hospital in London.
In kids that young, one might see troubling "trends" but not necessarily a "4-year-old 'addict,'" he told HuffPost. "I think that was misunderstood."
However, Graham does believe the girl's mother made the appropriate move for her family when she asked for help. The London-based technology addiction program he heads aims to address what he and colleagues see as a very real surge in children and teenagers becoming dependent on gaming and other forms of technology. The treatment is tailored: Patients whose "addiction" is accompanied by symptoms of depression or violent behavior may require inpatient care, while others need something less rigorous.
The 4-year-old girl, Graham said, received outpatient care, which focused on empowering her parents and putting her on a digital diet of sorts.
"It was a very minimal intervention," he explained. "Her use wasn't going to be out of control, massively, in the immediate future, but it was a way to find a better balance."
But when technology is omnipresent, parents may struggle with what balance really means.

Dr. Rani Gereige, a pediatrician and director of medical education at Miami Children's Hospital, told The Huffington Post, "It is about setting limits." Parents should be role models, turning off the television or cell phones during family times, like meals, and not texting while they are all together, he said.
The American Academy of Pediatrics discourages any media use by kids under 2 -- an age group increasingly targeted by companies selling "educational" products. In its most recent policy statement on young children and technology, the group also warned that if parents choose to engage their young children with electronic media of any kind, they should have clear, concrete strategies to manage it.
But that statement, released in 2011, focused heavily on "traditional" media, like television, rather than tablets and iPhones. Researchers and doctors say it is unclear how much the type of device matters.
"The AAP is definitely looking at the interactive media question," said Dr. Ari Brown, a member of the academy's council on communications and media and the lead author of the 2011 guidelines. "We will again take a thoughtful and careful examination of the evidence and provide a statement about what we know, what we don't know, where the gaps in knowledge lie, and how to provide some guidance to parents on how to manage media in their homes based on the evidence we have."
Other groups are also looking at issues surrounding technology use and addiction. A working group for the forthcoming Diagnostic and Statistical Manual of Mental Disorders 5 -- considered the bible of psychiatry -- considered including Internet addiction as a formal diagnosis, but concluded it is not yet understood. When the new edition comes out in May, it will likely be listed in an appendix in the hope of encouraging more research in the area, the American Psychiatric Association has said.
In the meantime, Graham said parents need to think seriously about the impact that technology can have on their children, so they don't find themselves at their breaking point, like the parents of his 4-year-old patient did.
"We really need to be thinking about early intervention, perhaps in antenatal classes, in the same way that [soon-to-be] parents are advised on diet and sleep," Graham said. "From the beginning, parents need to be aware that when your child sees you on your device, they will want that, too."
Related
Before You Go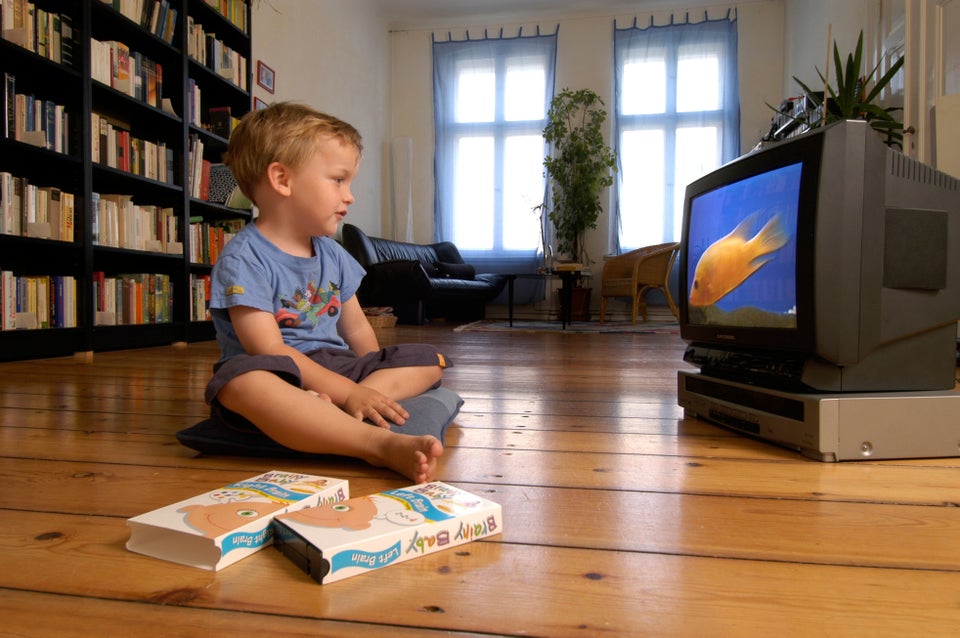 Studies About Kids And Technology