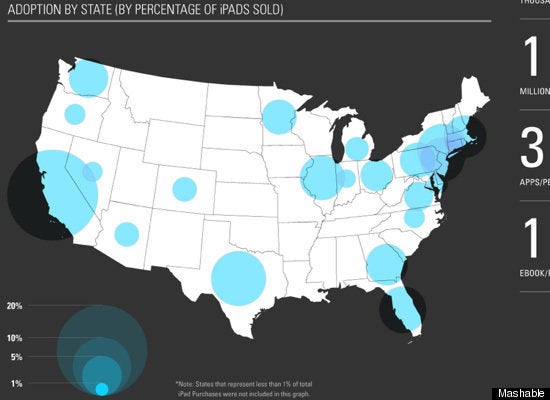 The past few weeks have been, seemingly, all about the iPad: Thousands of tweets made, millions of dollars spent, and tons of hype stirred up--all for 1.5 pounds of Web-browsing, movie-watching, and app-running.
The volume of iPad stats have been scattered across media platforms and, thus, have been difficult to analyze. Until now.
Designer John Kumahara and account planner Johnathan Bonnell have examined much of the iPad data and produced an infographic, which can be viewed below (or see a larger version of the image here.) The pair will be churning out more iPad-centric infographics soon.
"Our goal," Kumahara wrote on his blog, "was to look at the iPad from all the different 'data angles' we have been seeing and use design to highlight the more interesting bits."
According to their findings, only 37% of polled consumers said "they would use an iPad 'instead of' or 'in addition to' other digital devices."
The infographic also shows that while 300,000 iPads sold in the first day, the iPhone took 70 days to sell 1,000,000 units.
Mashable reports the following tidbits from the visual statistics:
- The average price for an iPhone app is three dollars less than the price for an iPad app.

- 80% of iPad apps come with a price tag.

- There were 26,668 tweets per hour on the iPad at its peak.

REAL LIFE. REAL NEWS. REAL VOICES.
Help us tell more of the stories that matter from voices that too often remain unheard.