 Apple fans and tablet shoppers: Say "hi" to a high-def iPad.
At a media event in San Francisco on Wednesday, Apple unveiled its latest version of the iPad with an improved high-definition display screen. Though the newest iPad is fairly indistinguishable from the iPad 2 on the outside -- same screen size, almost identical shape and weight -- the new iPad's screen doubles the resolution and quadruples the pixels of the iPad 2, from 1024x768 to 2048x1536. Apple says that the new iPad's screen features a Retina display, which means that the eye can't distinguish individual pixels on the screen.
Along with a crisper display, the new iPad is also Apple's first device that has an option to come equipped with 4G LTE technology, as 4G iPads will be available on both AT&T and Verizon with subscription plans. This represents a major first for Apple (which has, in the past, been resistant to add 4G to its phones due to design compromises); a major boon for cellular companies, which have been spending billions to bulk up their 4G networks despite the largest smartphone and tablet seller not producing a 4G device; and perhaps a hint at Apple's plans for its next iPhone, which is still months away though already hotly-anticipated (and rumored to be a 4G device as well).
Phil Schiller, Apple's senior vice president of Worldwide Marketing, embraced the 4G technology, praising its upload and download speed at the event.
"The performance is amazing," Schiller said, according to Engadget, while demonstrating just how much faster the photo download process is on 4G than on 3G, "and you're going to love using it on these new high-speed networks."
Among the other new additions and improvements landing on the iPad are Voice Dictation, which can translate speech-to-text for email and messaging dictation; a faster quad-core A5X processor for improved gameplay graphics; an improved 5 megapixel rear-facing camera capable of shooting HD video; an improved battery, which Apple promises can get 10 hours of talk time on the power-hungry 4G network; and a slew of new or improved apps, including updated versions of GarageBand, Sketchbook, iPhoto, iMovie and the popular Infinity Blade game series.
With the new iPad (which Apple has simply named "iPad," dropping the numerical scheme it used for the iPad 2 and for its iPhone series), Apple is looking to extend its already dominant hold on the tablet marketplace. Despite handling the competition of several similar-sized tablets running the Android OS -- like Samsung's Galaxy Tab 10.1 and HP's discontinued TouchPad -- as well as facing the insurgency of cheaper, smaller alternatives -- like Amazon's Kindle Fire and Barnes & Noble's Nook Tablet this past fall -- the iPad has remained the easy leader and sales champion, maintaining a 59 percent tablet market share, according to Strategy Analytics. The first iPad practically created the tablet market when it was released in March 2010, and the iPad 2 continued Apple's dominance after it was released in March 2011. The first iPad sold more than 15 million units in its first year, and the iPad 2 sold more than 15 million units between October and December of 2011 alone.
Look for those explosive sales to continue with the release of the new iPad, which has been hotly anticipated by consumers who have waited a year since the release of the iPad 2. On the tech site AllThingsD, 65 percent of users indicated they would be buying the next-generation iPad in a February poll, and a TechBargains survey found that over half of Kindle Fire owners plan to also purchase a new iPad when it is released.
Apple's event wasn't just about the iPad, however. It also announced that iOS 5.1 would be available, a long awaited update to the Apple mobile operating system that the company has promised will address battery issues, as well as a new model of the Apple TV box, which can now handle 1080p high-definition video transmitted from the new iPad to an HD television.
Most of the focus, however, was on the third-generation iPad, finally unveiled and hitting stores soon. The latest iPad will be released on March 16, with prices matching those of the iPad 2: a 16GB, Wi-FI only iPad will cost $499, a 32GB, Wi-Fi only iPad will cost $599, etc. (See price chart below).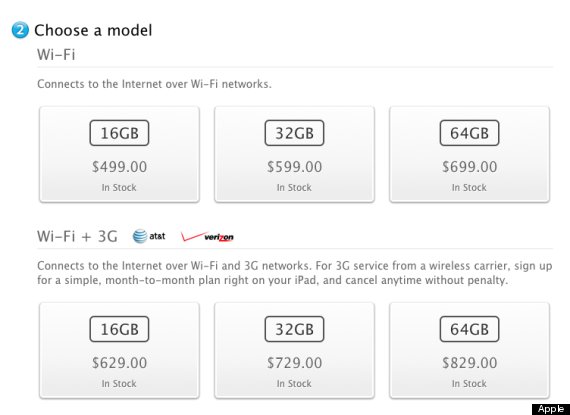 Apple also announced that the iPad 2 would remain available in the United States, with a 16GB Wi-Fi only version retailing for $399, and a 16GB 3G model going for $529.
Check out photos from Apple's big event in the slideshow (below).
PHOTO GALLERY
Apple Event Photos
Calling all HuffPost superfans!
Sign up for membership to become a founding member and help shape HuffPost's next chapter
BEFORE YOU GO