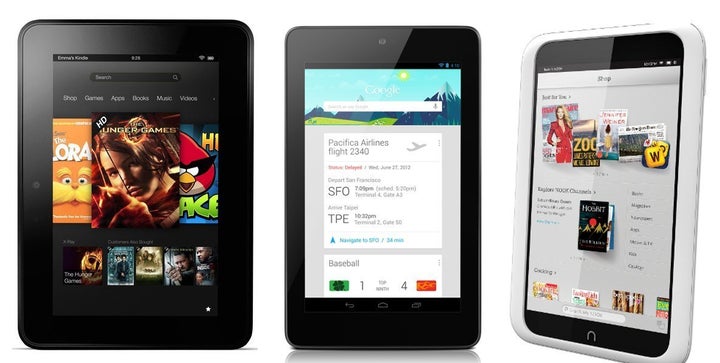 If you've been shopping for a handheld 7-inch tablet -- you know the kind: smaller than an iPad, bigger than an iPhone, about the size of a paperback book (remember those?) -- now must be tempting time to shine up the old credit card, close your eyes and just buy one already. But hold on, partner: you might be kicking yourself a month from now if you rush and buy one today.
There are plenty of alluring options out there now. The new Amazon's Kindle Fire HD and the even newer Barnes & Noble's NOOK HD, for example, both boast terrific, iPad-quality screens and low $199 price tags. Google's warmly-received Nexus 7, running the latest version of the Android operating system, has been out for a few months at the $199 price level; last year's Kindle Fire, meanwhile, has been knocked down to a flea market price of $159.
Now would seem, then, to be prime purchasing season for these cheap, portable, travel-ready tablets. And, yes, the four tablets above -- the Kindle Fire HD, NOOK HD (all caps!), Nexus 7, and Kindle Fire Classic -- are all solid, low-cost options that will, in the parlance of 21st century philosopher Larry the Cable Guy, "git 'er done."
But if I were shopping for a 7-inch tablet, I would wait until October was over before I committed to one; because the best 7-inch tablets -- and the best prices -- might not have arrived just yet.
By now, you've probably heard that by the end of October Apple is planning to release a smaller iPad, popularly referred to by us journalist-types as the "iPad Mini." Based on the chatter and leaks and rumormongering, this iPad Mini would have a 7.85-inch screen (slightly larger than that on the Kindle Fire or NOOK HD) and would cost significantly less than the full-fledged iPad. Analysts think it will be price-tagged at somewhere between $250 and $350.
Apple has proven that it can make a high-quality tablet: The new iPad is, by most metrics, currently the best tablet you can buy at any size, with its great screen, fast performance, and substantial app store. It seems worth it, then, to wait and see if Apple can summon some more of its magic -- and a low enough price -- before you make what is likely a two-to-three-year commitment to a 7-inch slate.
I won't guarantee that the forthcoming iPad Mini will outshine the new Kindle Fire or NOOK, nor is it likely to cost just $199 like those two do. But if Apple does release a smaller iPad this month, I can guarantee this: Customers are going to buy millions and millions of them, which will put pressure on other companies and sellers to lure shoppers to their own tablet some other way.
You know what that means, don't you? Oh, yeah: You get a price drop! And you get a price drop! And you get a price drop!
AND YOU GET A PRICE DROP!
In the buying hysteria immediately following the release of an iPad Mini -- as all of the tablet-buying cash in the world is refocused to Apple's offshore bank accounts -- you can expect to find some humble bargains on non-iPad tablets on gadget-selling websites.
This is especially true for older-model tablets, as a quick perusal of Amazon price history charts (a fun weekend activity for the whole family!) shows that whenever Apple releases a new gadget, existing devices in the same category experience rapid price drops on the used market in the weeks following. When the iPad 3 was announced on March 7, for example, a used Kindle Fire on the Amazon marketplace went from $180 on the day of the announcement to a low of $150 two weeks later; Samsung's Galaxy Tab 7.0 Plus, too, saw a drop from $289 on the announcement day to a low of $241 two weeks later.
You shouldn't expect bargains on the NOOK HD or Kindle Fire HD, of course, as those two were either just released or soon-to-be. You might, however, be able to find a reasonable deal on the older Nexus 7 or Kindle Fire, which is nearing a year old and which is, incredibly, nearing the $100 line on Amazon.
DON'T COUNT OUT MICROSOFT
The final reason I'd wait a month to buy a 7-inch tablet (or any tablet, really): Windows 8.
Windows 8 on the tablet is as smooth and simple on a tablet as you'd hope; in fact, the tablet might be the optimal device for Windows 8, with its big, touchable tiles and beautiful full-screen apps.
If you are 100 percent committed, no matter what, to a 7-inch tablet like the Kindle Fire HD or NOOK HD, buying today versus buying 30 days from today won't make any difference: You're not going to see any difference in price between now and then, and if your soul is resolute, then go ahead and buy.
But if you are an undecided shopper -- still weighing the pros and cons of different candidates -- then it's best to wait until early November to pledge yourself one way or another. If you hold off for just a month, you'll have more options, with more operating systems; you'll see cheaper tablets on the secondary marketplace; and you'll be able to try one of the best 7-inch tablets in stores, too (Barnes & Noble's NOOK HD, though available now for pre-order, does not come out until early November).
Calling all HuffPost superfans!
Sign up for membership to become a founding member and help shape HuffPost's next chapter
BEFORE YOU GO