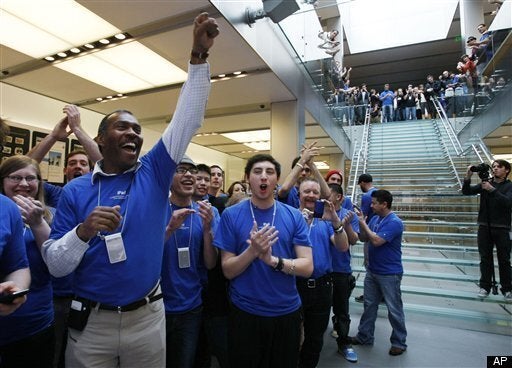 UPDATED 04/05/2010 9:52 AM ET: Apple reports that over 300,000 iPads were sold the day it debuted. Their sales figure included pre-orders, and was significantly lower than analysts' estimates (see below).
Read more about the iPad here. ---- Long lines of tablet-hungry crowds greeted the iPad's official release yesterday--but how many did Apple actually sell?
In a report to clients issued Saturday night, Munster's estimated that by midnight Sunday, Apple will have sold 600,000 to 700,000 iPads, including pre-orders -- more than double his relatively conservative pre-launch estimate of 200,000 to 300,000. (Other analysts had published estimates of 300,000 to 400,000.)
By comparison, Apple reportedly took 74 days to sell one million iPhone when the gadget first debuted. The iPhone 3G and Phone 3GS each took just three days to sell the first million units.
As Brainstorm Tech notes, the 600,000 to 700,000 estimate includes iPad pre-orders. It was estimated that two weeks after Apple started accepting online orders (and a week before the iPad's official in-store relase), some 240,000 iPads had been pre-ordered.
Needham & Company analyst Charles Wolf offered a slightly lower estimate for iPad sales earlier on Saturday afternoon. The New York Times writes, 'He predicted via e-mail that "weekend sales will exceed 300,000 units, and they might approach 500,000, although that's a stretch depending as much on the initial production run as initial demand."'
The iPad didn't sell out everywhere.
As of 7:30 p.m. Saturday, 19 of the 20 Apple Stores reached by Munster's team still had iPads in stock. But a search of Twitter messages Sunday morning turned up reports of stockouts at many Best Buy (BBY) outlets and several Apple retail locations, including Palo Alto and Santa Clara, Calif., Portland, Ore., and Lancaster, Penn.
Calling all HuffPost superfans!
Sign up for membership to become a founding member and help shape HuffPost's next chapter