 Samsung responded to the unveiling of Apple's latest tablet -- which the Cupertino company showed off in a typically well-hyped media event in San Francisco on Wednesday -- with an email to the press, sharing a grid that compares the content creation and multitasking capabilities of Samsung's new ten-inch Galaxy Note 10.1 tablet with Apple's new ten-inch tablet, the iPad.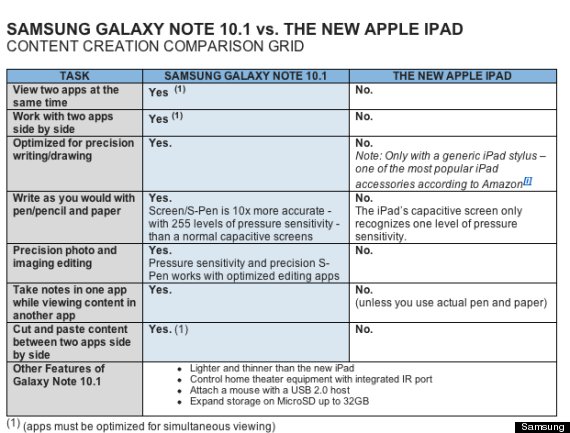 Samsung introduced its Galaxy Note 10.1 -- a larger, tablet-version of its 5.3-inch Galaxy Note half-phone, half-tablet "phablet," complete with S-Pen stylus -- at the Mobile World Congress in Barcelona in February. Festival-goers were impressed with the 10-inch Note's sensitivity, with Cnet's Jessica Dolcourt writing that the larger Note "has the potential to offer a true tablet experience that goes beyond the usual."
The Galaxy Note 10.1 does offer tangible benefits over the new iPad: Samsung's tablet is indeed lighter and thinner than Apple's, if just barely: The Galaxy Note weighs 1.29 pounds against the new iPad's 1.44 pounds, and is 8.9mm thick versus 9.4mm thickness for the new iPad. The Note also allows the user to view and work on two apps at the same time, stacking them side-by-side (PC users should get used to this idea: This functionality is at the core of the upcoming, re-imagined Windows 8 desktop operating system).
As for the holistic claim that the Galaxy Note 10.1 is better for content creation than the iPad: Apple did not immediately respond to request for comment, though execs did demonstrate several content creation apps at the event in San Francisco. GarageBand, Apple's music editing application, made its way to the iPad in March 2011 and received a robust update and demonstration; ditto with iMovie for iPad, the movie editing application that now has a template to create Hollywood-style "trailers." Perhaps the most significant content creation news to come out of San Francisco was that iPhoto, Apple's popular photo editing suite for Mac, is now available on the iPad and optimized for touch-and-swipe-based image manipulation. (Early reviews are mixed: MG Siegler of TechCrunch called it "the way non-professional photo editing should absolutely be done"; Gizmodo's Sam Biddle was less enthused, deeming it "confusing, superfluous, and a little dumb.")
Given its email blast, it appears that Samsung would agree Biddle's sentiment, if not his exact wording. Samsung has not been shy in its attacks on Apple: As the two have battled for smartphone sales supremacy in the United States, Samsung launched a series of ads mocking the iPhone 4S and Apple fanboys waiting in line for the newest devices. The series culminated with a 90-second spot, aired during the Super Bowl, for Samsung's Galaxy Note smartphone-tablet hybrid (phablet, for short). The lengthy commercial featured Apple fanatics breaking out of the line and embracing their Samsung side. An earlier advertisement in the series featured a memorable catchphrase for Apple users who realize their devices are inferior to Galaxy phones: "Aww, we just got Samsunged!"
In some sense, Apple just got some "Samsunged" again, with its rival lashing out publicly and noting the things that its Cupertino competitor can't do. For a complete comparison of the specs and capabilities of the iPad versus the Galaxy Note 10.1, click this link to see a grid from FindTheBest.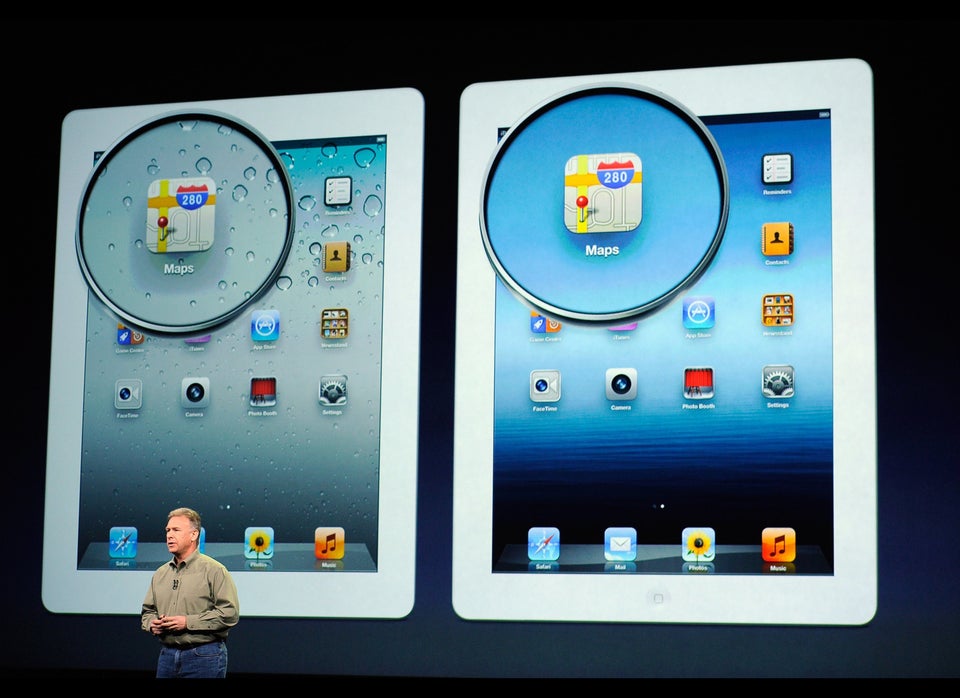 11 Things You Need To Know About The New iPad
Popular in the Community