Oceanographer and artist Dr. Gregory Johnson is translating critical facts about climate change into a language that's interesting and visually appealing to everyone: haikus.
When he was stuck at home one weekend with a cold, Johnson translated the first part of the Fifth Assessment Report from the U.N.'s Intergovernmental Panel on Climate Change into haikus. His daughter, also an artist, encouraged him to extend this poetry into watercolors. Johnson only posts on Facebook in the form of haikus and perceives the art as a form of meditation.
Published on Sightline Daily, his 19 haikus walk the reader through the history, causes and repercussions of climate change and shed light on the future of the planet. Each slide has three components: the illustration, a simple yet explanatory poem and background words that set the stage for his slide, such as "history, ice" or "change drivers."
Johnson portrays two greenhouse gas-emitting power plants elegantly and simply in the slide below. He sets the stage for their role in climate change with the "history, fire" descriptors and explains what humans are doing that's so detrimental.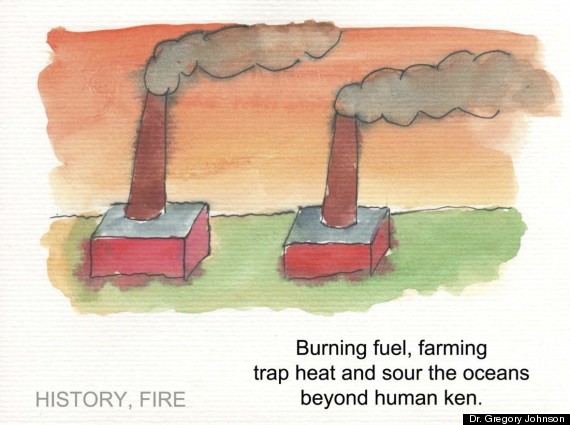 And later in his series, Dr. Johnson explains the effect of global warming on oceans: rising sea, melting glaciers and a consequential change to ocean current patterns.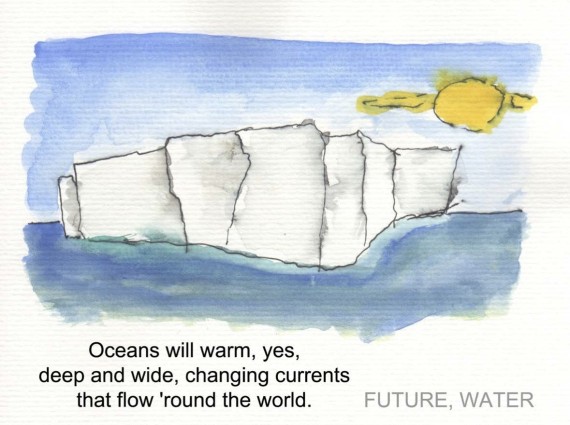 The IPCC published the first section of the four-part report in September. This 2,000-page assessment, The Physical Science Basis, expressed with even greater confidence what scientists have known for some time -- climate change is happening, humans are unequivocally responsible and that it will continue well into the future. The second section -- originally expected for release in March -- was leaked in early November and analyzed climate change's effect on the global food supply. The remainder of the Fifth Assessment will be published over the course of 2014. The IPCC published their First Assessment report in 1990 and has published a report every six to seven years since.
REAL LIFE. REAL NEWS. REAL VOICES.
Help us tell more of the stories that matter from voices that too often remain unheard.
BEFORE YOU GO
PHOTO GALLERY
What Climate Change Just Might Ruin