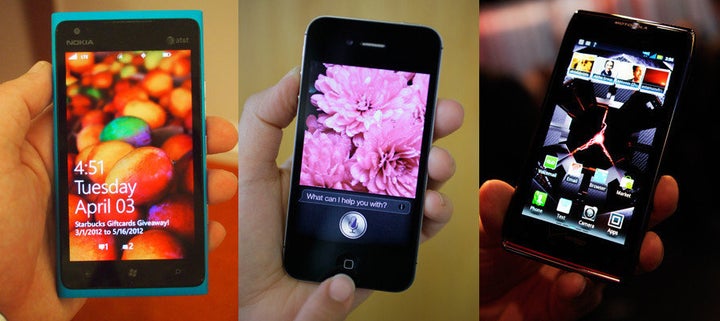 Imagine that you are inside your favorite mobile phone retail store. The air conditioning blows cool on the back of your neck; you tap your foot to the Foster the People tune playing softly on the loudspeaker. In your left hand, you hold the smartphone you've been eyeing for months -- you know, the one from the TV commercials, with the funny celebrity.
Committed to the purchase, you step up to the register to pay for your new phone. But looking up, instead of an AT&T or Verizon salesperson behind the counter, you see me, in a fancy tuxedo, shouting some truth in your face: "Don't do it! Don't buy that smartphone! It's going to be obsolete in three months!"
Allow me to grab control of the PA:
ATTENTION, SHOPPERS: Three of the most popular, most heavily advertised smartphones on sale right now -- the iPhone 4S, Nokia Lumia 900 and the Motorola Droid Razr Maxx -- are teetering on technological extinction. In the coming months, we'll see next-generation releases that will make you wish you had waited to buy, with features that won't be coming to older models.
"Extinction" is a strong word, of course: All of the smartphones are still going to connect to the Internet and make phone calls three months from now.
But if you buy any of these three phones today, you might be shaking your head tomorrow. Here's why:
Yes, it's that time of year again, when potential iPhone buyers go into hibernation and don't emerge with their credit cards until the new model is announced.
Right now, it looks like Apple will unveil its new iPhone in late September or early October (based on the latest from analyst Ming-Chi Kuo, the most accurate and lucid Apple analyst there is). That might be reason enough for some buyers to wait a few months for a re-designed device.
But for iPhone shoppers, there are good, hardware-related reasons to wait for the so-called "iPhone 5" -- not just so that you can show off the new design to your friends.
One technology that is likely coming to the next iPhone, which will not be available to older iPhones, is 4G LTE connectivity. The 4G LTE network is, quite simply, much faster than the 3G networks on the current iPhone models. For the past several months, I've carried around two smartphones: an iPhone 4S and a review unit of whatever 4G LTE Android or Windows Phone device I was testing. The 4G LTE devices were palpably, obviously faster than my iPhone; whenever I needed to check email, or search maps, or stream a video, I would always reach for the 4G LTE phone because I knew it would be able to retrieve what I needed at a faster pace.
The Nokia Lumia 900 (And Every Other Windows Phone)
Last week, Microsoft unveiled key details of Windows Phone 8, expected to come out this fall. One of the most exciting features is a new "shared core" between Windows Phone and desktop Windows, which will make it super easy for developers to write apps for Windows 8 (for the desktop) and easily transfer them over to the Windows Phone app marketplace.
If porting those apps from Windows 8 to Windows Phone 8 is as easy as Microsoft says it is, that means there will be way more options for Windows Phone owners.
In addition to the greater app selection, if you wait until autumn to buy a Windows Phone 8 device, you'll probably get a faster handset with a better display, as WP8 comes with support for multi-core processors and higher screen resolutions, as well as NFC and microSD storage.
The Smartphone Beta Test may be over, but so is the smart buying season for the Nokia Lumia 900 and every other Windows Phone device.
We love the Droid Razr Maxx. It's thin yet durable, packs a great flavor of the Android OS, and enjoys much, much better battery life than whatever smartphone you have. Seriously, check the charts: While your phone is charging, the Droid Razr Maxx is pedaling around on a unicycle, bursting with energy, laughing like a maniac.
And here's what really ties your hands: The RAZR HD will reportedly land on Verizon's shelves some time this summer or early fall. For comparably crazy battery life with an improved display, camera and processing speeds, you're better off waiting a few months, no?
Don't buy an iPhone, or ANY Windows Phone, or a Droid RAZR, you say. What CAN I buy then?
The Galaxy S3 is a powerful, speedy LTE-packing choice, as are the new HTC models (the One X, Droid Incredible 4G and EVO 4G LTE). The Galaxy Note doesn't seem like it will be refreshed any time soon, nor does the Galaxy Nexus or Droid 4.
If none of those sound appealing, it's time to either wait until autumn, or else buy now and tempt fate. Just don't say I didn't (make you imagine me in a fancy tuxedo and) warn you.
REAL LIFE. REAL NEWS. REAL VOICES.
Help us tell more of the stories that matter from voices that too often remain unheard.
BEFORE YOU GO
PHOTO GALLERY
The Samsung Galaxy S III