 I've had my iPhone 5 for less than a week, and I'm really glad I upgraded from my iPhone 4. I will admit, there are still a few annoyances, such as having to buy adapters to connect with my existing equipment.
But there are several new features that I absolutely love. In fact, I believe these new features will help any small business owner get more accomplished from the palm of their hand than ever before.
Note that some of these features are part of iOS6, which can also be installed on older iPhone, iPad, or iPod Touch devices.
Here are the top 10 features that I think small business owners will benefit from the most: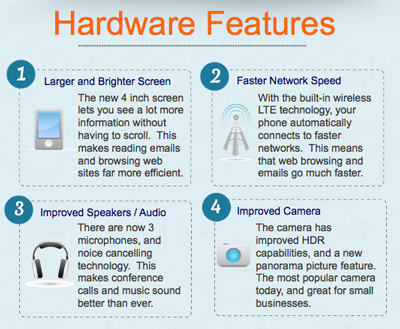 (Click here to download this entire article as an InfoGraphic).
1. The Larger and Brighter Screen
The new 4-inch screen lets you see a lot more information on the screen at once. And the display is now 18% brighter than the display on the iPhone 4S.
The iPhone 5 has built-in wireless LTE technology that connects to faster networks. This makes email downloads and web browsing so much faster. Most pages and emails load almost instantly.
I also like the fact that Safari has a Save For Later feature that saves the pages for offline viewing, such as when the phone is set to flight mode.
3. Improved Speakers / Audio
The iPhone 5 now has three microphones, and noise cancelling technology. I've already noticed an improvement in calls that I've placed while on speakerphone.
And if you prefer to use your headphones, then I have good news. Apple also included newly designed headphones. The headphones are more comfortable than before, and fit in your ear more naturally. They also come with a plastic carrying case.
There is an improved camera that has better HDR capabilities and faster picture taking speeds. The camera now supports panoramic photos up to 240 degrees.
This isn't new with iOS6, but I also love the fact that my iPhone 5 also allows me to take a picture from the power on screen before entering my password or finger swipe (so I don't lose the opportunity to capture an important photo opportunity).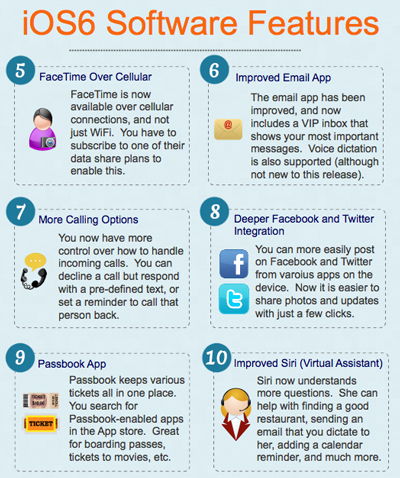 (Click here to download this entire article as an InfoGraphic).
5. FaceTime Over Cellular
You can now use FaceTime over a cellular connection, and not just WiFi. This means that you no longer have to hunt for a WiFi hotspot before you can call someone through FaceTime.
Note that with AT&T, you have to sign up for one of their new data share plans for this feature to work.
When I switched to the share plan that enabled this, I found out that it also allows my iPhone 5 to serve as a hotspot for my laptop and other devices. So that's a bonus.
The email app has been improved in several ways to make you more efficient. For example, there is now a VIP email folder where you can see all of your most important messages in a single list.
This allows you to respond to the most important emails first, before you weed through the emails of much lower priority.
Although it's not new with iOS6, I also love the dictation you can do right within email, notes, and other apps. That feature was added with iOS5. You just hit record on the keyboard and start talking, and then press done. What you said will appear on the screen a few seconds later.
I dictated several emails, notes, and text messages this week using this feature, and it worked great. The accuracy was amazing, and it saved me a ton of time.
You now have a lot more control over how to handle incoming calls. You can decline the call but send a pre-defined text message to that person, or you can add a reminder to call them back later.
8. Deeper Facebook and Twitter Integration
You can access Facebook and Twitter from numerous apps on your iPhone 5 and post status updates with just a few clicks.
The Passbook app allows you to keep various tickets all in one place. You can search for Passbook-enabled apps in the App Store.
You can keep boarding passes, movie tickets, and numerous other types of tickets inside your Passbook app for easy retrieval later. The bar codes for these tickets can be scanned right from your iPhone.
In fact, Passbook works based upon time and location too. So your boarding pass can automatically appear when you arrive at the airport.
10. Improved Version of Siri (Your Virtual Assistant)
Siri now understands more questions than ever before. She can help you with finding a good restaurant, sending an email to someone, adding a calendar reminder, and so much more.
My 7-year-old daughter was playing around with Siri earlier this week and said: "Siri, I love you".
Guess how Siri responded back to her?
"I'll bet you say that to all your Apple products."
That was hilarious. Some engineer at Apple sure thought that one through, and should get a bonus for adding humor to my life.
So even though I'm still annoyed by the fact that I have to buy a bunch of adapters to get my iPhone 5 to work with my existing equipment, I really love the phone overall.
I think every small business owner should check it out, if you're considering a new phone.
And if you're someone who wants to make money from iPhone apps or have an app created for your business, then make sure you check out the special iPhone app report that I created on the topic.