Hello, ladies and gentlemen, and welcome to This Week In Apple Rumors, our regular look back at all of the week's unconfirmed gossip, questionably sourced reports and blatant speculation about future Apple products from around the Web! Let's take a look back at what the various Apple blogs and websites were excited about in the past week, from March 2-8. Check out our previous edition of Apple rumors here, and for all the latest you can follow me on Twitter right here.
1. Will The iPhone 5S Come Out In July?
Last week, we reported on shady rumors that the next-generation iPhone would be released this summer. This week, as a sort of tribute to the movie Groundhog Day, we are reporting on...shady rumors that the "iPhone 5S" will be released this summer! Watch out for that first step, it's a doozy!
Yes, we had two rather prominent Apple pundits both predict this week that the next iPhone will land in the summertime, following the previous week's report from Barclay analyst Kirk Yang targeting the summer as the season of the "iPhone 5S." The predictions this time around, at least, come from two prognosticators with solid, nigh-sterling reputations: KGI Securities analyst Ming-Chi Kuo, and Apple blog iMore's Rene Ritchie. Let's slap on our Speedos and dive in:
On Monday, Kuo released a research note concerning the next iPhone (actually, next iPhones: Kuo thinks Apple will release an iPhone 5S and a cheaper iPhone aimed at emerging markets; more on that in a second). The iPhone 5S will be released in July, Kuo writes, and will differentiate itself from the iPhone 5 in five ways:
1. Faster processor
2. Better camera/better flash
3. FINGERPRINT SENSOR under the home button, for security reasons (read here for why we think the fingerprint sensor is coming)
4. Thinner/lighter
5. Different name
(Okay, I made the last one up).
Kuo also writes that Apple will also release its long-gestating cheaper iPhone in July, which will have the same basic dimensions as the "iPhone 5S" but will have a slightly weaker camera, a slightly heavier weight and will be available in colors that are not black and white. Here's Kuo's full chart comparing the iPhone 5S, the low-cost iPhone and the current iPhone, which Kuo was kind enough to email to us: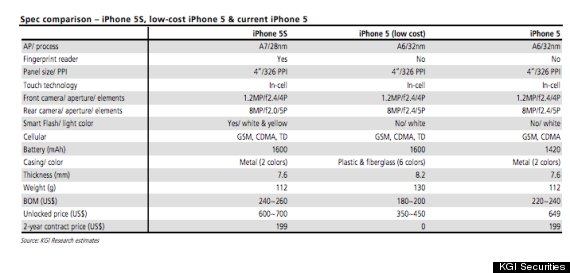 That the new iPhone will come out in July is just, like, Kuo's opinion, man. Because an equally well-sourced Apple pundit is calling for a different month. It's a Prediction Off! We've got a Prediction Off!
2. Or, On The Contrary, Mesdames Et Messieurs, Will The iPhone 5S Come Out In August?
It's a short post, but Ritchie's looking at an August release date for the next iPhone (which he says -- and stop me if this sounds familiar -- will have a faster processor and improved camera). He does warn that things can, and do, change, but for now he thinks Apple is targeting August.
What should we glean from the dueling projections of July and August from two titans of Apple punditry? While it's too early to choose one month or the other, I do think it's becoming clear that, barring some sort of calamity, the next iPhone is indeed on track for a summer release. That exact date (and month) will become clearer as the snow melts and leaves blossom and we all start taking our banana hammocks out of storage; but if you're trying to decide between upgrading your smartphone now or attempting to wait for the next iPhone, you can use that July/August target as a general timeframe.
3. Could We See The New iPad Before The New iPhone?
1. The "iPhone 5S" is scheduled for August.
2. The new iPads -- the "iPad 5," and "iPad Mini 2" -- are scheduled for April.
Yes, April -- as in the month that is after this one. Ritchie writes that he's "been told an April-ish launch is getting serious consideration for the next-generation iPads, but [that he's] really not sure what to make of that yet."
Now, this comes with several caveats: That "April-ish" doesn't necessarily mean April; that "getting serious consideration" doesn't mean that it's going to happen; and that "not sure what to make of that yet" means no one really knows what's going to happen. If you're a regular reader of this column (and you likely are, because you have a thirst for knowledge), you might remember that the estimable Jeremy Horwitz of iLounge wrote earlier this year that March had been the target release for the new iPads, but that Apple decided to push it back.
Ming-Chi Kuo, too, thinks that we won't see the new iPads until after summer. We were just introduced to the iPad mini and the fourth-generation iPad, remember, in October, and Apple has tended to space out its product launches by a year. The one outlier to that pattern, of course, was October's iPad, which arrived just 8 months after the previous iPad had.
PHEW! No one knows anything, or if someone does know something, we don't know which someone that is. The new iPads could arrive in a month, or in two months, or in six months: At this point, none of those scenarios would surprise anyone, I wouldn't think. The timetable, it appears, is much less clearcut than the one for the iPhone. It's freaky, freaky stuff.
And speaking of general freakiness: the "iWatch." Oh, you didn't think we were going to make it through a Week In Apple Rumors without some news on that Apple wristwatch, did you? If you did, give yourself a spanking, because you were wrong. Here's the latest.
4. Apple Certainly Seems Like It's Planning To Release This iWatch Thing By The End Of 2013
We close with the "iWatch," which scored two prominent rumors this week, both claiming that Apple is attempting to get its latest product category out on shelves by Christmastime this year.
Features under consideration include letting users make calls, see the identity of incoming callers and check map coordinates, said one of the people, who asked not to be identified because the plans aren't public. It would also house a pedometer for counting steps and sensors for monitoring health-related data, such as heart rates, this person said.

Technology site The Verge chimed in later in the day, reporting that Apple wants its watch to run a full version of the iOS operating system (which runs on your iPhone and iPad) and that it would like for its watch to be able to last four to five days without a charge.
Both The Verge and Bloomberg's sources say Apple is really trying to have this thing out there by the end of 2013, in time for Christmas and in time to compete with Google Glass; barring some sort of change, it's looking more and more likely that the "iWatch" will become a reality.
Apple fans who were hoping for a pair of iGlasses instead of an wristwatch, it seems, will have to settle for duct taping the iWatch to their face, it appears. I, for one, am looking forward to wearing both my iWatch and my Google Glass out in public and seeing how long I can go without getting the crap kicked out of me for being the nerdiest man in the universe. Please, don't take my Battlestar Galactica fanny pack! It's a collector's item!
That's all for This Week In Apple Rumors. Please join us again next week for more; or, if you can't wait a week, you can always get the latest Apple rumors by following me on Twitter right here.
REAL LIFE. REAL NEWS. REAL VOICES.
Help us tell more of the stories that matter from voices that too often remain unheard.
BEFORE YOU GO
PHOTO GALLERY
6 Things The iPhone Is Killing