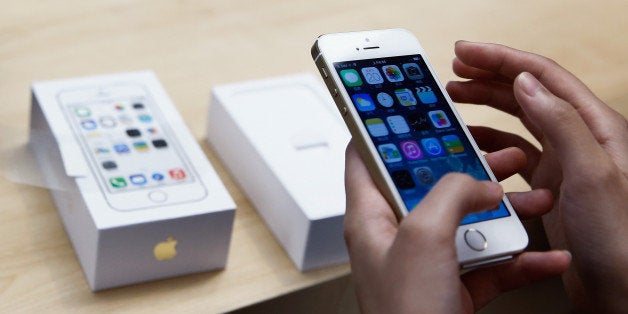 Apple hasn't revealed any details about the so-called iPhone 6 yet, but here's something that doesn't need confirmation from Cupertino: If you buy the next iPhone, you're going to gobble a whole lot more data. And in a world where unlimited data plans are increasingly scarce, that may mean bigger bills.
"The average data consumption roughly doubles with every generation of iPhone," Chetan Sharma, an independent telecommunications analyst who consults for wireless companies, wrote in an email to The Huffington Post. "So I expect it to be true for 6 as well."
Our wireless data consumption is set to skyrocket in the coming years. Last year, the average mobile customer in the U.S. used 1.4 gigabytes per month, according to Cisco, the networking equipment company. That number is expected to increase more than six-fold, to 9.1 gigabytes per month by 2018.
To put that in perspective: An hour of streaming Netflix in HD can use up as much as 3GB, while an hour of streaming Pandora on its default setting consumes 14 megabytes, according to those companies. (This is why you should always try to connect to a Wi-Fi network when watching Netflix.) An hour of video chatting on FaceTime uses 204 megabytes, while an hour of watching YouTube videos can use 360 megabytes, according to Cisco.
Although competition from T-Mobile has forced the other wireless companies to bring down their prices recently, paying for that much data today can cost quite a bit of money.
AT&T and Verizon, which combined control more than two-thirds of the wireless market in the U.S., no longer offer unlimited data plans. A two-year contract at either company for a 10 gigabytes per month plan starts at $140 a month, not including taxes and other fees.
"I do think there will be an effort by carriers to charge more, but they're also going to have to offer more data and continue to improve the quality of experience," said Thomas Barnett, the director of thought leadership at Cisco. "The data plans have to go higher to support more usage and more devices."
Here's why you'll use more data with the new iPhone:
You're Going To Watch More Videos:
All rumors point to Apple releasing two versions of the next iPhone -- one with a 4.7-inch screen and one with a 5.5-inch screen. Both of these are larger than the 4-inch screen on the iPhone 5, and will not only be better for reading, Instagramming and taking and sharing photos, but also for watching videos -- an activity that consumes a ton of data.
If you've been walking around with a 3.5-inch iPhone 4 or 4S for a couple of years, a 4.7-inch screen, which is a third bigger, is going to make a big difference.
You May Be On A Faster Network:
As anyone who's gone from using 3G to 4G LTE will tell you, the difference is huge. And they'll also tell you that they now use their phone for a whole lot of things they didn't used to -- watching videos, downloading music and spending more time on social networks. AT&T and Verizon each claim their 4G LTE networks are "up to 10 times faster" than 3G.
Your Phone Will Be Faster:
It's not just the network -- the next iPhone will be more powerful and faster than the one you have now, which will make you want to use it more often and for more things. Increased use = more data consumed.
Calling all HuffPost superfans!
Sign up for membership to become a founding member and help shape HuffPost's next chapter
BEFORE YOU GO
PHOTO GALLERY
iPhones Through The Years