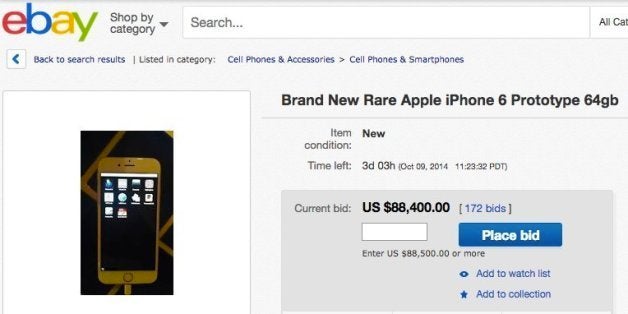 In photos, the phone does not seem to be running iOS 8, but instead appears to be set in developer mode with internal Apple testing software. A photo of the back of the device shows that there is no model number or FCC markings, and a photo of the bottom reveals that the lightning port is red -- which the seller claims is a "sure sign of a prototype."
According to the listing, the seller got the phone accidentally when he or she renewed a contract with Verizon. As of Monday, 172 people had bid on the phone.
The alleged prototype seems to be running a developer software, not the new iOS 8.
In an update to the listing posted yesterday, the seller claimed to have plugged the device into iTunes, and said it was recognized as an iPhone. But buyers are on their own when it comes to other functions, with the seller writing "I cannot guarantee that it will make calls or that the camera will work."
On Reddit, people are guessing whether the eBay listing is full of fake bids or whether Apple itself could be bidding on the device. Apple did not respond to a request for immediate comment on the validity of the prototype or any action that the company might take.
Back in 2010, a California man got his hands on an iPhone 4 prototype that had been abandoned at a bar. In an AMA on Reddit, Hogan shared that he had contacted Apple but that the company "blew him off." He ended up being fined and charged with "misdemeanor misappropriation of lost property."
Well, you can't miss this. The lightning port is indeed lined in red.
UPDATE: 3:05 p.m. -- When reached by email, the seller, who would only gave his name as Alex, said the device was originally purchased for his mother. Alex, who is 24, said he is actually a Samsung Galaxy S5 user. When his mother opened the package, Alex said they immediately recognized that the phone was different because it did not come charged.
"After charging it she told me it was different (coming from a Blackberry I told her it would be). After looking at it I knew right away what it was," he wrote to the Huffington Post.
Alex said he has not reached out to Apple or Verizon, and that he has not heard from either company yet. "I am waiting for them to try and contact me," he wrote.

Related
Popular in the Community