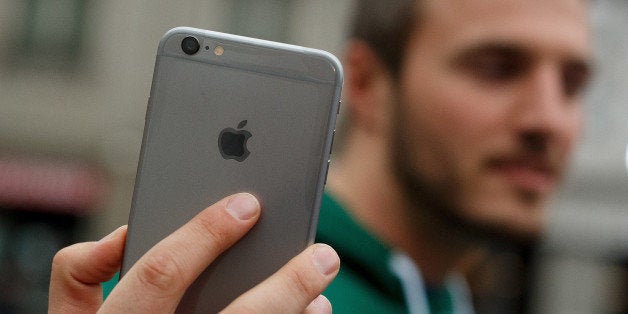 A new report from Consumer Intelligence Research Partners (CIRP), a Chicago-based market research firm, says that 13 percent of all iPhones sold in the U.S. in the quarter that ended last month were iPhone 6 Pluses. The data from the report were provided exclusively to The Huffington Post.
The percentage of iPhone 6 Pluses sold is especially high given that the phone, along with its smaller sibling, the iPhone 6, was on sale for fewer than two weeks of the quarter, which ran from late June through late September. The phones went on sale in the U.S. on Sept. 19.
"The phone bending, I think, was a non-issue," Mike Levin, a partner at CIRP, told The Huffington Post in an interview. "Bending iPhones was a nuisance and a distraction that detracted from what was otherwise a very successful product introduction. And the data shows it."

The iPhone 6, which has a 4.7-inch screen, fared even better than the 5.5-inch iPhone 6 Plus, comprising 33 percent of all iPhones sold in the most recent quarter. In all, the new iPhones accounted for nearly half of all iPhones sold last quarter.
CIRP's study surveyed 500 Apple customers in the U.S. who had bought an iPhone, iPad or Mac between July and September. Levin said that the survey results represent Apple's most recent fiscal quarter, which ran through Sept. 27.
The relatively large share of iPhone 6 Plus sales bodes well for Apple because the phone is Apple's most expensive iPhone yet. It starts at $299 on a two-year contract, and $749 off-contract. Apple has for years started its flagship phone at $199 on a two-year contract and $649 off-contract.

"What's really, really interesting here is Apple basically created another price point," Levin told HuffPost. "For a little more additional cost they captured a lot more margin and persuaded a lot of people who would have bought a $200 phone to buy a $300 phone."