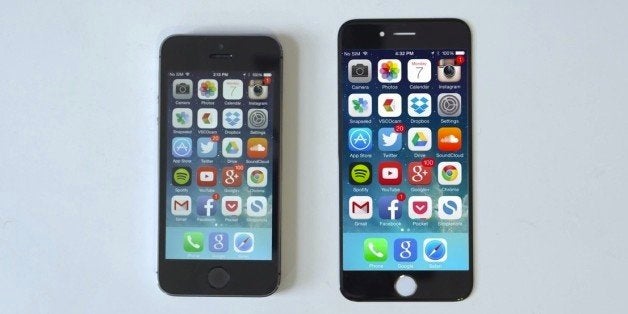 An analyst with knowledge of Apple's production schedule said Sunday that a rumored 5.5-inch "iPhone 6" probably won't debut this fall.
The analyst, KGI Securities' Ming-Chi Kuo, wrote in a research note on Sunday that manufacturing problems could keep a 5.5-inch "iPhone 6" from being released this fall, while a smaller 4.7-inch model should still be on track for a fall release. Apple Insider notes that Kuo has "a respectable track record" of unearthing Apple product spoilers.
A 5.5-inch device would be the company's largest iPhone yet, as well as its first foray into the growing market for "phablets" -- smartphones larger than a typical phone but smaller than a tablet. Even a 4.7-inch model will be larger than the current 4-inch display of the iPhone 5S and 5C.
In the note, obtained by Apple Insider, Kuo said Apple is struggling to put new touch-screen technology into a 5.5-inch screen. That could delay a 5.5-inch iPhone release until the end of 2014 or early 2015, according to Kuo. He said "color unevenness" in the new phones' metal casing is also causing problems.
In his note, Kuo added that the 5.5-inch "iPhone 6" sapphire-glass front panel likely wouldn't "easily pass the drop test near term," even though the 4.7-inch front panel, which YouTube tech vlogger Marques Brownlee last week claimed to have obtained, seems practically indestructible.
News of such a delay isn't entirely unexpected. In March, sources predicted a slower production schedule for the 5.5-inch iPhone, citing struggles with the new touch-screen technology.
Kuo's assertion that the new iPhone will have metal casing pokes a hole in the rumor that the "iPhone 6" casing would be made entirely of sapphire glass.
A BI Intelligence report noted last week that phablets are the fastest-growing smartphone category, with global annual shipments on track to outpace both non-phablet smartphone and tablet sales by 2017. Steve Jobs reportedly scoffed at phablets, and current Apple CEO Tim Cook last year refused to speculate on whether Apple would ever offer a phablet. But the company has since changed its tune, perhaps faced with the success of Samsung's phablet offerings.
Kuo has provided fairly reliable information about Apple's production schedule in the past, Apple Insider notes. He's not always right about timing, however: Kuo predicted in April that the 4.7- and 5.5-inch iPhones would hit shelves in the fall of 2014, before revising his prediction on Sunday.