Each iPhone launch sets new sales records. So it's hardly a reach to predict that the launch of the next iPhone, expected in September, will be big.
Wall Street and Apple fans are starting to salivate over the idea.
"I'm expecting it to be huge with a capital 'H,'" Avi Greengart, a research director at Current Analysis, said of the new phone, which will likely be called the iPhone 6 and be available in two larger screen sizes.
Apple's stock reached a record intraday high of $101.77 on Wednesday, as investors psyched themselves up for the phone, which is rumored to come with screens that are 4.7 and 5.5 inches, significantly larger than the current iPhone's 4-inch screen. They're also hopeful that Apple will soon release a so-called wearable device, unofficially dubbed the "iWatch."
But it's smartphone sales that really have everyone buzzing. Here's why:
Millions of iPhone owners are eager to upgrade their phones.
More than a third of all iPhone owners in the U.S. say they plan to upgrade their phones by the end of the year, according to a recent report from comScore. And 40 percent of Americans who own an iPhone 4S -- the iPhone that more Americans use than any other iPhone -- say they'll upgrade.
Even those who just bought an iPhone want to upgrade: Nearly a quarter of people with the iPhone 5S, the fingerprint-sensor-equipped phone that came out last September -- indicate they'll buy a new phone before the end of the year, according to comScore.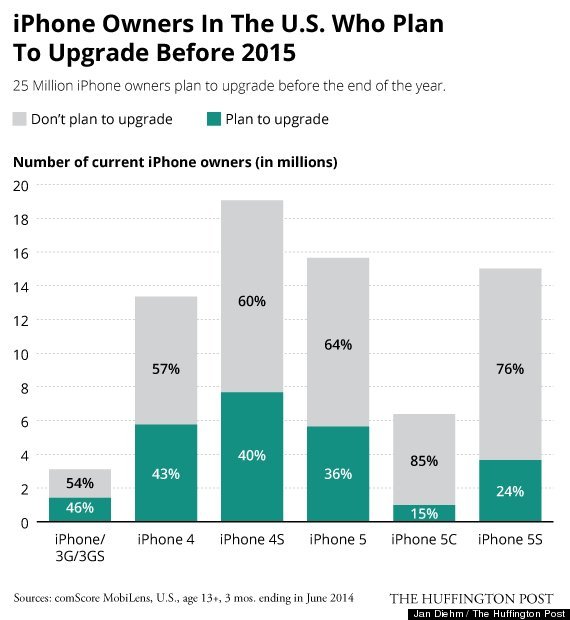 iPhone owners are incredibly loyal, so the vast majority of these people will likely spring for the new phone. From October to December, the quarter after the iPhone 5S and 5C went on sale, 85 percent of iPhone owners who bought another phone bought an iPhone, according to Consumer Intelligence Research Partners, a Chicago-based research firm.
CIRP's Mike Levin says he expects "a similar rate of loyalty for the next iPhone launch."
It's a sentiment that rings true -- iPhone owners who have wanted a phone with a screen bigger than a measly 4 inches have had no choice but to ditch Apple for a phone from a company such as Samsung, LG, Motorola or HTC.
Morgan Stanley's Katy L. Huberty, who wrote in a research note on Tuesday that "We expect larger screen iPhones to drive a meaningful upgrade cycle," thinks an iPhone with a larger screen could increase Apple's marketshare by a whopping 11 points.
Apple is increasingly relying on iPhone sales outside the U.S. to drive business.
When the first iPhone was released in June 2007, it was available only in the U.S. It became available in a few more European countries later in the year, though the rollout was very limited.
This launch will be the first since Apple reached a deal with China Mobile, the world's largest mobile carrier, to sell the iPhone. Huberty wrote that this could move sales "much like iPhone 4S drove demand at Verizon early in that carrier relationship."
"In all likelihood it's going to be a global launch -- or a much faster rollout globally -- than we've seen in the past," said Greengart of Current Analysis.
Apple is certainly confident that sales will be big. The company reportedly requested from suppliers 70 million to 80 million iPhones to be ready by the end of the year, according to The Wall Street Journal.
The most iPhones Apple has ever sold in a single quarter is 51 million.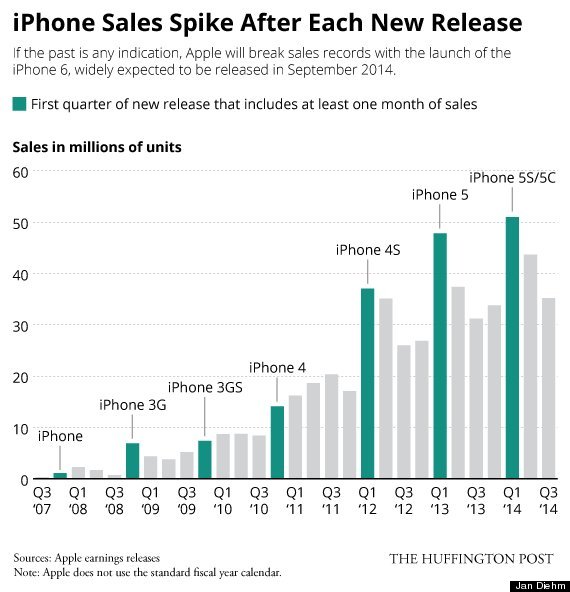 Related
Before You Go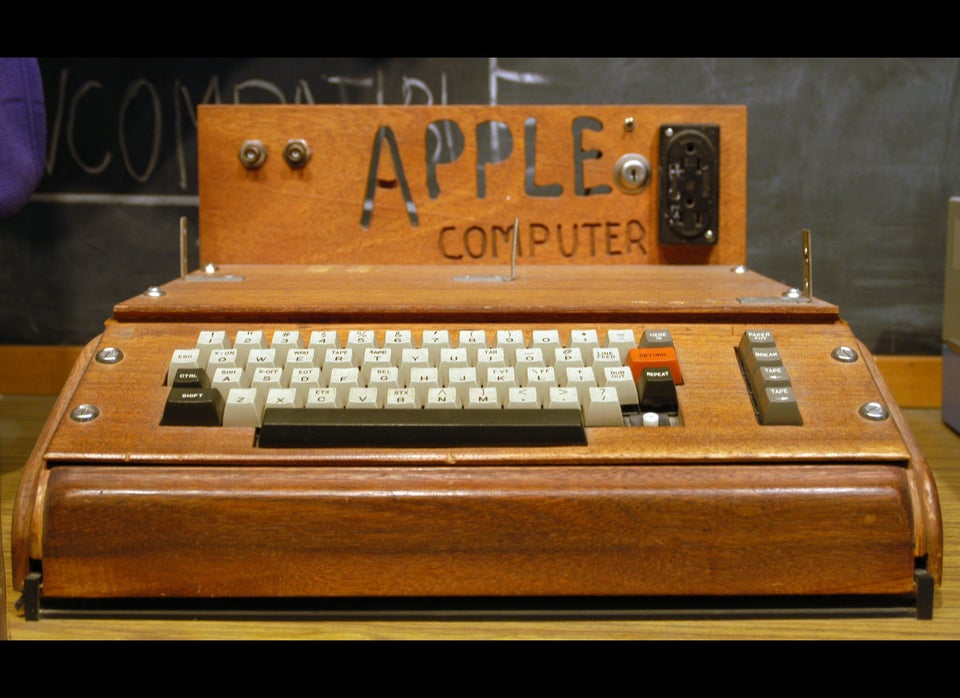 The 10 Most Iconic Products From Steve Jobs's Career