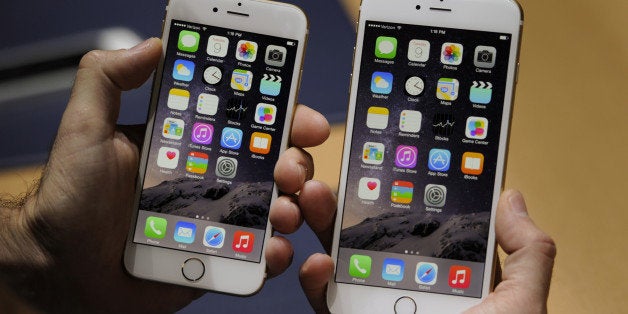 CUPERTINO, Calif. -- The CEO of Apple stood on a stage here Tuesday in front of a crowd of journalists, analysts, Apple employees and a handful of celebrities and made a bold proclamation.
"Today, we are launching the biggest advancement in the history of iPhone," Tim Cook said.
But other than size, the improvements to Apple's most popular product are incremental.
In fact, had Apple added all of the new features it announced Tuesday on the iPhone 6 and iPhone 6 Plus -- an improved camera, faster chips, a thinner body, a new sensor, slightly improved battery life, some new video tools, and the ability for it to make mobile payments -- and kept the screen size four inches, there wouldn't be a compelling reason to upgrade.
But there is -- the so-called killer feature is the bigger screen, which many people know well has been a staple on Android phones for years.
I had a chance to play around with both new iPhones at the event here Tuesday, and they're, well, bigger iPhones. There is nothing revolutionary about them, especially when compared with the iPhone 5S, the model that Apple announced last year at this time.
The iPhone 6 Plus, Apple's first foray into the so-called phablet (half phone, half tablet) market, is huge. I like to carry my phone in my pocket, and I wouldn't want to be carrying around a phone this big. It's not heavy, but it's more phone than I'd like.
The bigger of the two new iPhones takes a page from the iPad's book. Some apps, like Mail and Notes, become two-windowed when you hold the phone in landscape mode. For example, you can see your inbox, as well as the email you're reading, when using the iPhone 6 Plus in landscape. It also offers you an extended keyboard, with dedicated buttons for cut, paste and copy.
To make the bigger phones easier to operate with one hand, Apple has introduced something called reachability -- simply tap the Home button twice (don't press it, just tap it) and the entire screen drops, allowing you to reach and tap a previously unreachable app icon with your thumb.
Even though the 4.7-inch iPhone 6 is bigger than my iPhone 5S, it doesn't feel significantly heavier. It fit well in my hand, and actually felt lighter, because I'm a klutz and have had a case on my phone since Day 1. (The iPhone 6 is 4.55 ounces, compared with the 3.95-ounce iPhone 5S.) Apple also managed to shave 0.03 inches off the thickness. It doesn't sound like much, but the device is notably thinner.
The screen extends nearly all the way to the edges of the phone, more so than on previous generations of iPhones, and the new phones have rounded edges that remind me of the first generation iPhone, which came out more than seven years ago. There's a strip at the top and bottom of the phones' aluminum casings, which an Apple employee told me is the antenna.
Apple also has moved the lock button from the top of the phone to the right side, which for iPhone owners may take some time to get used to. Like the 5S, the phones include Touch ID, Apple's fingerprint-sensing technology.
Apple hopes that Apple Pay, a new feature that turns the iPhone 6 into a mobile wallet, also will entice people to upgrade. The new iPhones store your debit and credit cards, and allow you to pay for things at participating retailers -- there will be a lot of them -- by placing your iPhone near a payment kiosk. It relies on NFC -- near field communication -- to facilitate the transaction. (Again, as Android customers know, mobile payments have been available with other phones for years.)
"Our vision is to replace this," Cook said, as an image of a wallet was projected onto the screen behind him.
Apple demonstrated Apple Pay by showing a video of a woman exasperatingly using her credit card to pay for something at a store. She had to open her purse, find her wallet, find her credit card, give it to the cashier, show the cashier her ID, and then the card wouldn't swipe the first time.
As difficult as Apple made the transaction look in the video, I couldn't help thinking that paying for something with a credit card, debit card or cash is not actually that difficult. And even if you use your phone, you'll still have to take it out of your pocket or purse to pay, just like with your wallet.
In the keynote, Phil Schiller, Apple's senior vice president of worldwide marketing, spent a lot of time talking about the cameras on the new phones. The new iPhones can shoot slow-motion video in 240 frames per second, which looks really cool, and Apple improved the video and photo autofocus. But these tweaks are hardly reasons to upgrade your phone, especially if you have an iPhone 5.
In the case of Apple's new iPhone, bigger is indeed better, and that alone may be reason for many to upgrade. Just don't expect the other small advances to justify a new iPhone.
CORRECTION: A previous version of this story mistakenly noted that the iPhone 6 was 0.3 inches thinner than the iPhone 5S. It's 0.03 inches.
Related
Before You Go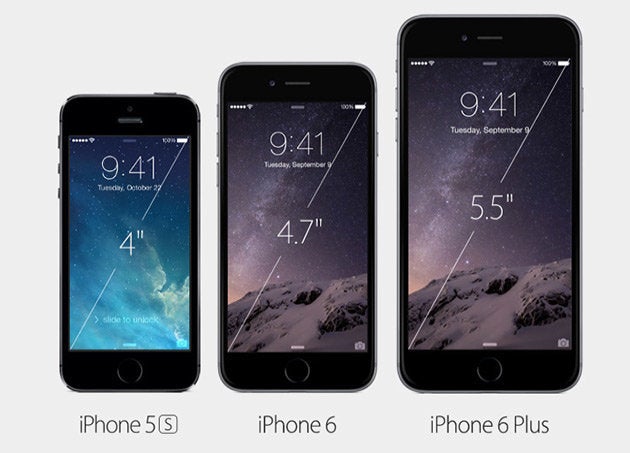 Apple's iPhone 6 and iPhone 6 Plus
Popular in the Community