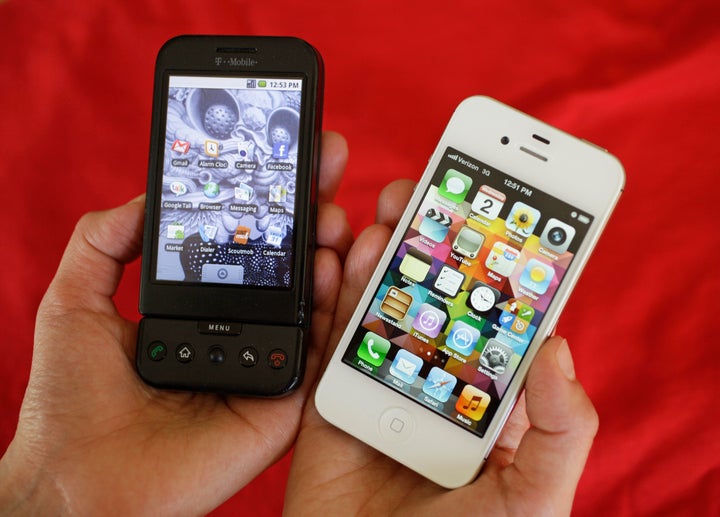 (Reuters) - Suppliers basked in the reflection of Apple's glowing results on Wednesday after the company's gold standard iPhones and iPads flew off the shelves over the holiday sales season.
Apple's forecast-beating fourth-quarter figures late on Tuesday helped it to beat Google's Android as the largest smartphone platform in the United States and to regain the world's largest smartphone maker spot from Samsung.
Apple's results were spearheaded by sales of the iPhone 4S, which is packed with technology from British chip designer ARM, said analyst Nick James at Numis.
Apple accounts for about 10 percent of ARM's technology revenues, and for about 35 percent of graphics and video chip designer Imagination's technology revenues, he said.
"It means people are still driven by performance in terms of having the highest performance, highest functioning devices, and those tend to have quite a number of ARM-based chips in them."
"It is one of the key things that drove Imagination to come through to the next level," James added.
Shares in ARM jumped 4.2 percent, while shares in Imagination were 4.1 percent higher at 1030 GMT.
Analyst Didier Scemama at RBS said that although Apple was only one of many ARM customers -- the Cambridge-based company supplies virtually every smartphone and tablet with their cheap designs -- from a sentiment standpoint there has been a strong correlation between the two stocks.
"(Apple) should help the whole sector today, but especially Dialog Semiconductor and other suppliers," said a Frankfurt-based trader.
Shares in Dialog Semi were up 3.9 percent.
Samsung became the world's largest smartphone maker in the third quarter, but analysts said the 37 million iPhones sold in the fourth quarter should easily beat Samsung's expected sales of around 30 million.
Samsung is due to report on Friday.
Research firm Kantar Worldpanel ComTech said Apple's share of the U.S. market doubled from a year ago to 44.9 percent in the October to December period, just beating the total for Android smartphones, which slipped to 44.8 percent from 50 percent.
"Overall, Apple sales are now growing at a faster rate than Android across the nine countries we cover," said Dominic Sunnebo, global consumer insight director at the research firm.
Apple's iPhone 4S also uses chips from Samsung Electronics, Qualcomm, Toshiba and a host of smaller semiconductor companies, including TriQuint, Skyworks Solutions and Avago Technologies Inc.
In stark contrast to Apple's success, sales of handset makers using Android, including Motorola Mobility, HTC and Sony Ericsson, have stumbled in the quarter.
(Reporting By Tarmo Virki, Paul Sandle and Harro ten Wolde; Editing by Will Waterman)

Related
Popular in the Community