Combining images of music with other images has added a rich new dimension to my creative life and thinking. I don't mean sequencing a soundtrack to a slideshow; I mean adding the graphic notation found in sheet music.
There are a number of forms of music notation to choose from; single notes, single chords, single lines, single pages, or spreads of two or more pages. The form chosen influences the final effect significantly.
You could incorporate the title of a piece of music to create additional tension or make a commentary. (I've chosen not to as I want to speak generally rather than specifically about sound and leave room for viewers to imagine what kind of music would best suit the subject portrayed and how our responses change over time.)
How opaque or transparent the notation is rendered influences the final outcome significantly. When the graphic structure is opaque it sits up on top of the image, forcing us to look through it to see the other image, the effect is busier and the music seems louder. When rendered transparent the notation is less visually insistent, blending with the image, either uniformly or irregularly with variable transparency or outright erasure, and the music seems softer. A preferred balance can be struck for either an entire series or on an image-by-image basis.
So that I can make these types of images on the spot, I've gathered a collection of photographs of music that I can draw on at a moment's notice.
Doing this has not only yielded a growing number of compelling images, it has also raised a generative set of questions. In particular, the question of what's missing or has been eliminated in still images and how that can be either more strongly felt or implied leads to many new ideas and insights.
I find that because I'm engaged in this experiment I notice the ambient sound of the places I'm photographing in more frequently and even photograph different things. My perception of the world becomes richer because I'm paying closer attention to it and to my responses to it.
What experiments will help you add a new or missing dimension to your images?
(To combine multiple images on your iPhone try the apps Image Blender or Photoforge 2.)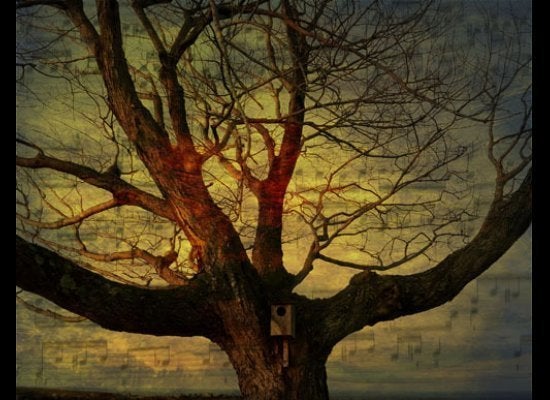 iPhone Experiment - Music
John Paul Caponigro is an environmental artist and author, who leads workshops, seminars, and lectures internationally. Learn more at www.johnpaulcaponigro.com.