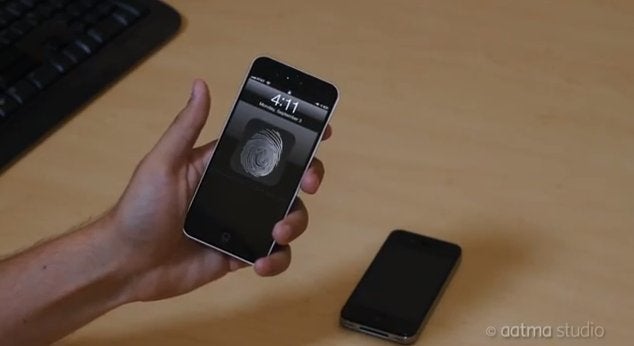 On the upcoming iPhone 6 (or iPhone 5S, depending on Apple's whims and fancies), your password might not be that familiar mixture of four numbers. It might not be a line pattern drawn on a square grid. It might not be a unique combination of numbers, capital letters, punctuation and wingdings.
It might be your pointer finger.
Yes, the hot new bit of speculation on the ever-active Apple rumorsphere is that the next iPhone will include a fingerprint sensor or scanner embedded in the device, perhaps underneath the home button. This technology, analysts and pundits say, will make the iPhone more secure, differentiate it from rival products, and perhaps open up a new frontier in paying at the cash register with your cell phone.
For now it's still speculation about a company that attracts rumors like ants to picnic lunches. But it's a bit of speculation that is gaining so much steam that it's worth investigating what an iFingerprint could mean, and how it could change the American smartphone.
WHY WE THINK APPLE'S NEXT IPHONE WILL CONTAIN A FINGERPRINT SENSOR
At this point, the idea that Apple is working on an embedded fingerprint sensor in its next iPhone is a combination of mounting circumstantial evidence and well-sourced analyst speculation. It's not a lock, but it's looking more and more likely by the day.
Here's your telling timeline: Last July, Apple acquired a company called AuthenTec for more than $350 million, one of its largest acquisitions ever. AuthenTec specializes in fingerprint scanning hardware, and the Florida company had already carved out a niche for itself by building several super-thin, lightweight fingerprint scanning attachments for PCs, Macs and smartphones through the 2000s.
Apple's purchase of AuthenTec, it was later revealed, came with a stipulation that AuthenTec could no longer license out its technologies to rivals who were already working with it -- rivals that include, by sheer coincidence we're sure, Samsung. Rather than licensing, Apple bought AuthenTec for a technology it wanted to itself. Then in October 2012, The Australian reported that Apple had signed a licensing deal with an Australian biosecurity company called Microlatch -- a company that also (coincidentally!) focused on fingerprint sensing technology.
Apple was loading up on fingerprint tech companies, in other words. It was, at the very least, experimenting with something involving fingerprinting on its devices.
By this time, speculation that the forthcoming iPhone 5 would contain a fingerprint sensor was already running wild. In his thorough dive through SEC filings from AuthenTec and Apple, The Next Web's Matt Brian discovered that Apple had a stated "desire to use the [fingerprint scanning] technology and see it developed quickly."
And if there was no fingerprint sensor on the iPhone 5?
"AuthenTec signed a development contract with Apple in July which runs until September 2013, just in time for next year's iPhone launch," Garside wrote.
The popular design firm Aatma Studios created a mock iPhone 5 with a fingerprint sensor prior to the release of the actual iPhone 5 in October 2012. Apple's iPhone 5 did not feature fingerprint sensing technology, but its next iPhone might.
A RESPECTED ANALYST WEIGHS IN
The timing, and the requisite technology, in other words, were in place. What was missing was any sort of scoop from within the Apple fortress of solitude, any indication that fingerprint tech would be included in a future iPhone.
That changed last week with a report from analyst Ming-Chi Kuo of Taiwanese firm KGI Securities, whose note to investors included the tidbit that Apple's next iPhone, to be released in the third quarter of 2013, would feature a "fingerprint sensor."
Through a KGI Securities spokesman, Ming-Chi Kuo declined to comment for this article, citing international compliance rules. When Kuo does talk, however, the Apple-watching community has learned to listen.
HOW AN IPHONE FINGERPRINT SENSOR MIGHT WORK
The assumption is that a fingerprint sensor on an iPhone would function, at its most basic level, as a new method of security or password: While a four digit passcode is easy to spoof, a fingerprint is much more difficult. As Art Stewart, a vice president at AuthenTec (now at Apple), wrote in a revealing blog post prior to his company's acquisition, "the smart sensor not only strengthens security but greatly increases the speed and convenience of mobile payment transactions."
A fingerprint sensor, Stewart wrote, would make those NFC transactions more secure than on rival devices and might help launch the concept of the mobile wallet into the American mainstream. Hold your phone up to the register, touch your fingertip against the sensor on the home button, and pay for your Lucky Strikes. No wallet required, and almost impossible to spoof or steal.
Again, this is just an assumption, based on circumstantial evidence and the call of one analyst. And between now and the release of the iPhone 6 (or 5S), Apple might reevaluate the wisdom of including a fingerprint sensor as the hallmark feature of its new iPhone. America might still be anxious about the privacy implications of storing fingerprint data on its mobile devices, or about mobile payments in general. Apple might still give the finger to fingerprinting, scuttle the project and eat hundreds of millions of dollars of losses from its purchase of AuthenTec.
The great tide of evidence, however, indicates a future iPhone with a fingerprint sensor inside. Siri, where can I buy a good pair of fingerless gloves?
Related
Popular in the Community