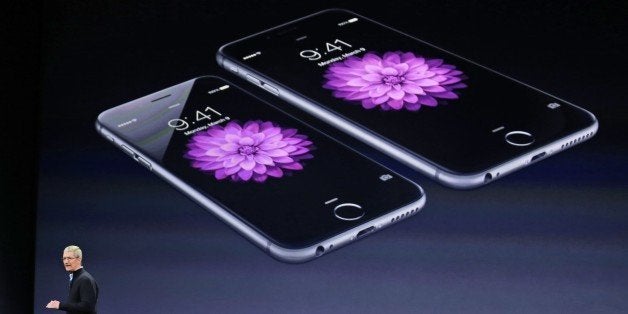 Force Touch lets users "click" a touchpad or screen in two different ways: a light press and a firmer press, which signal different commands depending on the force of the touch. Currently, iPhone touchscreens can't tell how hard you're pressing on them.
Apple first announced this feature at its Monday event in San Francisco, where the company showed off a new MacBook and the upcoming Apple Watch, both of which have Force Touch.
Here's how the feature works on the new MacBook:
The trackpad on the new MacBook will allow for lighter and heavier types of "clicks." (Credit: Apple)
In its video presentation Monday, Apple showed how pressure-sensitive clicks fast-forward a movie clip at different rates. (Credit: Apple)
Previously, the MacBook's trackpad didn't allow for different types of button presses to be distinguished.
Only one way to click. (Credit: Apple)
The next iPhone is expected later this year, according to the Journal's sources. The addition of Force Touch would allow the new handset to recognize two different types of taps from your fingers -- which the Journal said could revolutionize the way apps work, giving the example of a piano app that distinguishes between light and heavy presses.
Another rumor from the Journal's sources: Apple may add a pink iPhone to its lineup.
Apple did not respond to the Wall Street Journal's inquiry, and it did not immediately respond to a request for comment from The Huffington Post.