One factor that gave Apple the edge last year was the iPhone's debut on T-Mobile, marking the first time that all four major carriers here sold the iPhone, said NPD analyst John Buffone.
The news wasn't all bad for Samsung, which also increased its share of the U.S. smartphone market, climbing to 26 percent of all smartphones owned in the last three months of 2013 -- up from 22 percent in the same period in 2012.
The big picture here, said Buffone, is that while Apple and Samsung continue to soar in the U.S. -- the two companies account for a whopping 68 percent of all smartphones owned in this country -- the other smartphone manufacturers are getting clobbered.
"Consumers are starting to make the choice -- do I get an iPhone or a Galaxy?" Buffone said, referring to Samsung's lineup of flagship smartphones.
Motorola, HTC and Blackberry all lost market share in the U.S. last year, while LG climbed from 7 percent to 8 percent.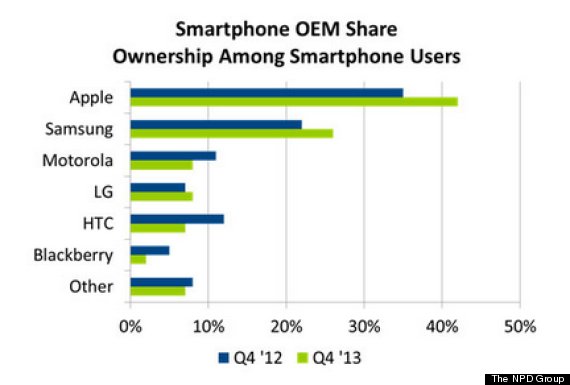 The picture of smartphone ownership in the U.S. is markedly different from what it is worldwide, where Samsung reigns supreme. According to IDC, the technology market research firm, Samsung shipped 31.4 percent of smartphones worldwide in the third quarter of 2013, while Apple shipped 13.1 percent.
As expected, overall smartphone ownership also climbed in the U.S., from 52 percent at the end of 2012 to 60 percent at the end of last year.
As smartphone use continues to grow, and people spend more of their online time with their smartphones, data usage also increases. NPD group found that smartphone owners in the U.S. gobbled up an average of 6.6 gigabytes per month in the last quarter of 2013, up from 5.5 gigabytes during the same time in 2012. Most of that data was transmitted over WiFi, Buffone said.
NPD said a "key driver" of the soaring data use was more people streaming music on their phones. At the end of last year, 52 percent of smartphone owners in the U.S. streamed music using an app, up from 41 percent the year before.

Related
Popular in the Community