 NEW YORK -- The gold rush was on Friday morning at Apple stores in the U.S. and Europe.
Hungry iPhone buyers, some who had waited in line for days, attempted to get their hands on the gold-colored iPhone 5S, the latest version of Apple's flagship phone.
Some of Apple's most devoted fans left the stores disappointed, as stores quickly ran out of the highly-coveted silver and gold versions of its phone. Apple's "space gray" model seemed to be more abundantly stocked.
Joseph Cruz, 20, came out of the Apple Store on Fifth Avenue in Manhattan with a sleeping bag in one hand, a chair over his shoulder and two new iPhones. He waited for 15 days and was second in line -- but still didn't manage to nab a gold phone.
"I'm pretty bummed out, but you know, I still had a fun experience being here," he said, adding he felt bad that he couldn't get his mom a gold iPhone. "I can still always order it online."
Not so fast. AT&T's online store on Friday morning listed a shipping time of 21 to 28 business days for the gold model.
The shortages were seen as a bit of good news for Apple on Wall Street. The company's stock, which dipped after Apple unveiled the 5S and a separate, lower-cost iPhone called the 5C, rose slightly Friday morning.
Apple did not respond to multiple requests for comment about iPhone availability.
Best Buy's 24-hour flagship store in Manhattan's Union Square didn't receive gold iPhone 5S models for launch day, according to store employees. At 9 a.m. EST, an hour after the store began selling the phones, the location was out of AT&T 5S models.
Best Buy spokesman Jon Sandler said that the big box chain did receive shipments of gold iPhones, but "availability is definitely on the more limited side."
"Specific product model availability and quantities vary by store," he said. "Stores will continue to receive shipments of inventory on an ongoing basis."
Employees at a RadioShack location on Broadway said they didn't receive any iPhone 5S models at all -- much less the gold models -- and were limited to selling 5Cs for the day. They said the rest of the phone models should come in on Saturday. RadioShack did not respond to a request for comment.
Many of those hoping to get a gold iPhone on launch day in the U.S. went to Apple's flagship stores to experience the fanfare.
At the Apple Store in Manhattan's Grand Central Terminal, a store employee said they had run out of gold iPhones "early this morning," long before the store opened at 8:00 a.m. -- made possible by a system where customers at the front of the line selected tickets for their phone of choice while waiting.
At Grand Central, the line began outside the station. Customers were shepherded inside in groups, bound for a tunnel where a holding area awaited them. Once at the front of that line, tickets in hand, groups of customers were escorted into the store to make their purchase.
As the phone frenzy ensued, commuters and other passersby took a moment from their busy days to gawk at the scene.
"What's going on?" asked a commuter as she walked into the station's bustling main concourse, bewildered by a roar from the Apple workers above greeting the latest cohort to be allowed into the store. "The iPhone. I wish I could get that excited for something like this," said the man walking next to her.
The scene at the Fifth Avenue Apple Store in Manhattan was one of ordered chaos. Dozens of reporters -- including Carson Daly -- were there, interviewing weary Apple fans who had spent the night waiting in line.
About a dozen Apple Store employees, clad in blue shirts, riled up the front of the crowd by starting waves. Security guards with dogs patrolled and kept order, and NYPD officers had a table set up to encourage people to register their new devices.
By 7:30 A.M., 30 minutes before the store opened, the line of people -- not including the rows snaking near the iconic glass cube entrance to the store -- stretched for more than a quarter of a mile.
A man in a delivery truck drove by the line and shouted several times, "Get a job!"
Another man, who said he was from Berlin and visiting New York on his honeymoon, was perplexed, "Is this normal? It's so crazy," he said.
Jessica Mellow, 28, was fifth in line on Friday. She said she had been waiting for 10 days, and planned to buy two gold iPhones. But she was told by Apple store employees before she went into the store that she wouldn't get one. An employee, however, managed to find a gold 64GB model, Mellow said, so she bought one in gold and one in space gray. She would have preferred the silver 16GB model, she added, but the store didn't have any of those phones either.
Nevertheless, Mellow said she wasn't disappointed.
"They're all good phones," she said.
Support HuffPost
The Stakes Have Never Been Higher
Related
Before You Go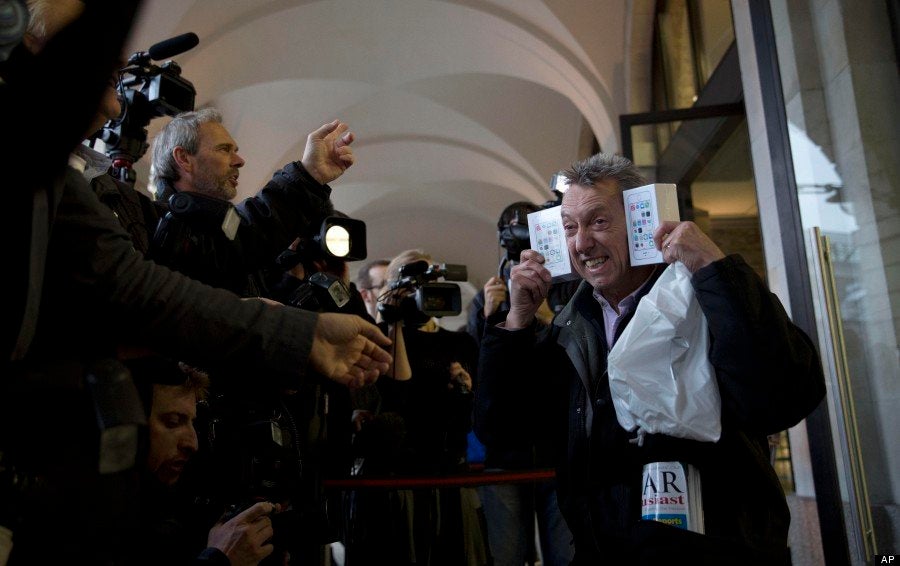 New iPhone Buyers Can't Control Themselves
Popular in the Community