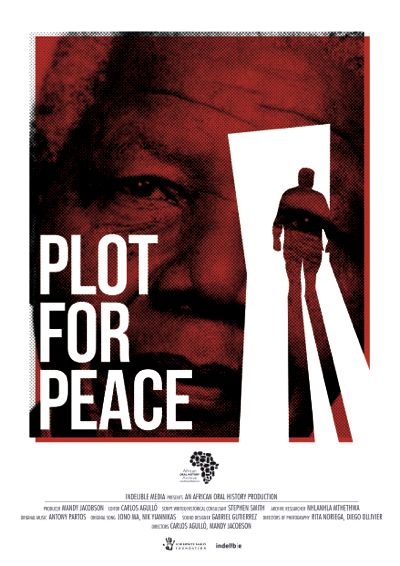 "Laying cards, that's my little secret. It resembles the world. It's much like life itself, you don't play with the cards you'd wish to have but with the hand you're dealt." -- Jean-Yves Ollivier
Plot for Peace is a new eye-opening, thought-provoking documentary co-directed by Mandy Jacobson and Carlos Agulló, which recently premiered at the Sheffield Doc/Fest. When it comes to that noble concept of cinema with a conscience, Plot for Peace is one of those unique films which manage to inform, educate and entertain, all the while raising the little hairs on your arm. Even watching the trailer, days later, still gives me goosebumps.
Plot for Peace carefully and beautifully places together all the pieces of the puzzle that contributed to the termination of the apartheid regime in South Africa and the release of indisputable world hero Nelson Mandela. While the end result is known, the true architects of this incredibly smooth transition, which seemed to seamlessly happen away from media scrutiny, were not. Not until now that is.
Mandy Jacobson came across the story behind the headlines while running an initiative for a private foundation called the African Oral History Archive. There the filmmaker had been gathering the testimonies of what she calls "the movers and shakers who contributed to the end of apartheid" and through coming across the story of the Prisoners' Exchange discovered "this piece of video archived material where a certain "Monsieur Jacques" had received an award for his contribution." That's where the story started.
The timing for this film is critical. Mandela's health is slowly and thankfully improving, but we're also faced daily with the other sides of political transitions, the kind that shed blood, destroy lives and upend countries and governments. Yet a country like South Africa, that until the early 1990s was ruled by a government so horribly cruel in its treatment of the majority of its citizens, managed a transition which didn't end with the country's whites being "thrown into the sea", as Plot for Peace lead subject Jean-Yves Ollivier says in the film. It may not have been a perfect transition, but it sure looks like one now, with the hindsight of thirty years and counting.
At the center of the story of Plot for Peace stands Jean-Yves Ollivier, a dignified Frenchman who was known as "Monsieur Jacques" during the negotiations that spanned years and crossed borders -- from France to Cuba, from Namibia, through Mozambique to the Congo. Officially a merchant, Ollivier used his great diplomatic skills and what looks a lot like that intrinsically French "savoir faire" to arrange meetings, persuade bitter enemies and illuminate politicians. The film, told much like a political thriller and just as engrossing as one, seamlessly journeys from interviews with the likes of the courageous Winnie Mandela, to the less beloved Pik Botha, interspersed by Ollivier's wisdom and retelling of the story.
Perhaps what drove Ollivier was his own experience. Together with a million other French, he and his family had to flee their native Algeria when the country gained independence in 1962. And on his first visit to apartheid South Africa nearly twenty years later, he saw for the white South Africans a similar destiny. Inspired by the concept that "Africa is a place where one man can make a difference" as historian Michael Ledeen points out in the film, Ollivier decided to aid this land transition without bloodshed and war. And wake up the whites, who were, in his words, "sleepwalking at the brink of disaster."
Ollivier, as any good couvert adventurer should, had "a lot of reservation!" -- about being featured in a film. He admitted it during a group interview from Sheffield, which included Jacobson, Agulló and screenwriter/historical expert Stephen Smith. It was such an intense interview with this incredible group that I found myself at a loss for words and so engrossed that at times I forgot I was meant to conduct it and ask questions.
It was one of those rare phone calls where you can picture the people in front of you, wishing for them not to hang up but stay and tell you some more.
Anyway, Ollivier explained, "first of all, it had never been my intention to become public at this certain point and I never took any notes, or any photography of what I'd been doing in my life," so at first he was hardly enthusiastic about the project. But he later felt motivated by what he jokingly calls the opportunity to "tell my nephews that they have an uncle who did something."
The story took more than 30 years to come out. Hundreds of hours of footage, both newly shot and archival, needed to be organized in a comprehensive yet compelling piece of filmmaking. Agulló took on the gargantuan task of editing the film, while Smith wrote a script around a story that he said "is a bit like a tree unfolding, it's a story that works you in a way and perhaps it took us much time to do this documentary because only towards the end did we see the story unfolding before our eyes."
Yet Smith's connection to the story doesn't begin at Plot for Peace, but years earlier when, he admitted, "I used to be the journalist covering it." He continued, "I find myself in the paradoxical situation where I have discovered the real story behind the story that I had reported almost thirty years ago because I knew "Monsieur Jacques" and I knew the protagonists of the official negotiation without being conscious of the unofficial parallel negotiations." His disclosure is a chilling reminder to anyone writing, covering a story or even following it that there are always other sides, more angles, several layers. Smith put it perfectly when he said "in a sense, I later found out that reality is a fallacy and what I was truthfully reporting, thirty years later I found out the hidden story behind the history."
While the team all agreed that if a film sets out to change the world it becomes a bit too "prescriptive", they had insight into how a film like Plot for Peace can enlighten us on a variety of subjects like "the media, the availability of information and the issue of perfect transparency" as Smith pointed out.
Ultimately though, in its own gripping, tightly narrated style, this documentary best shines the light on the human stories behind the headlines, the diplomacy and the politics -- never letting us forget one of the few chapters of modern history that actually ended well.
Poster and trailer courtesy of Indelible Media, used with permission
Related
Popular in the Community