Just what can the new iPod Nano do?
Besides a series of new features and sleek new design, it can also serve as a watch, Steve Jobs joked at Wednesday's Apple event introducing the newest iPods.
"One of the members of our Board of Directors is going to use it as a watch," Jobs said.
And it may not be such a far-fetched idea with the tiny new design, a wristband and the Nano's clock functionality.
Twitter exploded at the suggestion of an iPod Nano watch, and ZDNet agrees it's the "perfect geek watch." A sampling of tweets below:
@JoshwaHudson: New iPod nano has a clock app and you can buy a wrist strap = apple watch.
@GabrielBridger: Oh hello iPod Nano watch.
@lewisfielder: Buying the ipod nano, purely to use for a watch!
@Chetterb: I would totally wear the iPod nano as a watch, first touchscreen watch, yes sir!
@pekpongpaet: i think i am going to use the new ipod nano as a watch
Check out the new iPod Touch lineup below.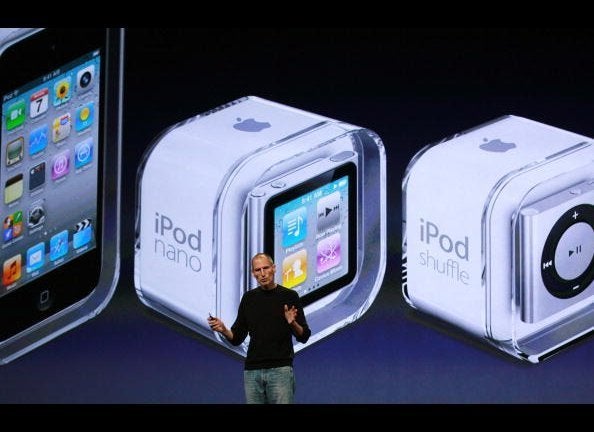 Related
Popular in the Community