I know this recap is delinquent, guys. The truth is that while season 8 was premiering I was busy testing out a wine-dispensing sports bra.
But hey -- I'm back, and just in time to get the premiere recap in under the wire (although 17 designers plus the new 90 minute format means I will have to summarize in places to keep from staying up all night -- my stamina, which has been eroding on a par with Mickey Rourke's face since Season 6, is no match for a Supersized ProjRun).
If you missed my rundown of the new crop of contestants, snap judgments and plenty o' screen grabs await you here.
OK, let's dive right in, shall we?
Hey, Heidi, how excited are you for this season?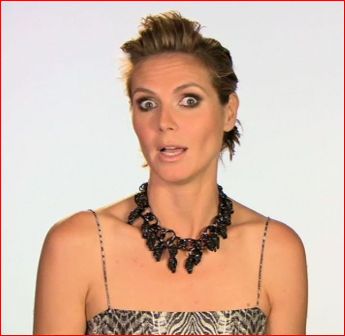 The opening of this season is unlike the others -- Heidi and Tim introduce the designers via talking heads in which they both look incredibly sleep-deprived, and like the camera was maybe baiting them with Yo Momma jokes. "Andy's looks are very Asian-inspired -- go figure," Heidi says of an Asian contestant. "Mondo knocked my socks off at the auditions," Tim says of the miniature moppet with a name right out of an Archie comic but the look of a butch biker lesbian as envisioned by Lynda Barry. "It remains to be seen if the judges agree." You know what else remains to be seen? Anything through Mondo's right eye.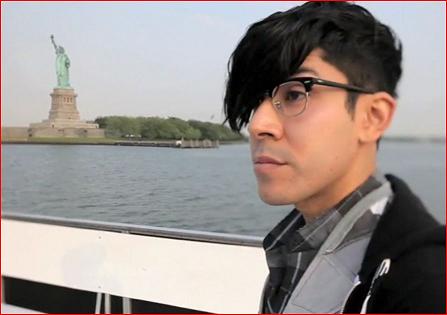 The first designer we meet is Ivy Higa, 30, a New Yorker by way of Hawaii. "Ok, I know this sounds vain," she says, "But I think of Project Runway as The Ivy Show." Sigh.
Next, arriving at Grand Central station is Casanova, 33, originally from Puerto Rico but lately of Astoria. Wearing an odd, capri-length necktie and red pants, Casanova wonders: "Will New York eat me? Or will I eat New York? Will New York take me, or will I take New York from the balls?" Oh my God, can't we do all of those things? Please?
Sarah Trost (27, Toluca Lake, CA), who is wearing a belt that spells TROST, sums up her aesthetic thusly: "Is this totally gross and ugly, or is this, like, the cutest thing I've ever seen?" I like her, I think. She and A.J. Thouvenot (26, St. Louis) meet cute at an airport baggage claim. "I'm glad the first person I meet is actually cool," A.J. -- who resembles a gay Ferris Bueller -- gushes. "I was afraid it would be some old lady who doesn't know what's going on."
Peach Carr, 50, from Forest, IL! She's walking in two-tone loafers to a soundtrack of violins!
"Am I going to be the oldest?" Peach asks rhetorically. "Hell to the yes." It should be mentioned that she paraphrases a cracked-out Whitney Houston while wearing this sweater: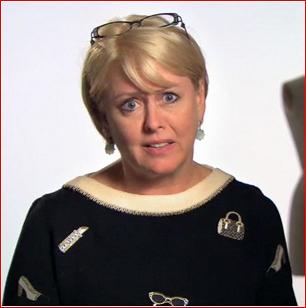 Nicholas D'Aurizio, 32, from New York, meets Peach near the Liberty Island ferry. "I'm so excited to beat you," he coos, wearing a neon floral embroidered button-down and highlights that bespeak an intimate knowledge of the mid-90s boy band oeuvre.
Meanwhile, Kristin Haskins Simms, 39, from Philly, finds Casanova in Grand Central before he is able to locate New York's testes. McKell Maddox, the dreadlocked young mom from Layton, UT, makes it a threesome.
Then out of the subway and into our lives walks Jason Troisi, 33, from Greenwich, CT. He says that he is wearing a douchey bowler hat to "throw the competition off," comparing it to a warrior's mohawk, but I think the best he can hope for is that they get momentarily confused as to why Tony Danza is dressing up like the Little Tramp.
On a street corner, Jason meets Gretchen Jones, 28, from Portland, OR. "So, what nationality are you?" he asks. Nice ice breaker, guy. They stare awkwardly at each other, Gretchen trying to rationalize his headwear with his short-sleeved salmon-colored muscle shirt and Jason trying to decide whether to ask next about her tampon brand or her blood type.
Christopher Collins (30, San Francisco) and April Johnston (21, Savannah, GA) team up on a random corner. Christopher designs womenswear and dreams of seeing women on the street in his clothes. "I want some woman to wake up and say, 'What am I gonna wear today? I'm gonna wear Christopher Collins.'" he says. And like always, probably due to some yet-undiscovered neurological disorder, my brain goes directly to The Silence of the Lambs.
April and Christopher meet Jason and Gretchen, and April tells everyone she's inspired by morgues. Good times! "I'm not the girl to come to to design your tea party dress... unless it's going to be a little bit gnarly," she says. Noted. April. A very merry un-birthday to you.
Still in baggage claim, A.J. & Sarah meet Michael Costello, who's 27 and from Palm Springs. In the desert, he says, he makes "couture. Hot couture." Then he talks about burgers. Then he says, "I came here to win, I'm going to shut this shit down, because I have what it takes," and does this: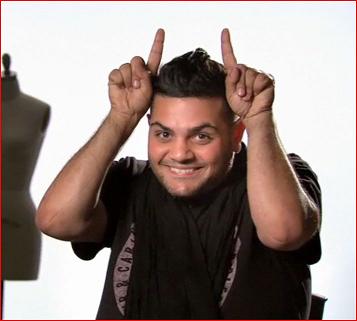 I think I heart Michael C.
And with that, we're at Lincoln Center (aka the new home of Fashion Week), having only met 14 of the 17 designers (I guess Andy South, Michael Drummond, and Valerie Mayen didn't have a riveting conversation aboard the M11 bus or wherever they were planted).
Heidi and Tim show up, and the designers exhibit self-controlled nervous excitement. (Does anyone else kind of wish they tore at their weaves and screamed like the ANTM contestants upon getting their first smize from Tyra Banks?)
Tim tells them that the judges couldn't narrow the contestants down to 16, so the first challenge is actually the last phase of the audition process -- none of them are officially on the show yet.
"Wait a second, I call bullshit," my husband interjects at this point. "This IS the show. You can't say they're not on the show yet. That's like saying the whole thing is an audition process for Bryant Park!" Point taken. I love it when he tries to rationalize reality television, by the way, although the real bon mots only come out with the trashier shows. ("Wait, so the Bachelor fucks all of those women and then kicks them out of the Caribbean?")
Anyway. So today is the first day, first challenge, first elimination. Heidi makes them each take an item of clothing out of their suitcases that they would like to incorporate into their garments. But! There's a twist! [I'll wait for you to recover from the shock.] Everyone has to pass their clothing item to the right.
Michael C. has an amazing talking head moment here: "Ooooooooooooooooooooooh, someobody's gonna get hit!" I need this as my ringtone.
Casanova is upset because he chose a pair of $1,070 Dolce & Gabbana pants. But he was going to cut them up anyway, right? This is our first sign that Casanova's English is maybe not that good.
The challenge is only 5 hours long, so the gang high-tails it to Parsons. Valerie, to whom we've not yet been properly introduced, unpacks a ninja doll and tells us she used to shop at a store called Wiener's. She has Kenley hair and a vaguely Judy Jetson vibe.
Tim comes in to make his standard, stately sponsor shout-outs: "Next door we have the Brother sewing room, called such because it is fully outfitted with Brother sewing machines" (just in case you thought it might be named for the Brothers McMullen or maybe the Smothers Brothers); "We have HP Touchsmart notebooks for each of you!"
Because the challenge is so short, there is a Mood annex.
April got a tuxedo jacket and is making coat dress that will fall just above the crotch. Gnarly! Michael C. got hot pink jersey. "I thought I'd make a hoodie," he says, pulling the fabric over his face like a burka. "Maybe a little Muslim couture." Gretchen got a beaded jacket from April and interviews that she's going to make it work, pulling a series of bizarre faces that recall a Fembot short-circuiting. Gretchen is kind of a freak -- let's hope she harnesses her powers for good and not evil. Ivy is all wide eyes and grimace-smiles, assuring us that she's going to do well because "there's no other option." Ivy is Tracy Flick.
There is more hand-wringing over Casanova's Dolce & Gabbana pants, which Valerie is hacking to pieces in a corner, and Peach makes a big deal about working with Michael Drummond's wispy knit scarf (Michael D., you may remember, creates delicate knitwear pieces using a prehistoric loom). "With all due respect," Michael huffs, "If you're a designer you should know how to work with... a feed bag!" Somewhere, Ping flips off her TV.
With a few hours to go, Tim comes to check in. His first stop is McKell, who is making a flirty dress from one of A.J.'s shirts. Tim thinks it's adorable. Nicholas is making an evening dress out of a polyester jacket, using something that looks like a sweatband for the neckline. Nicholas, it should also be noted, looks like he is one Justin Bieber sighting shy of fainting on the spot.
Casanova is working on a dress that shows just a bit less skin than Emilio's fishing line bikini from last season. "Is its sexy, or is it vulgar?" Tim asks. Guess which one Casanova thinks it is.
Tim also checks in with April, who is struggling with her inside-out tuxedo jacket; Jason, who is wearing a fashion tool belt in the shape of a corset (and that fucking hat, still); Gretchen, who knows exactly what she's doing and is basically kicking everyone's ass; Peach, who bitches and moans about Michael's scarf (and I mean, yeah, it sucks, but he's right there. Aren't Midwesterners supposed to be polite? I'm asking honestly, as I am a native New Yorker who finds it appropriate to make merciless fun of people on television and who thrills at finding new ways to incorporate the word "douche" into larger insults*); and Mondo, who has turned a pair of cap sleeves from a jacket into matronly chest petals.
The models descend. Jason's model has ample bosoms, which she keeps waving in his face -- a "distraction," he complains -- as she struggles to don the backwards kimono he has created. In hair and makeup, Peach is indecisive, while Michael D. asks for "something kind of whimsical, but nothing like a drag queen, right?" (Who knew whimsy came in size 13 heels?). In the workroom, Peach and Nicholas are about to vomit, whereas McKell is feeling pretty confident. As Tim comes to shepherd everyone to the runway, Jason finishes off his garment with a giant stapler and Casanova forgets to actually, you know, put his model in the dress. Casanova puts the "as(s)" in his own name. Or maybe the "no". Anyway, you get what I'm saying.
On the runway, Heidi comes out and the contestants look truly horrified -- some actually recoil. I'm loving the raw nerves in this group so far. Keeps it exciting. Heidi coyly suggests that there will be "less than 17" after the elimination. Oh, Klum, just boot 14 of them now and then let's have cocktails and you can finally explain the lyrics to "Kiss From a Rose" to me, 'kay?
Let's meet the judges! MK has himself a new title -- "CFDA Lifetime Achievement Award winner" sounds a lot better than "top American designer," no? -- and, is it me, or did someone lose weight? Nina Garcia looks noncommittally bemused as always. And our guest judge is Selma Blair who, according to Heidi, is "an actress named to the International Best-Dressed List." It's so awkward they might as well have introduced her with, "Kath & Kim star and former Frank Zappa in-law..." Anyway, moving on. It's midnight and I haven't even gotten to the clothes. HELP ME!
A.J.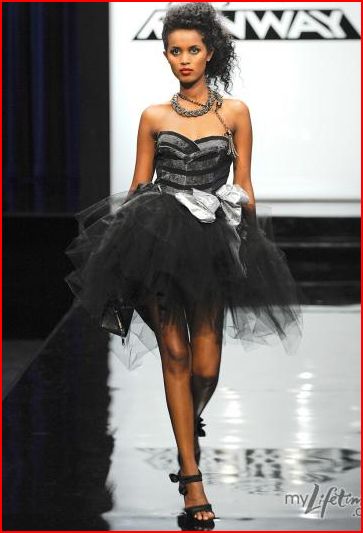 Very Toddlers and Tiaras meets Hot Topic -- is it crazy that I like this? It's so over-the-top that it works, and it the interesting texture and striping on the bodice keeps it from looking cheap.
ANDY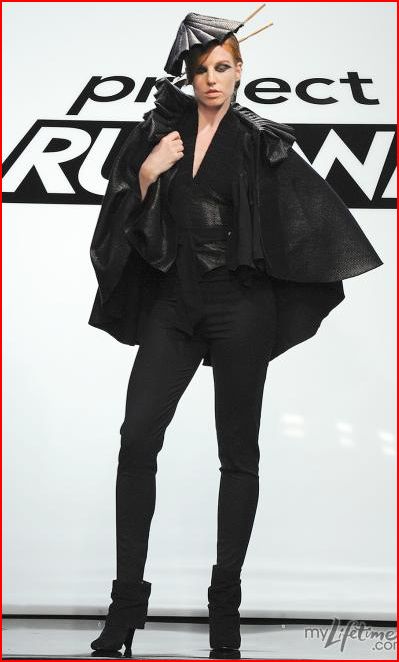 I recently got a fortune cookie that read "How you look depends on where you go." So... I guess this model is going someplace... black. And Asian. Perhaps to meet Tiger Woods? HA. [Oh my God, you guys, I am so tired. I'm sorry.] Anyway, there is just so much going on here. The fan hat, the cape, the sash, the booties, and... are those chopsticks in her hair? I'm overwhelmed, and not in a good way.
APRIL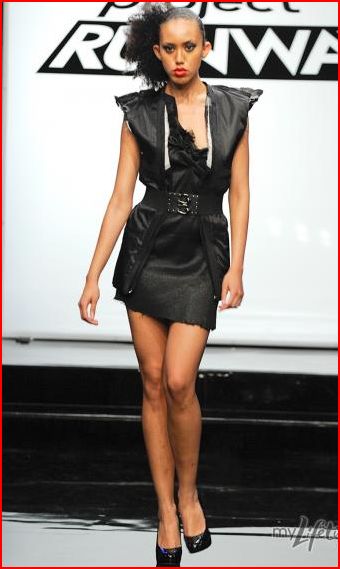 This is kind of hooker-y, mostly because I think the model's left boob might fall out when the inside-out Star Trek jacket comes off. You know what's extra creepy? Thinking about April's morgue comment and then looking at the jacket again. Yes, Virginia, that is a body bag.
CASANOVA

I'm going to change the subject.
Doesn't it look like the model's left breast is on fire?
[I hope it's not, though.]
CHRISTOPHER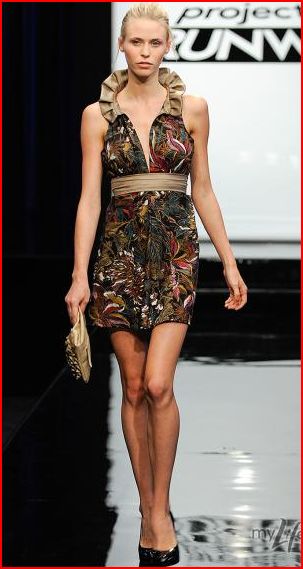 I like the collar a lot, but the shape is basically unchanged from the original dress. I can tell Christopher is really talented. I just want to see more of him in the garment [and by that I mean his actual skin. It puts the lotion in the basket! God, what is wrong with me?]
GRETCHEN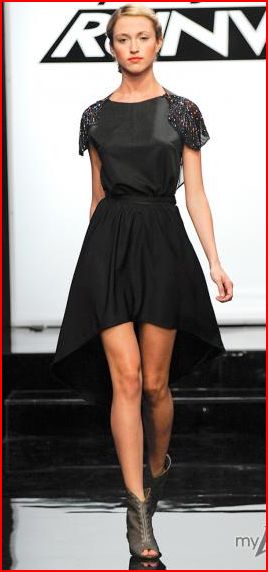 My only beef with this (apart from the peep-toe booties) is that something about the placement of the appliques and the volume of the skirt make the shoulders look too narrow and sloped for me. It almost makes the model look bottom-heavy. But then again, it looks both elegant and comfortable, and strikes a nice balance between modern and retro. All in all a strong piece.
IVY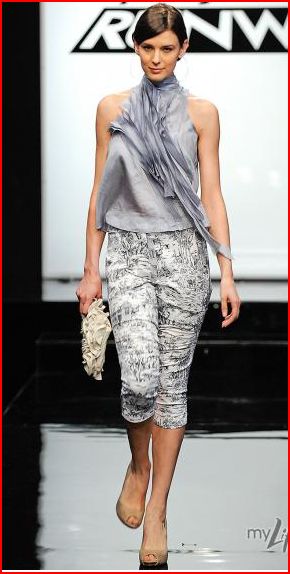 The pants are the problem here, and the problem is that the twee pants (belonging, of course, to Peach) are virtually unchanged. Yes, the pattern is unfortunate, but simply taking a pair of ugly capri pants and ruching the sides does not a challenge win make.
JASON

To paraphrase that old Salon Selectives jingle:
Feeeeeeeel... like you just stepped out... of a salon... and forgot to take off your robe.
There was much clucking in the workroom over the fact that Jason basically just took Andy's kimono and turned it backwards. And, well... yeah.
KRISTIN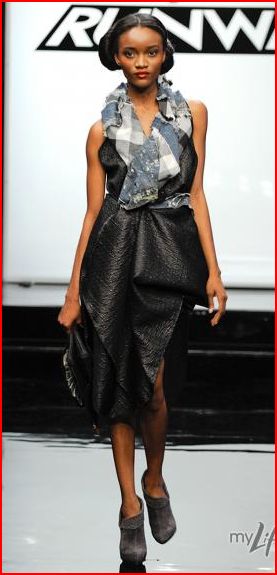 Even though this looks like it's made from a dirty table cloth and a deflated inner tube, I like the effect overall. But the fact of the matter is that Kristin chose this fabric; she was not forced to deconstruct picnic materials after a gang of ruffians stole her clothes while she was skinny-dipping in the lake.
MCKELL

From the hair down to the toes: Rockabilly, military, Forever 21, dyeable bridesmaid shoes. I liked this in the workroom, but on the runway I have to admit it's all over the place. Also, the sides of the top are cut strangely and the styling is really random (the editors make a point of showing Christopher tell McKell how perfect the bag is with the dress -- is that a dig at Christopher's taste?).
MICHAEL C.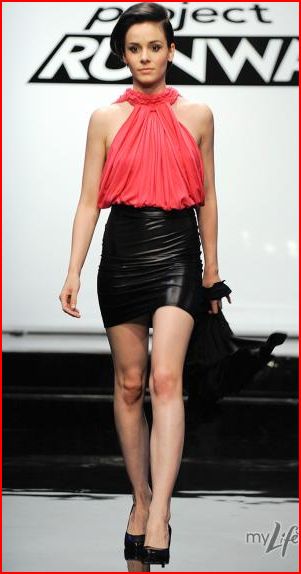 Like with April's outfit, I immediately thought "Hooker!" But this time I had a good reason: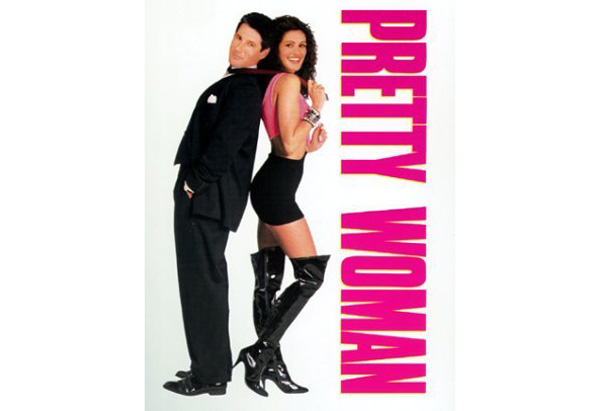 MICHAEL D.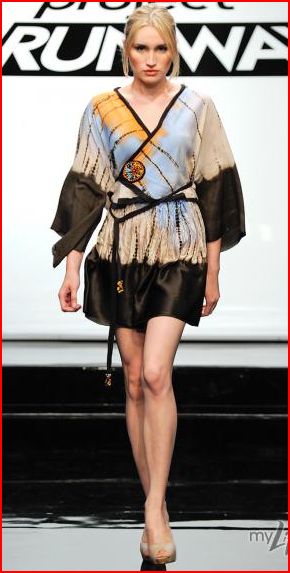 I don't know what this started out as*, so I have no idea how much to blame Michael D. for what it's become. All I know is that I wish the Piperlime accessory wall had offered a turquoise bolo tie, because I feel that really would have completed the look.
*Update: Duhvsies, it was McKell's dress. I should have known.
MONDO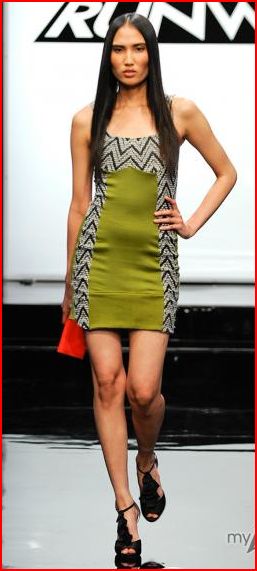 The green panel is pretty unforgiving, but I like the pop of color it lends to the dress. I also love the red purse and the shoes, but my eye keeps going back to that awful puckering, and the unflattering way the fabric clings to the model's (surely quite flat) belly.
NICHOLAS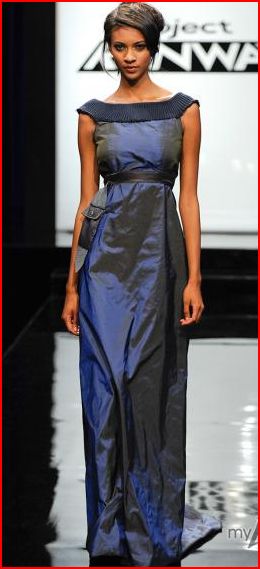 If this is meant to be both a dress AND a sleeping bag, then bravo, Nicholas. If it's just a dress... bummer, because I want to take it camping (look! There's even a sash pocket for tackle!)
PEACH

This is cute and wearable, if a little precious. And Michael D.'s scarf made a nice halter neck -- I think the pop of pink helps a lot. Unfortunately there's also a tulle bow in the back.
SARAH

I have an aversion to rompers on a cellular level, and this model kind of looks like she's a stripper who drew the short straw and had to dress as a janitor for a verrrry dirty bachelor party ("Does anyone have a toilet snake?") ... BUT. This is well-made. And the metallic collar and blue accents are kind of whimsical. Gah, I think I've gone soft. Damn you, Trost, and your goofy charm.
VALERIE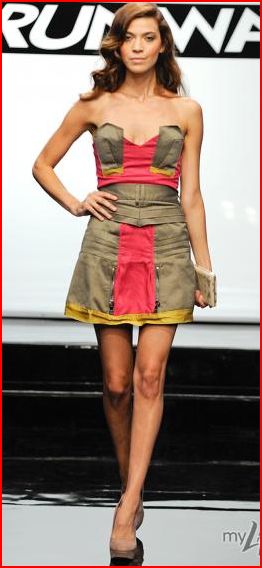 My first reaction to this was good -- it's colorful and interesting and fun. On second look the chest panels kind of bother me -- I'm never a fan of pointing to a woman's breasts with giant sartorial arrows -- but I like Valerie's style and I want to see more from her.
Everyone reassembles on the runway, just two people shy of a Duggar family reunion. Heidi asks the following people to step forward:
AJ, Andy, Valerie, Sarah, Peach, Kristin, Michael C., Mondo, Michael D., and Christopher.
Aaaaand, they are safe! They all release their bowels simultaneously and skip back to the green room. (While everyone is hugging, Michael C. points to Peach and crows, "I thought you were gonna go home!" He's earnin' those devil horns!)
Back on the runway, the remaining 7 -- Ivy, Jason, McKell, Nicholas, Gretchen, April, and Casanova -- quake in their boots.
But the judges have reached a unanimous decision as to the winner of the challenge: Gretchen! The judges lavish praise on her dress' simple elegance and wearability. Gretchen makes a victorious entrance in the green room and everyone bursts into applause. They are so supportive, this bunch. It's actually kind of heart-warming.
Not so cuddly is the atmosphere back on the runway. Heidi informs the remaining designers that they are all in the bottom, and that all must defend their looks.
Ivy is up first, and refuses to take criticism lying down. When Michael Kors says that Ivy didn't transform Peach's pants, Ivy shoots back, "Well, the challenge wasn't to transform, it was to implement into our design." When Nina says the Ivy simply made the pant into a capri, Ivy interjects: "I have to disagree." Ooooooooooooooooh, somebody's gonna get hit! The bottom line, as Heidi says, is that Ivy "made pants out of pants."
Jason is next. Heidi chides that it looks exactly like the robe she wears when she gets her hair cut (me and Heidi: great minds...) "Wait!" cries a pissed-off Nina Garcia. "Did you think that you could just put it on backwards... and we wouldn't notice?" I must say, however, that even while wearing his douchey bowler, Jason takes the jabs like a man, owning up to the fact that he basically did nothing, and did a shoddy job at doing nothing, to boot.
April is next. Heidi worries that the "shredded look" of the blazer might just mean that April doesn't know how to sew. Nina calls the model an "80s street-walker," calling the outfit "trashy."
On to McKell. Heidi out and out calls it "butt ugly." Nina commends her for mixing fabrics but reams her for the styling. MK agrees, saying that the skirt reminds him of a "disco apron." And really, what doesn't remind Michael Kors of some disco noun? I'd love to look through his eyes sometime; I bet it'd be trippy.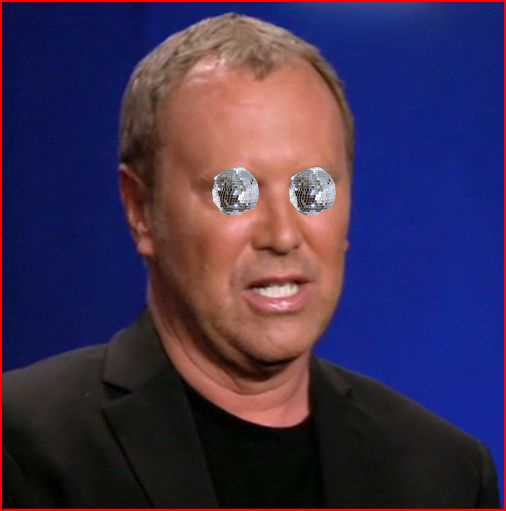 Nicholas really looks like he might vomit all over himself any second. I can even see his nostrils twitching; this man is terrified. Heidi calls the sleeping bag dress odd and boring, to which he replies, weakly, "I'm sorry!" Aw. MK says the whole thing doesn't mesh together. Nina calls it a snooze. Nicholas tells them he hopes he has another chance to show them what he can do. Oh, make it stop, this is torturous. He's going to stroke out on national television.
Finally, the judges lower the boom on Casanova. MK: "She's a pole dancer in Dubai." Nina: "It's fascinatingly bad." Selma: "I loved how daring it was in the back and I also loathed it." Heidi asks Casanova to defend himself but he doesn't understand the question, so Nina translates. He promises to "still think outside of the box, but in a more conservative way."
The contestants go backstage, and the judges deliberate, reiterating all of their complaints. They delibereiterate. The most interesting part about it is Selma Blair's flat, Midwestern accent. Was that always there?
The designers come back out. April is the first one sent safely backstage, and there is much rejoicing among the rest of the contestants in the green room. Nicholas is also safe, and is welcomed with applause. They even clap for Jason, who flashes a doofy smile and might be growing on me. That leaves Casanova, McKell, and Ivy.
The judges were perplexed by McKell's design and bad styling. They question Casanova's taste, and feel Ivy didn't stretch herself.
And McKell is OUT. Sad! I mean, her dress wasn't that hideous. The most heart-breaking thing is that when she goes backstage the designers start applauding, thinking she's safe.
The real kick in the ribs, too, is that Ivy and Casanova are both in. When they come bounding into the green room, you can tell McKell is trying not to cry. Oh well, at least she can be reunited with her 9-month old baby.
The remaining contestants finally get to move into Atlas. "They need to stock some alcohol," says Kristin as she peers into the fridge. Gurrrrl, I think we ALL need to stock some alcohol as we go into this season.
NEXT WEEK (ahem, TOMORROW, since this recap is so late. Oops!): The preview was so vague I have no idea what's going on. The winning design will be featured... somewhere (Marie Claire, probs). There is another element added to the challenge at the 11th hour... like always. Mondo wears a feather boa. Nicholas makes a sad face. You know, we need to invent a drinking game for this. Feel free to email me suggestions.
Okay, kids, this season I have a crazy schedule, so recaps will be posted Mondays, not Fridays. I hope that since this one was so late, that will seem early by comparison. Aren't I sneaky? See you next week!
As always, if you like these recaps, check out my blog or become a fan on Facebook.

Support HuffPost
A No-B.S. Guide To Life
Related
Popular in the Community