WASHINGTON -- The incoming speaker of the Nevada State Assembly told his colleagues Sunday morning that he will not be leading them in the new year, as he continues to face a firestorm of criticism over his history of bigoted remarks.
"Politics of personal destruction win. I need to step down," Hansen wrote in the email. "I hope that you all know that the Ira that you have known through these years and weeks is the real Ira and not what the media is painting me to be."
"You are a great group that can hopefully do great things and my staying will harm the caucus," he added. "I wish you all the best. Thanks for hanging tough through these difficult past days. If this were just about 'me' I would fight this out to the bitter end, but it is going to harm all of you."
"The lack of gratitude and the deliberate ignoring of white history in relation to eliminating slavery is a disgrace that Negro leaders should own up to," Hansen wrote in one column.
"Today, when Army men look at women in the ranks with 'longing in their eyes' it very well may constitute 'sexual harassment,'" he wrote in another. "The truth is, women do not belong in the Army or Navy or Marine Corps, except in certain limited fields."
Hansen also wrote at one point that he proudly keeps a Confederate flag on the wall of the room where he writes his columns.
The Nevada politician immediately came under intense criticism for his writings. The Reno-Sparks NAACP called on the state's Republican caucus to reconsider its choice of Hansen as speaker.
Gov. Brian Sandoval (R) distanced himself from Hansen, saying, "I wholeheartedly disagree with Assemblyman Hansen's past public statements on race, religion, gender, and sexual orientation. This abhorrent kind of speech is unacceptable."
Hansen released a statement later on Sunday confirming that he was stepping down as speaker-elect, maintaining that he was the victim of "character assassination":
For the greater good of the State of Nevada and the cause I support it is necessary for me to withdraw as Speaker Designee. The tens of thousands of people who both read my columns and listened to my radio shows through two decades in the media know this has been a carefully orchestrated attack to remove a conservative Republican from a major leadership role in State government. The deliberate character assassination and the politics of personal destruction have totally distorted my views and record. Ultimately, this whole attack has very little to do with my views. The powers that be are planning a massive, more than one billion dollar, tax increase and I stood in the way as Speaker. I have already served two terms as an Assemblyman without any of these vicious attacks. It was only when I had risen to leadership that this smear campaign occurred. That is the real reason for this and it is vital the public understands that.
It's unclear whether Hansen will also resign his seat in the assembly, in addition to giving up the speaker post.
Next year, Republicans will be in control of both chambers of Nevada's state legislature and the governor's seat for the first time since the Great Depression.
Want more updates from Amanda? Sign up for her newsletter, Piping Hot Truth.
Before You Go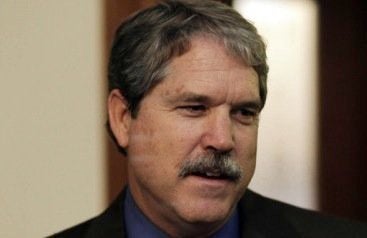 Racist Remarks Made By Politicians
Popular in the Community