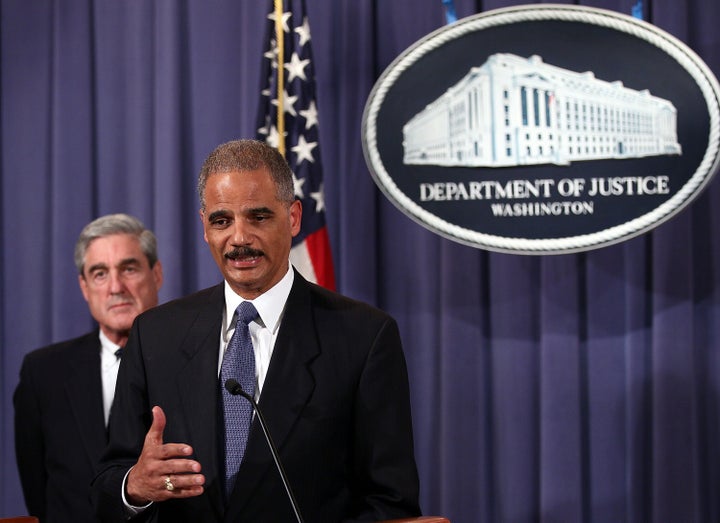 WASHINGTON -- One national security analyst called it "amateur hour" and compared it to the work of the "Keystone Kops." Another described it as a "fusion-cuisine salad bar of U.S. security anxieties." A third said it seemed "more Johnny English than Jason Bourne."
The failed plot to assassinate a Saudi diplomat in Washington, D.C., allegedly cooked up by an Iranian-American with ties to an elite Iranian paramilitary organization and revealed Tuesday with great fanfare by the Obama administration, endured a harsh dose of skepticism from experts on Iran and intelligence operations on Wednesday.
"We spent the day here trying to figure this one out, and it just doesn't make any sense, " said Ken Gude, the managing director for National Security at the Center for American Progress.
"It doesn't mean it isn't true," he added. "Strange things do happen."
The plot, as laid out in a complaint filed by the Department of Justice, alleges that Manssor Arbabsiar, a 56-year-old Iranian-American from Corpus Christi, had hatched a plan to assassinate the Saudi ambassador to the U.S. at his favorite restaurant in Washington. To do this, Arbabsiar, who worked as a used-car salesman and allegedly claimed to be in contact with a cousin who was "a 'big general' in the Iranian military," met with a Mexican cartel leader, the complaint says.
The Mexican hit man turned out to be working as an informant for the Drug Enforcement Administration, which soon turned the case over to the FBI. Arbabsiar also allegedly arranged for two wire transfers from Iranian agents of the Quds Force, the government's foreign military operations wing, worth a total of $100,000. A member of the Quds Force was also indicted in the plot.
In a press conference announcing the arrests, Attorney General Eric Holder described the ties to "elements" of the Iranian regime as a virtual certainty.
"The United States is committed to holding Iran responsible for its actions," he said.
But numerous experts on the Iranian regime and its military ambitions told The Huffington Post that the plan didn't seem to fit with the known agenda of the Iranian regime, while others said it simply lacked the complexity and sophistication that an assassination attempt by Iran's top intelligence force would be expected to have.
"The amateurish nature of this plot is shocking, and its audacity is shocking," said Vali Nasr, an Iranian-American who spent several years in the State Department during the Obama administration. "I thought that given the pattern of behavior of the Quds Force that if this is indeed true this would be a far more sophisticated operation than using a dilettante used car salesman as a go-between with a Mexican cartel."
"Second, the audacity to escalate tensions with Saudi Arabia in such a brazen way, and then to try to get the United States involved in the middle of regional issues, is nothing you would assume Iran would do," he added.
Like many of the people who raised questions about the story, Nasr emphasized that without a closer look at the evidence in the case, it would be impossible to rule anything out.
Meanwhile, speaking to reporters on Wednesday, several U.S. officials acknowledged that while the plot had initially seemed "inconsistent with the high standards we've seen in the past," as one put it, they later overcame their uncertainties in the course of the investigation.
"We do not think it was a rogue operation, in any way," a different official said, although he added, of the chief of the Iranian Quds Force, Qassem Suleimani, "We don't have specific knowledge that Suleimani knew about specific" details of the plot.
"Suleimani and Khameini understand how to do political murder," said Bob Baer, a former CIA agent, and another skeptic of the extent of the scheme. "If they were in on this, they've either lost their minds, or they've lost control, or they're committing suicide. Those are your three choices. There isn't a fourth choice."
A number of government officials and former officials seemed similarly stunned by the tortured nature of the plot.
"The idea that they would attempt to go to a Mexican drug cartel to solicit murder-for-hire to kill the Saudi ambassador?" Secretary of State Hillary Clinton said during an interview Tuesday with the Associated Press. "Nobody could make that up, right?"
"If it weren't for things like large amounts of money being deposited, and a guy floating around whom I assume they know to be a member of the Quds Force, I would say it just doesn't feel right, beginning with the selection of a target in downtown D.C.," Charles Faddis, a former CIA counterterrorism chief, told ProPublica. "It's so clearly an act of war that it's hard to imagine why the Iranians would sign on to that. And the tradecraft seems amateurish and sloppy. It's crazy."
Indeed, Gude pointed to the large sums of money as one reason why he finds it especially hard to believe that the Quds Force was behind the plot.
"It's impossible for them to not know that bank transactions over $10,000 are monitored and recorded," Gude said. "I mean, you know that if you watch TV! This is like it was intentionally not secret -- it just seems extremely unsophisticated."
"It's hard to put together anything from a strategic perspective reason of why they would do it," Gude added. "And then when you look at the operational aspects of it, it's just so clumsy and Keystone-Kops-esque, it's really hard to figure. I think a lot of people have been raising a lot of justifiable questions."
Popular in the Community