Iranian President Hassan Rowhani has been on a shopping spree in Europe to reap benefits from business deals worth billions of dollars. The red carpet was rolled out for him, and he was invited to some of the most esteemed locations on the continent to meet with business and political leaders.
Despite human rights protests against Rowhani's visit, more than 30 business deals were signed covering petrochemicals, construction, transportation, pharmaceuticals, agriculture and healthcare. He is seeking to diversify Iran's economy, reducing its reliance on the oil and gas industries.
Car manufacturer Peugeot Citroën signed a deal worth nearly a half billion dollars with Iran Khodro, and Total signed a contract to buy 150,000 - 200,000 barrels of oil per day from Tehran. Rowhani's message to the world is that Iran is ready to do business, and it can sign economic deals with any nation regardless of their differences.
The West has long placed more importance on money than human rights, and Iran is being welcomed because Europe's economy is suffering as the Chinese and Russian stock markets and oil prices are falling. European countries are desperately in search of new markets to sell their products.
Rowhani is also signaling to the West that his government has a say in Iran's socio-political and socio-economic fabrics, he is separating revolutionary principles from business, and he can modernize Iran's economy despite hard-liners' criticisms.
Hard-liners believe Rowhani is opening Iran to the infiltration of Western culture and endangering their economic monopoly, while he believes he is reinforcing Iran's regional and global roles.
Business or Politics: Moderation?
One should not fall into the trap of the moderate image that Rowhani is projecting to the world. To survive, Iran has become moderate only in doing business with the world, but its domestic and regional policies do not show any signs of moderation. Iran executed more than 800 people in 2015, a world record per capita. Journalists, human rights defenders and bloggers are frequently imprisoned for expressing their opinions.
Iran's foreign policy has shown no signs of moderation. The Iran Revolutionary Guard Corps (IRGC) and Quds force are operating in Syria and Iraq, and assisting Shiite militias across the region financially, militarily, and in an advisory role.
As Europeans protested Rowhani's visit due to Iran's human rights record, EU politicians' and business leaders' eager welcome sends a strong message that they are ready to look the other way.
Dr. Majid Rafizadeh is an American political scientist, business advisor and the president of the International American Council on the Middle East. Harvard-educated, Rafizadeh serves on the advisory board of Harvard International Review. He is originally from Iran and Syria. You can contact him at Dr.rafizadeh@post.harvard.edu or follow him at @Dr_Rafizadeh
This post first appeared on Al Arabiya.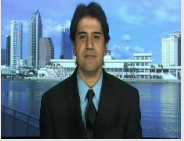 REAL LIFE. REAL NEWS. REAL VOICES.
Help us tell more of the stories that matter from voices that too often remain unheard.