A considerable amount of analysis has been dedicated to Iran's geopolitical, strategic, and military relationships with Syria. Nevertheless, the shifting economic nexus between Tehran and Damascus has been subjected less to scholarly work, policy analysis, or media attention. The changing paradigm in Tehran-Damascus economic ties can have significant long-term implications for Iran's geopolitical and economic influence in the region. Iran's financial, arms, military and energy assistances as well as investments in infrastructure remain mostly in the form of credit lines and loans. But how would Syria pay back if the Alawite state is removed from power? Tehran's plan is a long-term and enduring one that can pay off very well if the Syrian war ends with Assad or without him. We can make the analogy that Iran's economic agenda is somewhat similar to its plan in Iraq, after US invasion.
But one critical difference is that Iran is also increasingly getting paid back via contracts in Syrian real state by buying Syrian lands. This gives Iran considerable amount of power over Syria in the long-term. The additional shift is that the investments are not only done with Assad, but also with many Shiite militia groups. Even If the war ends, Iran will be single most important player in Syria economically.
The nuclear deal has definitely made Iran's economy stronger as well. This in return has increased Iran's economic influence in Syria, as it has also benefited Assad as well. Larger infrastructure and energy projects will be more likely on the horizon. Almost every year, Iran is signing a new contract with Syria for nearly over a billion dollars of credit line. These agreements are believed to increase Iran and Syria's annual trade volume to $5 billion. Allaedin Boroujerdi stated previously that the recent agreements were "a firm response" to the United States and its Western allies "investing billions of dollars to change the political structure of the Syrian government." Iran has also gained the dominant role in Syria's economy since trade between Syria and Turkey and other regional players have significantly shrunk.
Even in the midst of the Syria civil war, Iran's economic influence in Syria has exponentially increased contrary to common perceptions. In the long-term, if the Syrian war ends with Assad or without him, Iran would be the most dominant player in Syria economically and geopolitically. This also suggests that due to the above-mentioned factors, Iran cannot afford any peace plan that will lead to the removal of the Alawite state from power.
For more details and nuances you can read full versionon Here.
You can sign up for Dr. Rafizadeh's newsletter for the latest news and analyses on HERE.
Dr. Majid Rafizadeh is an American political scientist, president of the International American Council on the Middle East, business advisor, and best-selling author. Harvard-educated, Rafizadeh serves on the advisory board of Harvard International Review. He is regularly quoted and invited to speak on national and international outlets including CNN, BBC World TV and Radio, ABC, Aljazeera English, Fox News, CTV, RT, CCTV America, Skynews, CTV, and France 24 International, to name a few. Dr. Rafizadeh is frequently invited to brief governmental and non-governmental organizations as well as speak, as a featured speaker, at security, business, diplomatic, and social events. He has been recipient of several fellowships and scholarships including from Oxford University, Annenberg, University of California Santa Barbara, Fulbright program, to name few. He analyses have appeared on academic and non-academic publications including New York Times International, Los Angeles Times, CNN, Farred zakaria GPS, The Atlantic, Foreign Policy, The Nation, The National. Aljazeera, The Daily Beast, The Nation, Jerusalem Post, The Economic Times, USA Today Yale Journal of International Affairs, Georgetown Journal of International Affairs, and Harvard International Review. He is a board member of several significant and influential international and governmental institutions, and he is native speaker of couple of languages including Persian, English, and Arabic. He also speaks Dari, and can converse in French, Hebrew. More at Harvard.
You can also order his books on HERE.
You can learn more about Dr. Rafizadeh on HERE.
You can contact him at Dr.rafizadeh@post.harvard.edu or follow him at @Dr_Rafizadeh.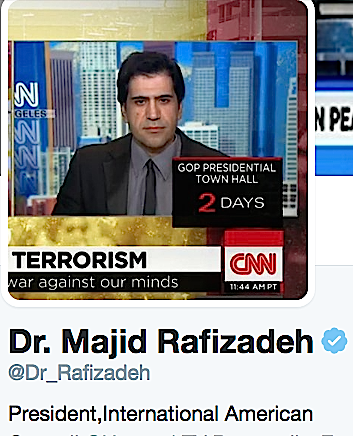 Popular in the Community