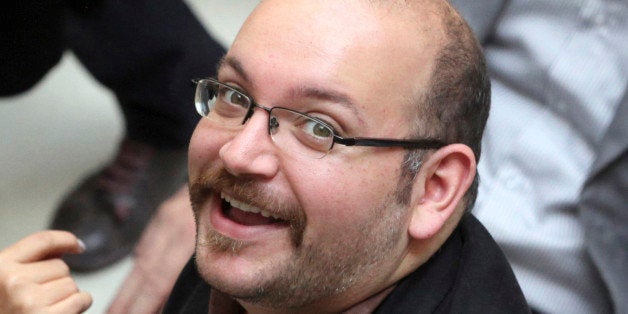 (Adds comment from State Department, other details on indictment)
WASHINGTON, April 20 (Reuters) - Iran is charging Washington Post journalist Jason Rezaian with four crimes, including espionage, the newspaper said on Monday in a report offering the first details about the exact charges against him.
Rezaian, the Post's bureau chief in Tehran, was detained last year in Iran. Among the charges, he is accused of "collaborating with hostile governments" and "propaganda against the establishment," according to a statement from Rezaian's attorney, Leilah Ahsan, the Post reported.
The charges carry a maximum penalty of 10 to 20 years in prison, Washington Post Executive Editor Martin Baron said in a separate statement.
Reuters could not immediately confirm the reported charges.
Ahsan said the indictment alleged Rezaian had collected information "about internal and foreign policy" and gave it to "individuals with hostile intent," according to the Post, which said it obtained the lawyer's statement from Rezaian's family. He is also accused of collecting classified information, it reported.
The Post said Ahsan is the only individual outside of Iran's judiciary to have read the indictment.
Rezaian, an Iranian-American dual citizen from Marin County, California, had been the Washington Post's bureau chief in Tehran since 2012, according to the newspaper.
He was detained about nine months ago on what U.S. President Barack Obama has called "vague charges." Obama, who is in the process of negotiating a tricky nuclear deal with Iran, last month called on Iran to immediately release detained Americans there, including Rezaian.
In the indictment, Iranian authorities said Rezaian had written to Obama and called it an example of contacting a "hostile government," the Washington Post said.
The White House and the U.S. State Department said they had no official confirmation of any charges against Rezaian.
State Department spokeswoman Marie Harf said it would be "patently absurd" if reports of espionage charges against him were true.
Other outlets, including Agence France-Press and Iran's semi-official Tasnim news agency, also reported on the indictment, citing the lawyer.
Washington Post's Baron, in his statement, said: "The grave charges against Jason that Iran has now disclosed could not be more ludicrous."
He said, "It is absurd and despicable to assert, as Iran's judiciary is now claiming, that Jason's work first as a freelance reporter and then as The Post's Tehran correspondent amounted to espionage or otherwise posed any threat to Iranian national security."
(Reporting by Susan Heavey, Arshad Mohammed and Bill Trott in Washington, and Sam Wilkin in Dubai; Editing by Emily Stephenson and Ted Botha)
REAL LIFE. REAL NEWS. REAL VOICES.
Help us tell more of the stories that matter from voices that too often remain unheard.